A trip to the Maldives allows you to experience the vibrant coral reefs, white sandy beaches, and luxurious stays in the water villas. Besides all the fun and adventure, you must also take in the magical experience of the fantastic underwater restaurants in the Maldives. Imagine multi-colored schools of fishes, sea turtles, eels, and sharks swimming around you while you experience an exquisite dining experience of exotic seafood and gourmet dishes! Make sure you book a meal at a Maldives resort with an underwater restaurant and dine there with your loved ones to make it memorable.
Here are 5 restaurants you can book for an underwater dining experience that will enhance your vacation experience.
1. Ithaa
Head for this spectacular Maldives restaurant, where you can dine 5 meters below sea level. As part of the Conrad Maldives Resort, the all-glass restaurant is known to offer the world's first undersea dining experience. Dine in style as you enjoy the 180-degree panoramic views of the colourful coral reefs and the spectacular marine life. Whether you intend to enjoy a 4-course lunch, a 6-course dinner, or mid-morning cocktails, the menus feature international cuisines that wonderfully blend with local spices. You can also reserve Ithaa for weddings, private events, and other celebrations. It is undoubtedly one of the best underwater restaurants in Maldives that should be on your must-visit list.
2. Subsix
As an underwater dining restaurant, Subsix in the Maldives offers you an out-of-the-world experience. It holds the first underwater nightclub on the island and is one of the most visited undersea restaurants in Maldives. The dining restaurant's interior matches its exterior sea world with a bar in the shape of a shell, coral-like chandeliers, and chairs that look like sea anemones. The meals are delicious and reasonably priced. Another aspect of Subsix is to offer a thrilling experience at the nightclub with weekly Glow Parties and DJ nights for you to enjoy. If you are an aquatic life enthusiast, take lectures from marine biologists here to thoroughly understand the underwater world.
3. 5.8
As the world's largest all-glass undersea restaurant in the Maldives, 5.8 provides a multi-cuisine dining experience that's a class apart. The place is set 5.8 meters deep and offers an ideal sunset dinner spot for honeymoon couples. Get ready to dive into the pleasures of gastronomy as you enjoy an extensive 5-course lunch or 7-course dinner with exotic aquatic life around you. When you book one of the Maldives honeymoon packages from GT Holidays, do not forget to include 5.8 in your bucket list. Our agents will make prior reservations for an intimate evening in the romantic setting of 5.8.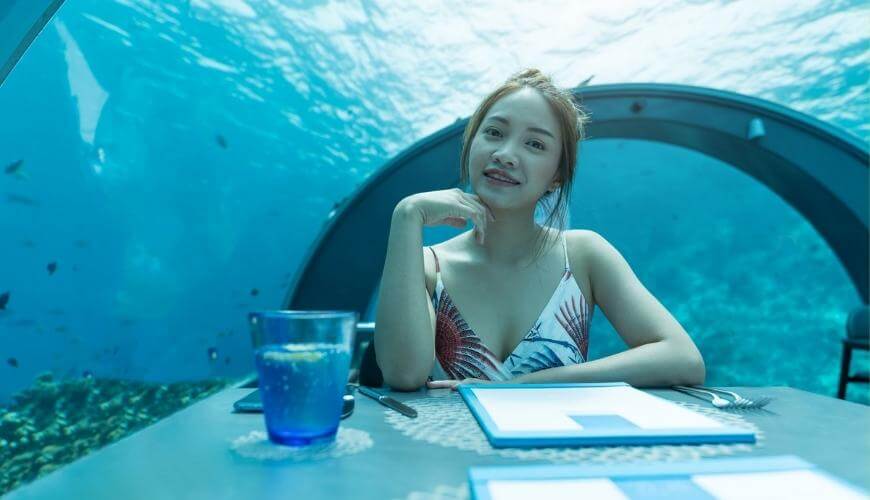 4. SEA
If you want to taste some of the finest wines in the Maldives aged over 90 years, then the SEA restaurant is a must-visit. Though the SEA underwater restaurants in Maldives' price of dining is slightly high, the experience goes to a new level when the sommelier helps you pick the right wine and pairs them with mouth-watering culinary dishes to delight your taste buds. You can also opt for an exceptional breakfast served at the restaurant and immerse yourself in an experience of an underwater zoo that showcases an excellent array of aquatic life while you dine. With green turtles and a colourful school of fish swimming around the glittering glass walls, you will become one with the underwater world.
5. Minus Six Meters
As the name suggests, the restaurant has been built 6 meters below the ocean and offers a visual delight of the amazing marine life. Also popularly known as M6m, the restaurant's plush ambiance and incredible dining experience make it an ideal romantic spot for couples. Book your Maldives travel packages from GT Holidays to arrange for a special evening with your loved ones, especially to celebrate your life's milestones. The meticulously prepared meals, whether breakfast, lunch, or dinner, are made using the freshest of ingredients every day.
Make prior reservations before visiting any of the above underwater restaurants in the Maldives. Our agents at GT Holidays can help with the booking of your Maldives tour package from Chennai as per your requirements to ensure a hassle-free dining experience. Follow our Instagram profile to know about the latest offers and discounts.