Maldives - Visitors Statistics

Maldives - Visitors Statistics
By Purpose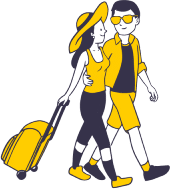 Couples
For Newlywed Vacations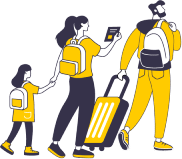 Family
For Family Vacations
Top Visitors from India
Bengaluru
Mumbai
Chennai
Delhi
Hyderabad
Pune
Kolkata
Ahmedabad
Jaipur
Lucknow
All You Need to Know About Maldives Tour
With turquoise waters, powder-like sand, swaying palm trees, and amazing marine life, the Maldives has to be one of the most romantic destinations in the world. Overwater bungalows, underwater restaurants, and activities like snorkeling and swimming with sharks, stingrays, and clownfish, make it a must-visit place. And to add to the experience, the country is made up of hundreds of tiny private resort islands offering unrivaled views and privacy whilst ensconced in luxury. At GT Holidays, we offer a once-in-a-lifetime opportunity to experience this beautiful country with affordable Maldives tour packages.
Add to this the fact that you can fly to the island country in less than 3 hours, i.e., fly in on a Friday to begin your Maldives vacation and return to work on a Monday. We offer over a dozen 3 Night – 4 Day Maldives tour packages for people who have always wanted but never had the time to visit this beautiful island.
Table of Content:
Best Budget Maldives Tour Packages
Ten Reasons To Visit Maldives
Maldives Tour Experience
Best Places To Visit In Maldives
Relationship Between India and Maldives
Our Best Maldives Tour Packages at Your Budget
| | | | |
| --- | --- | --- | --- |
| Maldives Tour Packages | Duration | Price | Highlights |
| Luxury Escape at Cocoon Maldives | 4 Nights 5 days | | Fishing , parasailing, Whale shark sighting, Sunset cruise, Island hopping |
| Coco Bodhu Hithi Resort | 3 Nights /4 Days | | Island Hopping – Sunset Cruise, Snorkeling, Dolphin Watching |
| Coco Palm Dhuni Kolhu Resort | 3 Nights/4 Days | | Fishing – Parasailing ,Whale Shark Sighting – Sunset Cruise |
| Honeymooners Paradise Maldives | 3 Nights/4 Days | | Snorkelling ,Dolphin Watching, Island Hopping – Sunset Cruise |
| Vaadhoo Island Blissful Escapade | 3 Nights 4 days | | Dolphin Watching, Island Hopping, Sunset Cruise, Snorkelling |
| Tropical Escape with Coral Reefs | 3 Nights 4 days | INR 22,999 | Scuba diving , Banana boat ride , Jet skiing ,Underwater walk , Snorkelling |
| 3 Nights & 4 Days Maldives Tour Package at 33,999 | 3 Nights 4 days | INR 33,999 | Speedboat,snorkelling, scuba diving, banana boat ride, jet skiing,breathtaking Underwater walk |
| Exotic Retreat at South Palm Resort | 3 Nights/4 Days | INR 56,999 | Speedboat ride,Scuba diving, Banana boat ride, Jet skiing, and Snorkelling. |
| Meeru Island Resort Escape | 3 Nights 4 days | INR 61,999 | Speedboat, water skiing, windsurfing, snorkelling, or play beach basketball and volleyball |
| Seaside Serenity at Male Resort | 3 Nights/4 Days | INR 72,999 | Snorkelling, Scuba diving, Banana boat ride, Jet skiing |
| South Palm Resort Escape | 3 Nights/4 Days | INR 76,999 | Water skiing, windsurfing, snorkelling, or play beach basketball and volleyball |
| Sun-kissed Retreat at Tulhagiri Resort | 3 Nights/4 Days | INR 78,999 | Crystalline waters and picturesque villas,beach post-lunch |
| Oblu Select Sangeli Resort Retreat | 3 Nights/4 Days | INR 92,999 | Speedboat ride,Scuba diving, Banana boat ride, Jet skiing, and Snorkelling, Underwater walk |
| Seaside Bliss at Dhigufaru Resort | 3 Nights/4 Days | INR 96,999 | Scuba diving, Banana boat rides, Jet skiing, and Snorkelling,Dolphin watching boat ride |
| Tropical Beach Retreat | 4 Nights 5 days | INR 28,999 | Water sports activities, fishing adventures, and dolphin pods, island hopping. |
| 4 Nights & 5 Days Maldives Package at 40,999 | 4 Nights 5 days | INR 40,999 | Speedboat ride,snorkelling , Underwater walk,boat ride for Dolphin watching ,island hopping |
| Tropical Haven at South Palm Resort | 4 Nights 5 days | INR 65,999 | Scuba diving, Banana boat ride, Jet skiing, and Snorkelling,boat ride for Dolphin watching |
| Paradise Island Resort Blissful Escapade | 4 Nights 5 days | INR 74,999 | Speedboat to Paradise Island resort, sparkling Indian Ocean,deep-sea fishing trip |
| Tranquil Escape to Thulhagiri Island Resort | 4 Nights 5 days | INR 81,999 | Speedboat ride,island hopping,Scuba diving, Banana boat rides, Jet skiing, and Snorkelling. |
| Exhilaration at Hudhuran Fushi Resort | 4 Nights 5 days | INR 91,999 | Water skiing ,scuba diving , canoeing , windsurfing ,Morning fishing ,Dolphin watching |
| Siyam World Maldives Resort Bliss | 4 Nights 5 days | INR 1,10,999 | Turtle Kids Village,high-speed jet ski or go kayaking, windsurfing, or on a sailing trip |
| Tropical Island Escape Bliss | 4 Nights 5 days | INR 1,11,999 | Kayaking , Scuba diving , paddle surfing, Banana boat ride, Jet skiing, and Snorkelling |
Ten Reasons to Visit Maldives
1. The Maldives Promotes Sustainable Eco-Friendly Tourism
It is one of the few countries in the world that has combined ecological conservation with tourism and even educated tourists about the need to preserve and protect the country's delicate ecosystem. Almost every resort is surrounded by lush mangroves, and the sea is teeming with marine life, ranging from sea turtles and hermit crabs to manta rays and corals.
Guests can even volunteer by collecting marine waste or participating in reef clean-up exercises. Children are encouraged to help conservationists working to protect the plant and animal species in the country.
2. The Best Honeymoon Destination
The country has been consistently named among the world's top ten honeymoon destinations, including Conde Nast Traveller. There's nothing more romantic than lying on a hammock on a private deck of your overwater villa, sipping a martini, or relishing scrumptious seafood. Or, enjoying candlelight dinner by a private beach with the ocean and the white sands for company! If you have ever dreamt of a laidback luxurious honeymoon, check out our Maldives honeymoon packages.
3. Swim With Sharks and Manta Rays
Swimming with sharks, manta rays, and other marine animals ticks on the top ten bucket lists of most visitors to Maldives. The UNESCO World Biosphere Reserve in Hanifaru Bay is the best place for this – you can swim with over 200 sharks and manta rays while snorkeling. The South Ari Atoll in Dhigurah is a famous whale shark area with several spots for free snorkeling.
4. Overwater Bungalows
Staying at an overwater bungalow is definitely on the bucket list of experiences for travellers visiting an island country. But Maldives takes the experience a notch higher. With an infinity pool, a luxury spa island, and a private terrace with an unending view of the Indian Ocean, there's nothing more you'll need for a dreamy vacation, not to mention the whale sharks, manta rays, and other marine animals that visit you occasionally as you sip passionfruit daiquiri! You can even choose an underwater room with floor-to-wall ceilings submerged below the Indian Ocean.
5. Amazing Marine Life
You cannot visit the Maldives and not admire the island country's mesmerizing marine life. The azure waters are absolutely teeming with life, including coral reefs, turtles, whale sharks, manta rays, moray eels, blueline snappers, octopuses, and dolphins. With over 200 colourful coral species, the underwater world sure feels like a scene out of Finding Nemo.
6. The Country Is Racing Against Time
The island you visited during your last vacation may not remain for long, completely disappearing from the world. Thanks to global warming and rising sea levels, Maldives may become uninhabitable in the distant future. It is the world's lowest-lying nation and only 1.3 metres above sea level. We suggest you visit the place at least once before it is gone forever.
7. Beautiful Beaches
The powdery white sands and turquoise waters are perfect for sunbathing. The sky is in red, orange, and purple hues, and the temperature always ranges from a comfortable 25 to 30 degrees Celsius.
8. Scrumptious Seafood
Maldivian cuisine is influenced by Sri Lankan and Indian flavours, with coconut being an essential aspect of the food. While there is a vast variety of seafood, some local favourites include different types of tuna, mackerel, and mahi- mahi. Plenty of resorts offer an array of international cuisine, but if you're interested in local food, try gulha, the country's national dish made using smoked tuna, coconut, and onions filled inside a pasty and deep fried.
9. Underwater Activities
A visit to the Maldives is incomplete without undertaking one of the many water-based activities. The country is one of the best scuba diving activities in the world. Snorkelling is equally fun if the colourful underwater world amazes you. And if you're uncomfortable doing either, we suggest you take a banana boat ride or a sunset cruise.
10. Budget Destination
This is contrary to what most people would say, but if you have the right travel company, you can always find affordable Maldives tour packages and yet enjoy all the fantastic things this beautiful country has to offer. Flight tickets from Chennai and Bangalore cost less than INR 10,000 and much less if you book through tour operators like GT Holidays.

Relationship Between India and Maldives
The Maldives has been historically and culturally close to India and even shares a maritime border. The origins of Dhivehi, the official language of the Maldives, date back to Sanskrit and Pali, with some anthropologists claiming that a certain percentage of Maldivians actually hails from Southern India. In fact, there are reports that cowrie shells from the Maldives were used as currency throughout Bengal and even as early as the Indus Civilization.
Even today, Maldives remains a favourite tourist destination for Indians. The country is only 3.5 hours from Chennai and 2 hours from Bangalore. Maldives tour packages are especially popular during the off-season when it rains intermittently. Typically, most Indian tourists choose short Maldives tour packages with 3 nights and 4 days, while some prefer a longer stay spanning 6 nights and 7 days.
Maldives Tour Experience
All Maldives resorts are on their own island, with each island ranging from 2.5 km to just 150m. This means that the resort you choose for your Maldives tour package has a huge impact on your vacation experience. The facilities offered by the resort (restaurant, bar, entertainment, etc.) will likely be the only ones you will access throughout the stay.
Thankfully, there are over 160 island resorts to choose from, ranging from affordable to over the top luxurious. Some of the things you must consider include, distance from Male, the country's capital city, the type of transfers available, and activities within the resort.
Some of The Things You Must Look for When Choosing Maldives Tour Package Include
Resorts close to Male have shorter transfers, but may not be as quiet as you would expect. Resorts far from Male may seem remote but are quieter. Besides hotels offer seaplane transfer.
Most islands only have one or two restaurants. If you've chosen a remote island resort, remember to pick resorts that offer a buffet rather than a set menu.
While most activities are included in the package, remember to read the description to understand what's included and what you'll have to pay for extra.
Read the description for entertainment options because not everyone offers discos or live music. If you love to party, this is important.
Most dive centres are managed by third-party companies. Check with the tour operator about extra charges and what's included in the package.
While most resorts offer water sports like scuba diving and windsurfing, you must know if they're included in the package.
Resorts vary in size and the number of guests they can accommodate. Generally, expensive hotels have fewer rooms to ensure exclusivity and privacy. Besides, if the description reads that all rooms have a beachfront view, chances are, they will all have a beach before them and you won't have to share it with other guests. Prices may vary depending on the distance between the rooms and the beach.
If you're choosing a beach hotel, read the description on the website clearly for the view. Some rooms are set back on the island, some are in the water, and some are on the beach. While most resorts are set on stilts, not all of them offer direct access to the ocean, i.e., you cannot step down into the sea and will have to walk to the beach if you fancy a swim.
Travelling in Maldives | Food, Culture, Art, Craft & Entertainment
Maldives' culture revolves around the sea and is influenced by the lifestyle of the Indians, Arabs, and Sri Lankans who migrated and later assimilated to create a unique melting pot. The country has a lot of Dravidian influences, with the Dhivehi language sounding similar to Sinhalese, the language of Sri Lanka. Interestingly, the locals are called Dhivehin, a word that could be traced back to the Tamil word theev or dheev, meaning island.
Religion
While the Maldivians were originally Buddhist, Islam became the only and of the country since the 12th century. Only Sunni Muslims are allowed to be a citizen and own land.
Cuisine and Food
Fish is an integral part of Maldivian cuisine and an important ingredient. Coconut oil and milk are other primary ingredients, although the style of cooking is influenced by the Arabs, Indians, and Sri Lankans. Some of the local food you can try include – Mas huni, Fihunu mas, garudhiya, etc. But if you're not a fan of seafood, there are multiple restaurants serving food from around the world.
Festivals
Since Islam is the primary religion, Maldivians celebrate all Islamic festivals, namely, Eid-Ul Fitr, Eid-Ul Adha, The Prophet's Birthday, etc. Besides, they also celebrate the country's national and republic day.
Art and Craft
Maldivians are master boat builders. They have perfected the art of making dhoni, a traditional boat that can withstand the rough conditions of the sea. Tourists can buy miniature dhonis as souvenirs besides lacquerware and coir products, handwoven mats, and carved stones.
Entertainment
While traditional music and dance have a strong influence on African, Arabian, and Indian influences, Bollywood music, especially old Hindi songs are famous across the island country. Bodu Beru or big drums is a traditional dance song that starts slow but builds a frenzy and is performed by a group of 15 to 20 men.
Maldives At a Glance
| | |
| --- | --- |
| Official Name | The Republic Of Maldives |
| Official Religion | Sunni Islam |
| Official Language | Dhivehi |
| Official Currency | Maldivian Rufiya |
| Famous Food | Mas Huni, Maldivian Fish Curry, Fried Yams, Gulha |
| Places To Visit | Male, Maafushi Island, National Museum, Fulhadhoo Island, Hulhumale Island |
| Things To Do | Dolphin watching, Fishing, Snorkeling, Scuba Diving, Canoeing, Whale Watching |
Best Places to Visit in Maldives
Maldives is an extraordinary nation with beauty following you wherever you go. The country has over 1200 islands, but only 200 are inhabited. While every island has its own charm and is worth visiting, it is practically impossible to cover all of them within your short vacation. We've listed 10 of the most visited islands you must not miss the next time you're in Maldives:
Male
This is the capital of Maldives and a great place to begin your Maldives tour package. The island is close to nearby attractions like Maafushi and Rasdhoo Islands. If you're interested in exploring Maldivian culture and history, Male is a must-visit. Some of the local attractions here include – the Grand Friday Mosque, the Victory Monument, National Museum, etc.
But if you're looking to lounge by the beach and explore the country's marine life, we suggest you go to other islands. However, you can stay in Male, taking day trips to adjoining islands to enjoy scuba diving, dolphin watching, snorkelling, and other activities. Maldives tour packages that include day trips leaving from Male are comparatively affordable.
Nalaguraidhoo Island
Nalaguraidhoo Island is located on the South Ari Atoll and around sixty kilometres from Male International Airport. It is famous for its sunkissed beaches and is even popularly called Sun Island. The island is a famous honeymoon destination with picturesque landscapes, coconut trees, colourful marine life, and beautiful beaches. The island is home to some of the world's famous beaches, including the Nalaguraidhoo Island Beach, providing a perfectly private atmosphere with its thick vegetation and powdery white sands. Some of the water sports you can enjoy here include canoeing, scuba diving, snorkelling, and kayaking.
And to make the trip even more interesting, you can take up nighttime fishing and even fry your own catch. But the highlight of the vacation has to be diving into the crystal clear waters to swim with manta rays, coral reefs, sea turtles, and other colorful fishes.
Maafushi Island
Maafushi is a part of the Kaafu Atoll. It is one of the biggest and most tourist-oriented islands in the country with over 70 guest houses serving thousands of guests across the year. This is probably because the island is well connected to Male through speed boats and local ferries.
It is also a tourist-friendly destination with a designated Bikini Beach especially for tourists to swim or sunbathe in swimsuits. Unlike private resort islands, Maafushi is a lot cheaper thanks to the huge number of guesthouses that compete for business. You'll definitely get a good price for your accommodation and activities. Some of the things you can do at Maafushi include – snorkeling, scuba diving, admiring the bioluminescent planktons, and planning a resort day trip to nearby islands.
Hulhumale Island
Hulhumale is 7km from the airport and part of the North Male Atoll. The island is a sought-after destination among tourists thanks to its proximity to Male. There are plenty of accommodation options and activities to choose from for tourists. You could go swimming, kayaking, or simply lounge on the beach to soak up the sun. Hulhumale is a honeymooner's paradise who comes here to enjoy a romantic time in seclusion.
Ukulhas Island
This is a fairly remote island about 70 kilometres from Male and can be reached via speedboat in 2 hours. Ukulhas is part of the Alif Alif Atoll and is surrounded by beautiful coral reefs and lagoons. Accommodation options range from affordable guest houses and beach villas to water bungalows to suit different budgets.
The island is famous for its white sandy beaches and incredibly varied marine life with animals ranging from giant mantas and stingrays to zebra sharks, reef sharks, and colorful fish species.
Baros Island
Baros is around 16 kilometres from Male and can be reached via speedboat in 25 minutes. It is a part of the North Male Atoll and is famous for its water villas. Tourists prefer Baros Islands for its privacy and the luxury treatment accorded to guests. The island is famous for its white powdery beaches, including the Angsana and Vabbininfaru beaches. Some of the activities you can enjoy in Baros include snorkeling, diving, and canoeing. You can also visit the Marine Centre to help tourists learn more about the country's conservation efforts.
Baros Island is a favourite destination for weddings and among honeymooners and the ultra-rich looking for some privacy.
Huvahendhoo Island
This is a perfect destination for family Maldives tour packages thanks to its custom-made attractions designed to accommodate families with kids. The island is famous for its resorts, water bungalows, beach villas, and other accommodations, besides an array of fine dining restaurants serving international cuisine.
Huvahendhoo is around 87 kilometres and can be reached via ferry or plane. There are plenty of activities you can take up in the island, including snorkelling. Reef fishing, and jet skiing.
Best Beaches in Maldives
The beaches in the Maldives are one of the cleanest in the world, famed for their turquoise waters, powdery white sand, and lush green landscapes. No wonder the country is a honeymooner's paradise and an ideal place for destination weddings. Here's a list of the best beaches in the country:
Hulhumale Beach
This is one of the most popular and most visited beaches in the Maldives, thanks to the multiple hotels and resorts around the area. Hulhumale is often a part of most Maldives tour packages because of its excellent weather and amazing range of water sports activities. But being a public beach, you will be expected to dress modestly.
Mudhdhoo Beach
Among other things, Mudhdhoo is famous for the bioluminescent planktons that illuminate the shores at night, giving you a surreal illusion of starry skies. The beach is part of the Baa Atoll and a UNESCO World Biosphere Reserve. While Mudhdhoo is beautiful in the morning, the real magic starts as you experience the translucent blue glow that shimmers along the waves, gently lapping the shores.
Cocoa Beach
It is part of Como Cocoa, one of Maldives' first luxury resorts. This beautiful beach is loved for its live coral reefs seen through crystal-clear waters. Don't forget to take up scuba diving to experience the island's coral reefs, colorful fishes, and blacktip sharks.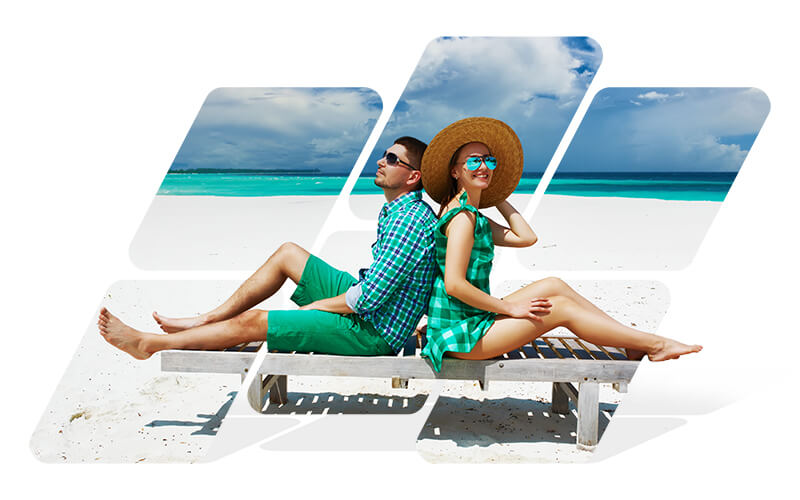 Vabbinfaru Beach
Vabbinfaru Beach is famous for its sandy white beaches, crystal clear waters, and nearby reefs. The beach is part of the Banyan Tree Vabbinfaru Island, known for its perfectly round shape. You can enjoy plenty of activities, including snorkeling, to experience the island's marine life, including small sharks, pufferfish, and turtles.
Reethi Rah
If you're looking for a secluded beach to spend some private time with family and friends, you must head to Reethi Rah. The coast stretches for over three and a half miles but provides over 12 secluded beach spots. You can book a villa with direct beach access to enjoy the sunset with only your loved ones for the company.
Thulusdhoo Beach
Thulusdhoo Island is an hour and half hour ferry ride away from Male, with resorts of various budgets. The beach is a haven for surfing enthusiasts, with some of the best surf breaks in Cokes Beach. Don't miss the local street food stalls and restaurants on the beach. Some other activities you can enjoy here include snorkeling and night fishing.
Bikini Beach
While there are six bikini beaches (basically, beaches where you are allowed to wear a bikini) in Maldives, the one on Maafushi Island is loved for its Insta-worthy ambiance. Unlike private beaches on the pricier side, Bikini Beach is a public beach with beautiful white sands, turquoise waters, and swaying palm trees.
Best Resorts in Maldives
With over 100 resorts interspersed over its numerous islands, choosing the best resort can be overwhelming. At GT Holidays, we select resorts that offer value for money and a wide range of cuisines that suit the Indian palate. Naturally, there must be plenty of water sports for adventure junkies. We have listed some for you:
Coco Bodu Hithi Resort
This resort on Bodu Hithu Island has been consistently reviewed positively on several websites, including Trip Advisor. It was even named among the Top Ten Best Resorts in the Maldives by The Telegraph. The resort has a laidback charm, making it ideal for long siestas soaking up the sun. There's also a spa and a pool to make your vacation experience even more comfortable.
Coco Palm Dhuni Kolhu Resort
Coco Palm Dhuni Kolhu is a private island resort offering much-needed privacy and exclusivity. This is a 4-star resort with hundreds of positive reviews on Trip Advisor and other social review sites. You can snorkel on the famous Baa Atoll UNESCO Biosphere Reserve. You can enjoy plenty of activities within the resort, including kayaking, windsurfing, and catamaran riding.
Cocoon Maldives
This award-winning resort is situated on Ookolhufinolhu Island and is inspired by Italian design philosophy. You can choose from overwater and beach villas depending on your budget. Activities include whale shark sightings, sunset cruises, parasailing, and fishing.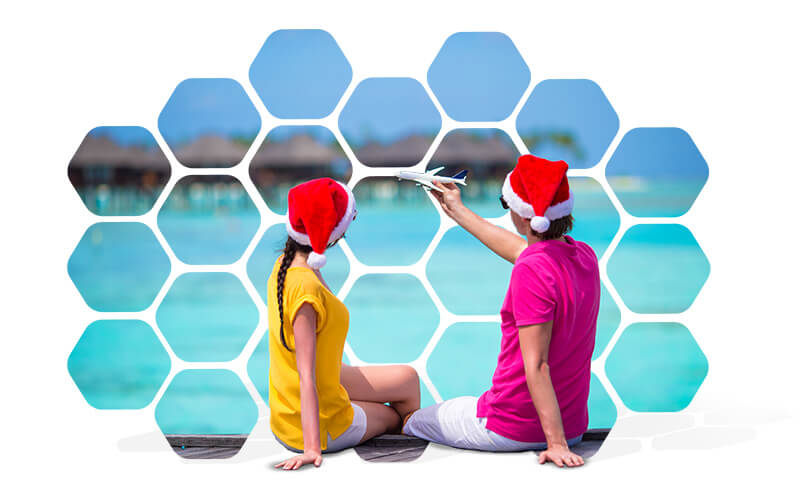 South Palm Resort
South Palm is a sought-after resort with over 130 beachfront and overwater villas facing the Addu Atoll's beautiful white sandy beaches. Activities include scuba diving and wellness spa treatments at the resort's floating spa.
Oblu Select Sangeli
This is an all-inclusive 5-star resort offering a premium travel experience to discerning travelers. With their Serenity Plan, you can enjoy high-end dining, enjoy the numerous watersports and excursions, and celebrate with their selection of beverages, cocktails, and premium wines from over the world.
Riu Atoll
This 4-star all-inclusive resort on Maafushi Island promises a great experience with plenty of activities, great food, and a luxurious ambiance. With over 250 rooms, Riu isn't as exclusive but offers plenty of unique experiences like swim-up bars, themed restaurants, and a wonderful view of the beach.
Adaaran Select Hudhuran Fushi
Adaaran Hudhuanfushi is situated on the North Male Atoll and is famous for its powdery white sands and pristine waters. Guests can choose from spa massages, watersports, massage therapies, wakeboarding, etc., or go to the gym to stay fit even during the vacation. Depending on your budget and travel preferences, you can choose from Garden Villas, Beach Villas, or Sunrise Ocean Villas.
Top 10 Things to Do in Maldives
Naturally, if you're in the Maldives, relaxing and sunbathing feature prominently on your list of things to do. But the island country has plenty of things to offer. Here is a list of things you can do besides lounging on the beach.
1. Sign Up for Scuba Diving and Snorkeling
With over 90,000 square kilometers of ocean surrounding the island country, it's hardly surprising that Maldives is perfect for snorkeling and scuba diving. Almost every resort features reefs that are close enough for travelers to swim. Some popular fishes you can enjoy include butterfly fish, clownfish, angelfish, and parrotfish. You can also sign up for beginner and seasoned scuba diving lessons.
2. Explore The Country's Culture and Islamic Heritage
With Islam being the only and primary religion in Maldives, it is no surprise that religion influences everyday aspects of life in the country. You cannot truly explore a place without understanding its local culture and food habits. Some places you must visit in the country include National Museum, Old Friday Mosque, Grand Friday Mosque, and the Male Local Market.
3. Enjoy Spa Sessions
With relaxation and comfort being the very essence of a Maldives vacation, it's no surprise that spa massages are at the center of every Maldives holiday. Spa treatments at most resorts include a variety of massages, facial treatments, and other spa offerings. You can choose from overwater floating spas with gorgeous views or underwater spas surrounded by marine life.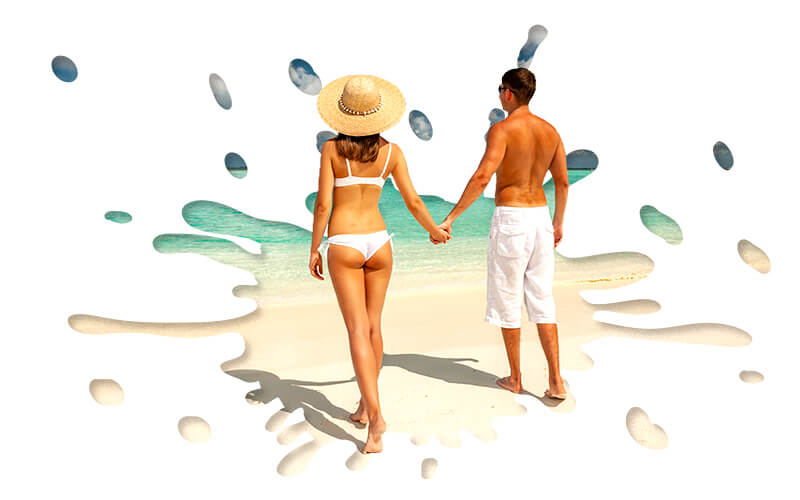 4. Candlelight Dinners by The Beach
With private beaches promising exclusivity, candlelight dining is a part of every romantic Maldives vacation experience. Proposing your fiancé on the white sandy beaches overlooking turquoise waters is a once-in-a-lifetime experience. You could also look for underwater restaurants offering a clear view of the reefs, colourful fishes, and manta rays.
5. Cruise Packages
Taking up day cruises is essential in most packages, allowing you to explore marine life and clear waters while lounging on a yacht touring the reefs and the surrounding ocean. This is an ideal activity for families and can be enjoyed by people of all ages.
6. Day Trips
Planning day trips to nearby islands is another favorite activity, allowing you to explore the country and make the most of your vacation.
7. Adventure Sports
Maldives is a paradise for water-based adventure sports enthusiasts. You can swim with manta rays, go parasailing, and enjoy fishing, surfing, kayaking, wakeboarding, and even kitesurfing.
8. Shopping
Maldives is famous for its coconut shell-based handicrafts, miniature dhonis, and lacquer work. You can also buy handmade necklaces, bracelets, charms, and other items made using seashells, tree resin, and other locally available natural ingredients.
9. Enjoy On a Glowing Beach
At night, the shores along some of Maldives' beaches are full of bioluminescence planktons that float in the area. Walking on the beach is safe and, in fact, a thrilling experience.
10. Helicopter Tour
An aerial tour of the different islands is the best way to experience the breathtaking beauty of the place and the stunning scenery of the clear lagoons, bright blue waters, and unique island designs.
Things To Remember in The Maldives
Indeed, Maldives is a beautiful and magical destination. But it is equally unique regarding culture, climate, and geography. Here are some of the things you must know before visiting the country:
It's A Beautiful but Sinking Country
Almost all islands in the country are only 1 meter above sea level. By 2050, nearly 80% of the country could sink because of rising sea levels. When visiting the Maldives, remember to keep your experience eco-friendly. This includes choosing environmentally sustainable resorts, avoiding plastic, supporting coral restoration efforts, and keeping the beach clean by returning your trash after every beach outing. And do not take seashells back home – it's illegal and negatively affects hermit crab habitats because they make these seashells their home.
Maldives Is an Islamic Country
Maldives is a conservative country with strict rules about food, alcohol, and clothing. For instance, you cannot consume alcohol publicly and are expected to dress modestly. Similarly, pork is banned in the country. And so are religious books and idols. Kissing and other public displays of affection are frowned upon and could even be considered offensive, leading to punitive action. Similarly, do not discuss LGBTQ issues openly with the locals, as this is sensitive.
Check If the Resort Allows Kids
Not all resorts are kid-friendly. So, make sure the resort has activities for kids before choosing Maldives tour packages. This is especially important when booking overwater villas.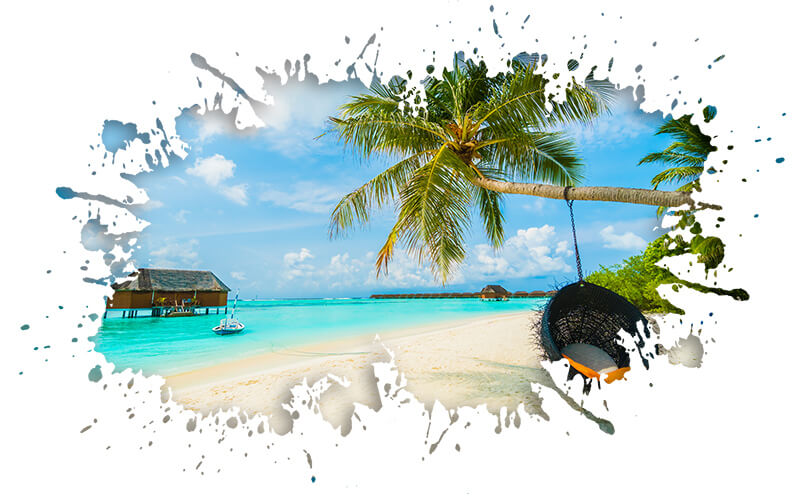 Wi-Fi Connectivity Can Be Spotty
Almost all resorts advertise free Wi-Fi, but the signals could be weak and slow. You cannot expect the resorts to have the same connectivity as you would expect in a big city.
Not All Watersports Are Covered in All-Inclusive Packages
While most Maldives tour packages cover non-motorized activities like paddle boarding and canoeing, you must pay extra for jet skiing, catamaran sailing, and scuba diving. However, some resorts offer additional deals on activities like dolphin cruises, snorkeling, etc., if you choose to extend your stay by an extra night.
How To Reach Maldives?
The only way to reach the Maldives from India is by air. There are multiple flights from Mumbai, Bengaluru, Chennai, Kochi, Hyderabad, and other major cities. Kochi is the closest city, with flights costing less than INR 6000. Some airlines operating flights to Maldives include Air India, IndiGo, and Spice Jet. You can also book tickets on international airlines like Qatar Airways, Emirates, and Sri Lankan Airlines.
Best Time to Visit Maldives
The ideal time to visit the Maldives would be from December to April when there's little rain and low humidity. But a lot depends on what you're expecting from the vacation.
If you're looking for the cheapest time to visit Maldives, look for Maldives tour packages during the wet season, i.e., from May to October. This is when hotel rates are substantially low, and even throw in great deals like free transfers, room upgrades, and free nights.
If you're interested in scuba diving, sign up for a vacation package during the dry season.
If swimming with manta rays and whale sharks is on your bucket list in the Maldives, the best time to spot them would be August to November.
Why Book Maldives Tour Packages with GT Holidays
Transparent pricing across all platforms. No confusion or hidden costs
All-inclusive packages. No surprise expenses during the tour
Guide and driver included in the tour price
Comfortable AC coaches
Best-quality hotels with high ratings on Google and other social review sites
Guaranteed hassle-free experience
Extra care to ensure you have access to delicious Indian meals
Tours to match every budget, age group, and lifestyle
Maldives is an Islamic country, and tourists are requested to respect local laws that are followed strictly. For more information, we suggest you visit the official website of the Ministry of Tourism, Maldives.
View All Maldives Packages
FAQs:
Is the Maldives ideal for a family vacation?
While Maldives may have gained popularity as a romantic destination, there's no doubt that it is equally family-friendly. Plenty of resorts offer kid-friendly activities like treasure hunts, quiz nights, movie nights, etc. You can also enrol your kids in a coral adoption program to sensitise them about the country's fragile environment. However, check with the tour operator if the resort allows kids, as most water villas have age restrictions.
Is the Maldives a good honeymoon location?
The Maldives is one of the best places for a honeymoon. With its pristine beaches, crystal clear waters, and luxury resorts, there's hardly any other place as romantic as the Maldives. But the country is an equally popular choice for destination weddings.
Can you book group packages for the Maldives?
At GT Holidays, we book group packages at the best prices. Most resorts offer activities suited for a wide range of age groups.
Is Maldives an affordable destination?
While the Maldives is not cheap, a lot depends on your tour operator and the package chosen. At GT Holidays, we offer affordable all-inclusive packages that cover all aspects of your travel, including transfers, food, and accommodation. However, package costs also depend on the season and the distance from the capital island, Male.
How does visa processing work for Maldives?
Indians do not need a pre-arrival visa for tourism, provided they have a valid passport and proper travel documents, including accommodation booking evidence, sufficient funds, etc. Tourist visas are valid for 90 days.
Do you need a passport to visit the Maldives?
Yes, you will need a valid passport to visit Maldives.
How much does it cost to explore the Maldives?
The cost of Maldives tour packages depends on many factors, including the resort chosen, the season you are visiting, activities chosen, the places you visit, and the tour operator. At GT Holidays, you can book 3Nights 4Days Maldives tour packages at less than INR 25,000.
How many days do you need to explore the Maldives?
While the island country has over 1000 islands, only 200 are habitable. To explore the entire country, 4-5 days are enough. But if you plan to explore all the various activities the resorts offer, you will need around a week.
Can you take babies to the Maldives?
Maldivians are warm, friendly, and happy to help couples traveling with babies. You can even hire a babysitter on the resort if you plan a romantic date with your loved one. Before booking a package, ensure the resort allows kids as most water villas have age restrictions.
Do you have to pay tips in the Maldives?
Tipping is uncommon in the Maldives. Most hotels and restaurants do not encourage tipping, as a 10% service tax is always added to the bill. But it is up to you to tip, depending on the quality of service you were provided.