The Maldives is known for its refreshing aura and beautiful scenery. But to make the most of your vacation experience, you must choose a Maldives city tour package that includes the best beaches, water villas, water sports, and cruises. At GT Holidays, we offer Maldives trip packages with unique experiences like luxurious resorts, scenic beaches, exciting water sports, and a Male Maldives city tour. Here's a little review of what to expect in the exotic islands of the Maldives.
Natural Surroundings
Once you land on the paradise island of the Maldives, you will find yourself surrounded by pristine beaches and tropical greenery. Most resorts are environmentally conscious and manage their respective islands to prevent ecological damage. Our Maldives honeymoon packages give you plenty of opportunities to be one with nature and go underwater diving to observe various colorful fish and coral formations. You will find that the smaller, less-populated islands are not disturbed by tourism and other industries to safeguard their rich marine environment.
Scenic Beaches
The white sandy beaches of the Maldives surrounding the turquoise oceans make for a picture-perfect destination for honeymooners. When you book your Maldives honeymoon packages from Chennai through GT Holidays, you will be staying in one of the luxurious villas of the resort islands, set amidst the plethora of blue lagoons and lush greenery.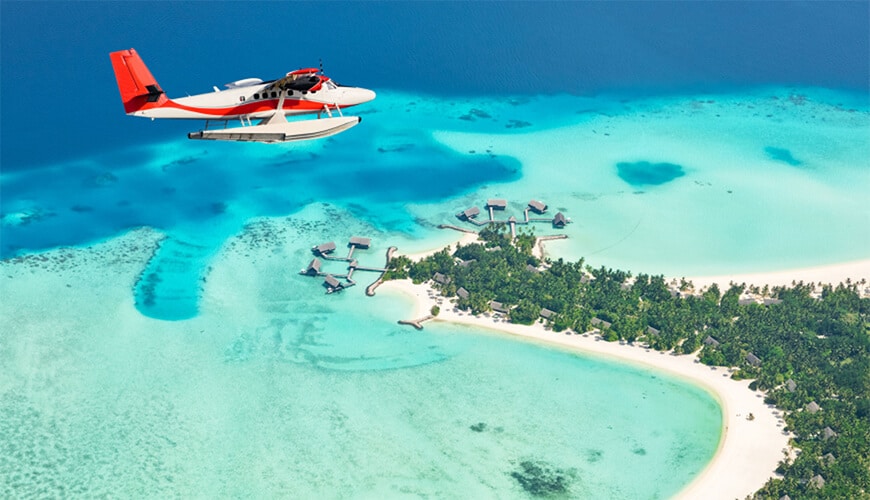 City Attractions
Besides the scenic surroundings, Maldives is also known for its cultural and historical monuments. Our Maldives tour packages include a tour to Malé city, where you can explore several landmarks that give you a glimpse into the Maldivian faith and culture. As part of the Malé city tour itinerary, you will see various monuments and walk through the different localities to understand the history of that place. You can climb up one of the tallest buildings in the city to get spectacular panoramic views or visit the Mulee Aage Palace or the Grand Friday Mosque to get mesmerised by the magnificent architecture and iconic coral engravings. After Malé city sightseeing, you can head to the local market, a paradise for the shopaholics to buy souvenirs to take back with you.
Water Excursions
If you want to go to Maldives for a family vacation, GT Holidays offers several water-related adventure activities for you to indulge in, along with the Male city tour package. Our customised packages help you with cruise rides and underwater diving opportunities where you can spot turtles, colourful reef and marine fish, manta rays, sharks, whales, and dolphins.
Hope our review can help you with planning your next trip to Maldives. Call us at GT Holidays to learn more about our Maldives city tour package. Follow our Instagram profile to know about the latest offers and discounts.