The Maldives is one of the world's most gorgeous beach destinations, with remarkable island resorts. You may want to look forward to scenic beaches and tranquil surroundings or wait to experience all the fantastic water sports. With over 100 resorts to choose from, you'd be truly spoilt for choice. Here are a few things you must know about Maldives resorts when looking for accommodation options.
Accessibility
Once you arrive at the Hulhule Airport in Male, you will need a transfer via seaplane or boat to the destination island. The transit time from Male airport varies from 10 minutes via speedboat to an hour via flight, depending on the distance to your resort. You must check your flight timings to Male since certain seaplane transfers can be done only during the day. Book your Maldives trip packages from GT Holidays to choose a resort that offers transfers both ways.
If you plan to stay in a well-connected area, there are plenty of resorts in Male. Choose a resort that takes care of your airport transfers. You should also bear in mind that seaplanes are generally small and hence prone to baggage restrictions.
Accommodation
Most resorts offer multiple options to accommodate varied guest preferences and budgets. You can choose water villas with a spectacular view of the turquoise ocean and powdery white sands. The rates vary according to the type and size of the villas. The villas are either single or double-storied. Stilted water villas that extend into the sea and beach villas built on sand are the most popular resorts in the Maldives. Whether you want to step onto a beach or dive directly into the blue waters, GT Holidays can arrange your stay as per your preference.
Budget
Your travel budget is the most crucial factor when choosing Maldives resort packages for family stays. Most tourists often alter their travel plans due to the high accommodation, food, and travel costs. Due to the popularity of the Maldives as a beach destination, many resorts have presented affordable budgets to travelers who may not be able to head to 5-star hotels. When you book a resort with GT Holidays, our travel agents offer different packages per your budget. Whether you want to stick to a budget or splurge lavishly, you should be mindful of certain extra costs. Apart from accommodation, your budget must include flight ticket costs, food, travel, and water sports and activities in and around the resort. When choosing a Maldives resort, you must consider transfer costs since these charges impact the overall holiday budget. Traveling by speedboat is comparatively cheaper, but it depends on how far your resort is from Malé. Seaplanes, on the other hand, may offer a quick and scenic ride but are expensive. Ensure that your resort helps with these transfers and pre-books them before arriving in the Maldives.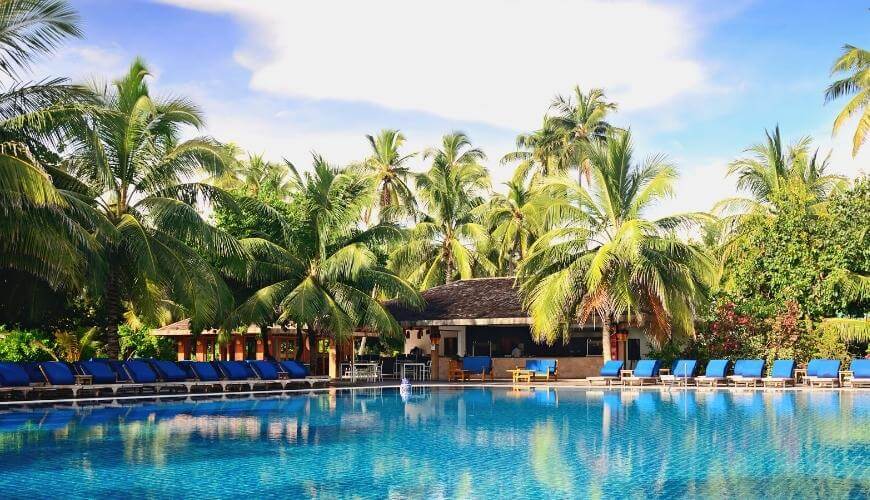 Activities
When choosing a resort, remember that every island in the Maldives offers different facilities depending on its geographical shape and form. For the best resorts in the Maldives for couples, you must be very clear about how you intend to spend your time on the island. If you are a couple that's an adventure enthusiast, then choose a resort that offers activities like water sports like surfing, kayaking, snorkeling, jet-skiing, sailing, etc. Tranquil beaches to relax and clear oceans to dive into would be the right kind of paradise for couples. Ensure that all these activities are part of the resort in the Maldives.
Food
Any vacation is memorable if the stay and food are right. Most popular resorts in the Maldives offer meal packages as your dining selection may be limited to what is available on the island. When reading reviews about Maldives resorts, always check meal plan options. Depending on the island and resort of your choice and your itinerary, you can choose from a standard breakfast, all three meals, or an all-inclusive meal plan that includes beverages. Choosing all-inclusive meal plans are cost-effective since food on the island is expensive. Traveling to other resorts for meals is inconvenient and costly as most resorts entertain only in-house guests in their restaurants. It's advisable to pick a resort with multiple in-house restaurants serving a more comprehensive range of cuisines to keep your gastronomical experience interesting.
Offers
Resort management knows what most travelers look forward to on vacation to the Maldives. They want the guests to make the most of their stay at the resort and indulge in its extravaganza. Due to the influx of visitors and the thriving resort industry, many resorts offer an early bird discount on their facilities. Some resorts have their management across several connected islands. You can explore such resorts that offer various experiences and activities for entertainment. You can book island excursions, city tours, private dining, and sunset cruises as part of the offer. GT Holidays can help you book a Maldives tour package from Chennai with an attractive discount on such resort amenities. You may take up an all-inclusive offer on spa packages, golf courts, babysitting services, kids' clubs, and diving trips around the island.
You can head out for swimming and windsurfing or take a boat ride to the coral reefs. If snorkeling is your favorite beach activity, you may want to book a resort island known for its fantastic house reefs. Resorts that offer private pool villas facing the spectacular turquoise lagoons are perfect if you want to chill and relax.
Choosing one among the numerous resorts offering a unique experience in the Maldives can be confusing. Ensure you understand the various aspects before booking a Maldives resort, from resort size and amenities to island activities and facilities. Take your time to research each resort before making the final booking. You may rely on us to select one of the best Maldives trip packages with the right resort that caters to your preferences. Or call us at GT Holidays, and we'll help you plan the best possible trip with our knowledge about Maldives resorts. Follow our Instagram profile to know about the latest offers and discounts.