As one of the world's most beautiful and romantic destinations, the Maldives is a perfect location for your romantic or relaxing trip. With 1,192 coral islands boasting turquoise-blue lagoons, white sand, and palm-fringed beaches, no wonder Maldives beach villas have become the most sought-after accommodations. If you love relaxing just a few steps away from the beach with sun loungers and crystal-clear waters surrounded by white sand, then you need to book your Maldives beach villa package from GT Holidays.
Privacy
Maldives is home to famous beach villas, which make an excellent way for you to embrace the clear ocean waters by just stepping out from your villa. The proximity to the ocean and the colorful views of the lagoon and reef will make your beach experience in the Maldives memorable. You can enjoy unrestricted access to the pristine waters surrounding the island of Meedhupparu by booking your stay at Adaaran Select Meedhupparu Maldives through GT Holidays. As newlyweds, you can book one of our Maldives honeymoon packages, ensuring total privacy at the resort's beach villas that offer splendid beach views and elegant interiors.
Family Get-Together
Beach villas also make an excellent stay for families who travel together for a vacation. The Maldives beach villas by Adaaran Select Hudhuran Fushi are situated along the prime beach frontage with convenient access to the beautiful sea and in proximity to all the hotel facilities. Our agents can help you with the beach villa Maldives booking, ensure that the villa is equipped with various modern amenities, and offer spacious accommodation options for guests spending their holiday with family. The elegant furnishings with a tropical theme décor complement the sunsets' beautiful hues that greet you at dusk. Generally, you can book Maldives beach villas with a private pool and butler service for family trips.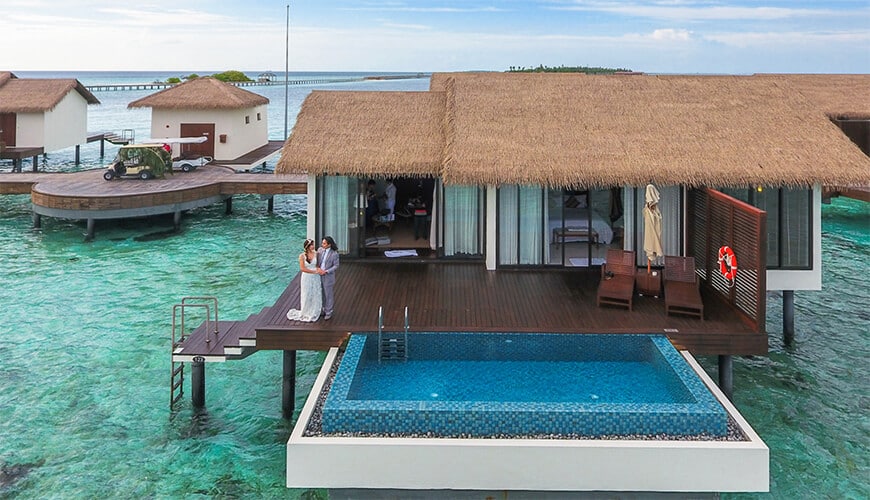 Scenic Views
Most Maldives beach resorts are known for their exotic locations and scenic views of the breathtaking Indian Ocean. Imagine yourself lounging on the private deck of a beach villa a few steps away from the white, sandy beaches of the island and enjoying a dramatic sunset or dining under the stars. The beach villas look towards the picturesque sights of the glistening, turquoise seas and the lush tropical vegetation. For a private beach villa in the Maldives, GT Holidays has options of resorts like Adaaran Select Meedhupparu that allow you to revel in its serenity by immersing yourself in the tropical breeze and soothing sounds of the waves.
World-Class Amenities
The beach villas in the Maldives are well-equipped with world-class amenities, making them ideal for a secluded break with a modern touch. While some beach villas offer private gardens for extra privacy, others provide outdoor bathrooms surrounded by walled gardens and private pools, giving it a more romantic feel. Most beach villas offer easy access to all island facilities though being quite secluded from the rest of the crowd. The beach villa Veli and beach villa Boaku in the Dhigufaru island are available in our Maldives travel packages, which offer you semi-outdoor shower space and an indoor bathroom with His and Her vanity space. The room is ready with all the modern amenities you will require during your holidays.
Whether you are a romantic couple, an adventure seeker, or families looking for a getaway, the Maldives manages to entice you into its spectacular world. Escape to this paradise island and enjoy the beach villa experience to turn your trip into a worthwhile memory with GT Holidays exclusive Maldives tour packages from Chennai. Our agents will be happy to offer you the beach villa Maldives price in Rupees once you get in touch with us. Follow our Instagram profile to know about the latest offers and discounts.