A Maldives vacation can be one of the most memorable trips in your life. Finding a dream accommodation is the perfect accompaniment to enjoying the exquisite beauty of tropical islands. Read on to learn more about what you must look for before booking Maldives accommodation packages.
1. Location of The Hotel/Resort
Most Maldives hotels are amidst exquisite islands and surrounded by palm-fringed beaches. But if you are looking for even better options, choose water villas. These popular Maldives accommodations on the water include exclusive water and beach villas, offering the best views of the crystal-clear ocean and blue lagoons and the best amenities. Call us for more information about our unique all-inclusive accommodation options in the Maldives.
2. Privacy
With 100-plus resorts to choose from, every hotel or resort in the Maldives promises something unique. Most resorts are located on their private island. Our Maldives honeymoon packages ensure you the tranquility and privacy required as newlyweds. You can experience a range of luxuries and high-quality service in the Maldives' all-inclusive resorts honeymoon offers. From couple massages and romantic sunset cruises to private dining on beaches and water activities, GT Holidays can help you organize a stay as per your needs.
3. Affordability
Maldives is generally an expensive destination since it is challenging to run a quality hotel due to logistic reasons. The different resort islands away from the capital city of Malé tend to make it tough to maintain the services and amenities at a lower cost. Depending on your budget, you will find many great resorts in the Maldives. From the modest to the ultra-luxurious, we can find you the best Maldives accommodation deals at GT Holidays in remote island locations.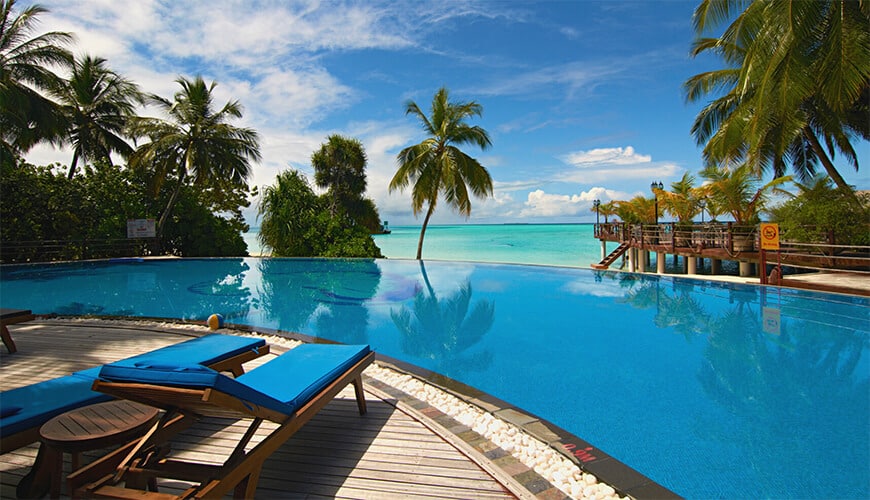 4. Activities
An enjoyable vacation in the Maldives depends entirely on your stay and the indoor/outdoor activities you decide to participate in. Book your Maldives trip packages with GT holidays and get an array of activities through the chosen hotel or resort per your budget. For a pocket-friendly budget, you can enjoy water sports activities, excursions, and indoor dining in 3 to 4-star hotels. If you are willing to go out and stay at an exclusive and private island resort, you can experience the best amenities and activities available. From private massages and indoor lounging areas to outdoor activities like diving and snorkeling in secluded spaces, you will be offered all exclusive opportunities at the island.
We at GT Holidays can also offer a combination of accommodations, dividing your stay between local and luxury hotels through our Maldives tour package from Chennai. The set will allow you to try both Maldives accommodation packages, making it an affordable and memorable tour experience. Follow our Instagram profile to know about the latest offers and discounts.