If you had put your vacation plans to the Maldives on hold due to the Covid-19 pandemic, it's time to get ready and pack your bags. Head to this paradise destination with help from GT Holidays, the best travel agency in Chennai. The Maldives, being an archipelago, provides a natural and safe environment to locals and visitors alike. However, the Maldives government gives importance to health and safety standards in the island nation and has made them a part of the list of travel requirements.
Whether you want to choose from Maldives honeymoon packages or family packages, our GT Holidays agents would like to be your Maldives travel guides and help you with all your travel queries.
Here's a list of the 4 essential requirements for your perfect and relaxed island vacation.
1. Travel Requirement
The island of Maldives welcomes people of all nationalities. You will be granted a free 30-day tourist visa upon arrival, provided all the following Maldives travel requirements get met.
Your official passport should display at least six months' validity from the travel date.
You should have confirmed return tickets from the Maldives.
Your hotel or resort booking confirmation in the Maldives for the stay during your trip.
Document displaying sufficient funds to cover your future expenses in the Maldives.
Two passport-sized coloured photographs.
2. Entry Requirement
As long as you have a confirmed pre-booked stay as a tourist, your entry requirements in the Maldives are the same for adults and kids. Our agents at GT Holidays can assist you with all the Maldives entry requirements per the latest government directives.
Carry your valid passport and the necessary documents required for a visa on arrival. Before your travel, it is best to ensure that your passport is not damaged to avoid being stopped by immigration.
Carry a completed IMUGA traveller declaration form for you and your fellow travellers, if any.
You need to provide emergency contact information.
Your proof of stay at an approved hotel or resort in the Maldives
You must check with your travel agent whether you need a yellow fever certificate to enter the Maldives. If you plan to book your Maldives tour package from Chennai, contact our GT Holidays agents, who will gladly help you with all travel requirements.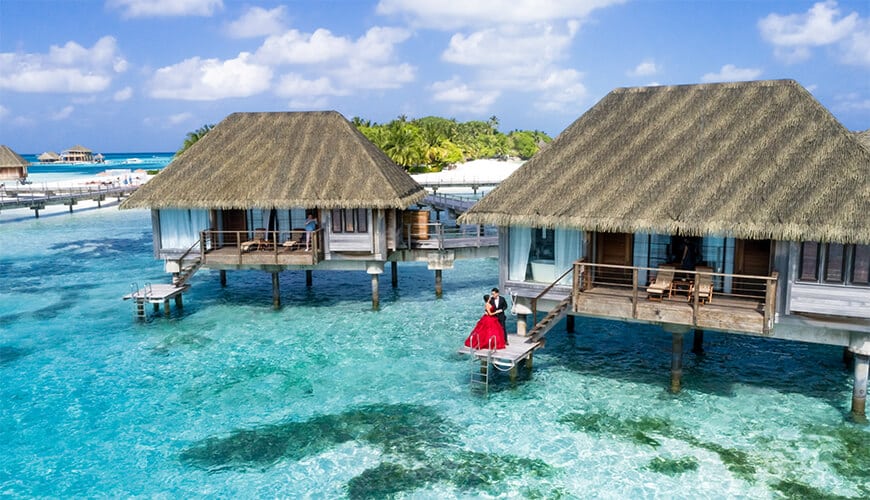 3. Quarantine Requirement
As a tourist, you are no longer required to present a negative RT-PCR report on arrival. It is best to check the current Maldives quarantine rules with your travel agent in case there's a change at short notice before departure.
Quarantine is not mandatory for you as a tourist on arrival in the Maldives.
If you develop any covid-19 symptoms, it's best to report them to the resort's medical staff. The staff will help you quarantine at your resort hotel or a government facility depending on the severity of your symptoms.
It's best to check in advance with your travel agents regarding the insurance coverage to avoid the additional costs that may arise due to an extended stay.
4. Health Declaration Requirement
You must submit a Maldives health declaration form during entry and exit from the island.
Within 24 hours of travel, you must submit a self-declarative health form in English confirming a negative PCR test result.
You will need to conduct the Covid-19 test 96 hours before arrival or departure from the Maldives.
Without the health declaration document, you may have issues at the immigration counter, and your entry might get denied.
Before booking your Maldives tour packages, please check with your travel agents regarding the need for a negative PCR test at the prospective resort.
As an Indian tourist, you are eligible for a visa on arrival into the Maldives and don't need any pre-approval or application submission beforehand. Just go through our Maldives travel guide and ensure carrying all the necessary documents with return tickets and copies to make a hassle-free entry in the Maldives. If you plan to extend your stay, you can request an extension without paying additional charges. Follow our Instagram profile to know about the latest offers and discounts.