The Maldives is a gorgeous getaway if you respect the local laws, mainly on islands not frequented by tourists. The island nation is very conservative in its ways and habits. Most resorts have lenient rules for tourists as compared to the inhabited islands. It would be best to remember a few things before you embark on your vacation to ensure a hassle-free trip. Here are some of the dos & don'ts in the Maldives that will help you during your travel.
Do's
Be Respectful
The Maldives is a predominantly Muslim nation, and mosques are found all over the island. Though most locals are amiable and accommodating, you should always be respectful of their ways and act accordingly. You must remove your shoes before entering a place of worship or residence as a mark of respect. During Ramadan, the locals observe strict rules around the fasting period from sunrise to sunset. Many restaurants stay closed during the day. It would help if you remembered things to avoid in the Maldives, like eating, drinking, or smoking in public places, especially on an inhabited island.
Pack Appropriate Things
The Maldives is known for its all-year-round tropical climate due to its location on the equator. Therefore, it is best to book your Maldives tour packages in advance. The heat, especially during summer, can lead to many inconveniences due to skin damage. Ensure you carry lots of sunscreen and accessories that offer protection from the sun, such as hats, sleeves, and light clothing. The sun's rays come down sharp at a 90-degree angle; hence it would be wise to pack things that will help in these conditions.
Explore Water Sports
The Maldives is one of the world's top destinations for all kinds of water sports. Apart from lounging on the magnificent beaches and taking a plunge in the resort's pool, it would help if you ventured into the idyllic coral isles, where a fantastic underwater world awaits. Exploring the various kinds of water sports at your disposal is only fair. Most resorts offer a beginner's course for diving, surfing, and fishing activities. The moderate ocean water temperature, limited crowds, and crystal-clear waters make it easier for you to try water sports like water skiing, wakeboarding, banana boat riding, catamaran rides, jet skiing, etc.
Try Local Cuisines
If you love seafood, Maldives is the perfect foodie destination. The local cuisine in Maldives consists of fresh produce and an authentic blend of flavors that can leave you craving for more. The main ingredients used in most dishes in the Maldives are coconut, olive, curry leaves, and tuna fish. Dishes like Masroshi, Bis Keemiya, Gulha, etc., are flour dough filled with fish, onions, chilies, and coconut and served toasted or fried. Local cuisines like Garudhiya and Bay, Rihaakuru, and Masburi Riha are a must-try. You can soothe your sweet cravings with a delicious pudding called Saagu Bondibai or a dessert made of cassava and coconut known as Aluvi Boakibaa that will melt in your mouth.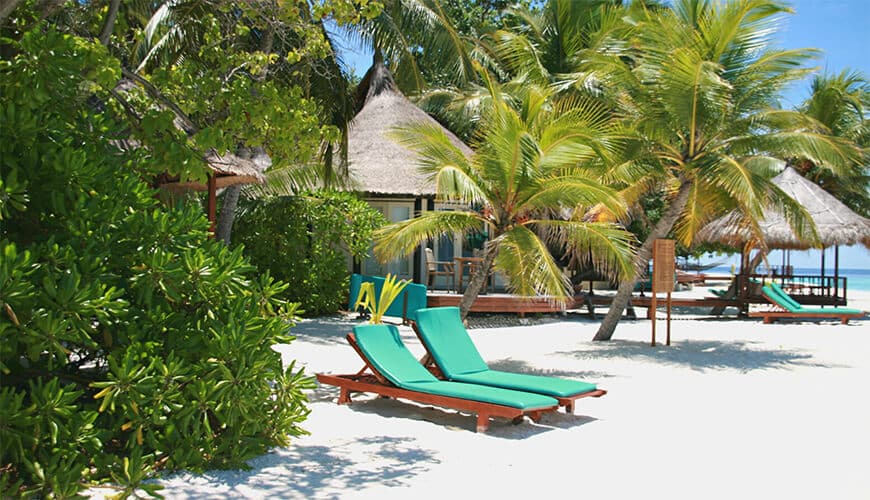 Don't
Dress Inappropriately
You must dress appropriately in a conservative nation like the Maldives, especially on inhabited islands. Women are expected to cover their shoulders and legs, while men have to switch to long pants instead of shorts. Similar clothing will be expected during your visit to a mosque or a religious site. The non-resort islands do not approve of bikinis and topless sunbathing. One of the basic mistakes to be avoided in the Maldives is public nudity, as it is strictly prohibited to avoid offending the locals. However, most resorts allow you to wear swimwear in the resort islands.
Get Banned Items
As a strictly Muslim country, there is a list of what is not allowed in the Maldives under the prohibited items that you cannot carry past customs. These include alcoholic beverages, narcotic drugs, pork, and religious materials that are offensive to Islam. The import and consumption of liquor in the local islands are strictly prohibited. Ensure that you don't get involved in the possession or consumption of narcotic drugs as it carries harsh penalties in the Maldives, including life imprisonment. Things like pornographic materials in the form of sex toys, books, magazines, videos, and software are also prohibited. Live pigs are not allowed in the country, and for dogs, you will require prior permission and communication from a local agent in the Maldives. After acquiring the consent, your dogs will be only allowed in boats and liveaboards, but not on land, except for arrival and departure at the airport.
Engage in PDA
Engaging in a public display of affection is considered highly offensive on non-resort islands such as Malé City. As a couple, you cannot indulge in western gestures like holding hands, hugging, or kissing since it is unacceptable in the inhabited islands and may result in punitive action. Since Maldives is conservative regarding PDA, you should wait until you reach your destination resort booked through one of the Maldives honeymoon packages.
Disrupt The Ecosystems
The Maldivians believe in protecting its environment and animals and have listed some do's & don'ts in the Maldives. During your diving or snorkeling trips, the instructors will advise you against touching or picking corals. It would be best to be mindful when purchasing souvenirs made from turtle shells or corals, as they are the most protected species in the Maldives. It is best to choose your souvenirs carefully to avoid heavy fines. Though crafted souvenir items made from coral or turtle shells may be for sale on the islands, exporting them is illegal. Hence, you should make sure to pick keepsakes that you can bring back with you! The local environment is very delicate in the Maldives; therefore, you are expected not to litter the streets or dispose of plastic bags in the sea.
Make your stay comfortable by trying to learn a few phrases in Dhivehi for essential communication with the locals. If your visiting Male city, do remember that the curfew starts around 10 pm, and it's best to head back to your island on time.
The Maldives is the world's lowest and flattest nation, with some of the islands slowly disappearing. It's best to avoid missing a chance to see these spectacular worlds before they're gone forever! Make your trip to the Maldives special by booking your Maldives tour packages from Chennai but ensure you adhere to the above do's and don'ts. Call GT Holidays and add the Maldives to your travel bucket list today. Follow our Instagram profile to know about the latest offers and discounts.