The Maldives is located near the equator and amidst the Indian Ocean, making it a perfect vacation spot, especially for adventure lovers. The importance of water sports in the Maldives has increased over the years, attracting swimmers and non-swimmers to the island. As a popular tourist hub, the island offers various water-based activities throughout the year for people of all ages.
Whether you want to travel solo, as a honeymoon couple, or with your family and friends, there are plenty of water sports in the Maldives to make your vacation exciting and worthwhile. Let's look at a few reasons why people must experience Maldives adventure sports at least once in their lifetime.
Weather
The Maldives has the perfect tropical climate making it the ideal destination for a relaxing and adventurous holiday. The island's proximity to the equator ensures year-round warm weather with temperatures between 26 °C and 29 °C. The country experiences two seasons: the wet season with monsoons between May and October brings in strong winds, and the dry season between November and April boasts sunny days, attracting tourists to its various islands. Visit us to learn how we can help you with Maldives travel packages that match your requirements.
Ocean
If you are looking for an exotic beach vacation amidst a tropical climate in a quiet destination, you must visit the Maldives islands. The island's tranquil and breathtaking panoramic views, swaying palms, deep blue shallow lagoons with live coral reefs, and white sandy beaches offer an unforgettable experience. The ocean around the islands offers unique water-based experiences and ample opportunities for you to explore adventurous water sports.
Access
If you are wondering whether getting to the Maldives is a complex affair, allow GT Holidays to plan your vacation and arrange for your Maldives tour package from Chennai. Our agents will guide and help you with your stay and travel from scheduled flights and transfers to your hotels.
Though the Maldives is known for its long list of attractions, water sports in the Maldives are among the country's most desirable activities. The ocean temperatures around the islands allow you to partake in under and above-the-water activities. You can choose to explore the unknown with a roller-coaster-like thrilling water experience or head for a gentle sail in the ocean. Regardless of your call, head straight to the islands with the Maldives water sports package from GT Holidays and enjoy the beautiful and exciting water sports it offers.
Snorkeling
The Maldives is a perfect place to learn snorkeling. From children to the elderly, everyone can enjoy and explore the underwater flora and fauna amidst the shallow reefs. For the more adventurous divers, hire a catamaran for a boat trip into deeper seas and enjoy the abundance of aquatic life.
Surfing
Surfing is one of the most popular Maldives adventure sports among tourists. With warm weather and great waves around the various islands, Maldives has gained a good reputation among the surfing community. Choose windsurfing and kite surfing if you prefer to enjoy the sea waves with the sea breeze simultaneously. Most atolls have well-equipped windsurfing schools with expert instructors that help you with lessons and guidance in surfing waves if required.
Scuba Diving
The Maldives has a diverse environment, including reef dives, drift dives, and wrecks, providing ample opportunities for divers of any skill level. If you are an experienced scuba diver, there are plenty of drift dive spots where the strong currents bring in more significant marine life, like sharks, tuna, and mantas. As a couple, you may choose our Maldives honeymoon packages that include scuba diving in the shallow lagoons for practice dives and diving classes.
Water Skiing
With some coaching, you can enjoy water skiing. Learn how to glide over the ocean's calm waters surrounding the island with help from experienced divers. Most resorts have speed boats and skis, which you can hire at affordable hourly rates.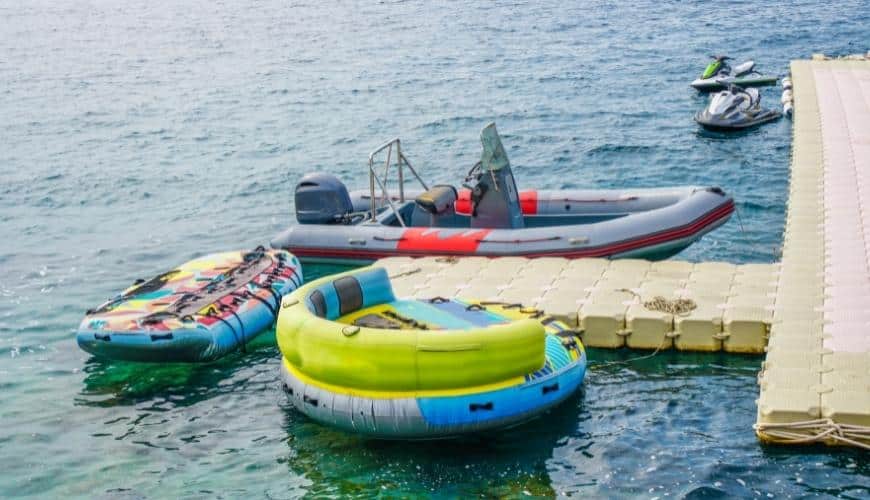 Para-Sailing
You can request trained instructors and learn para-sailing for an outstanding visual experience. This exciting water sport combines speed and wind to offer an amazing aerial view of the lush green islands amidst azure blue waters.
It is nice to note the importance of water sports in the Maldives towards lesser-recognized water activities such as sea kayaking, big game fishing, wakeboarding, knee-boarding, and the popular banana boat rides to provide entertainment and adventure to all kinds of tourists.
Regardless of what activities you choose, GT Holidays offers you the best and most cost-effective Maldives water activities package. Call us for your travel plans and fall in love with this great island nation. Follow our Instagram profile to know about the latest offers and discounts.