The Maldives is a tropical holiday destination in the Indian Ocean famous for its underwater life and clear waters. But if you are still wondering why you want to visit the Maldives and whether to add it to your travel list, then you may want to understand more about what the islands offer.
The stunning islands of the Maldives are tropical paradise because of their gorgeous archipelago and resort services that offer an experience of a lifetime. The Maldives Islands comprise an array of mesmerizing coral islands engulfed by sprawling greenery. Choose from the numerous islands and resorts we offer as part of our Maldives tour packages. Here are some of the reasons to visit the Maldives.
1. Breathtaking Views
The Maldives, indeed, has packed in all the charm of the Indian Ocean. Right from the get-go, pamper yourself with breathtaking views of picturesque crystalline beaches surrounded with sparkling soft white sand, beautiful turquoise sea, and clear blue skies. Imagine yourself basking on the glorious sunlit beaches lined with lush green palm trees. All your picture-perfect postcard-worthy photos will be good enough reasons to go to the Maldives.
2. Scenic Honeymoon Destination
What could be more alluring to a newlywed couple than the spectacular tropical island of the Maldives as a honeymoon destination? There's nothing better than crystal blue seas, pink sunsets, and stilted water bungalows amidst lush green landscapes and warm weather for your romantic getaway. GT Holidays offers plenty of Maldives honeymoon packages to choose from for an enjoyable stay with your spouse amidst the spectacular settings and partake in water sports or rides as a couple and make memories of a lifetime.
3. Luxurious Stay
Staying at any resort in the Maldives will often offer accommodation in water villas or beachfront rooms that allow all guests to enjoy the picturesque lagoon and sea views. Most resorts in the Maldives provide modern facilities, but the Water villa stay is an experience you should indulge in at least once in your lifetime. Perched above the water, the villas offer you a panoramic view of the turquoise sea and the blue skies. Wake up to golden sunrises and feel the gentle cool breeze as you find the colorful corals and rich marine life just a stone's throw away. Though the resorts differ in their services and facilities, most will treat you like royalty from the moment you arrive. From your hotel and airport transfers to dining and leisure activities, the resorts will pamper you with personalized services as part of your vacation experience. Whether you come for a family vacation or as a couple, with our Maldives tour package from Chennai, a holiday to the Maldives will become an indulgent and relaxing experience.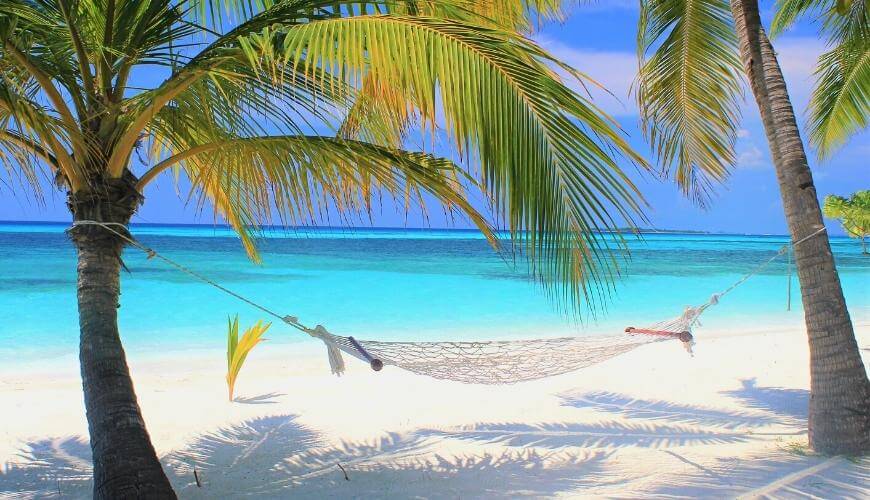 4. Amazing Water Sports
Being surrounded by a pristine ocean, sun-kissed beaches, and colorful lagoons, the Maldives islands offer you one of the most thrilling and fun water sports attractions. With our Maldives tour packages, you can indulge in many exhilarating water sports activities and your level of expertise. From fun tube and sailing to jet skiing and scuba diving, Maldives offers superior quality safety equipment to allow you to enjoy the activity without worry. You can also take fishing excursions to neighbor islands. While many resorts boast a house reef for snorkeling and diving, almost all offer water sports like windsurfing, kayaking, and surfing.
5. Diverse Marine Life
The Maldives is a collection of low-lying coral islands with a treasure trove of diverse marine life in the Indian Ocean. You can go snorkeling or scuba diving in the reefs and immerse yourself amidst the colorful aquatic flora and fauna. Swim freely around the multitude of underwater species. You can allow your kids to play safely in the island's shallow water.
6. Hassle-Free Travel
The most enticing thing about planning a trip to the Maldives is that you don't need to worry about getting a visa before your travel. Since a tourist visa is granted for all nationalities on arrival to the Maldives, you can make your travel plans without hassle. Our agents at GT Holidays will help you with all the basic entry requirements to get your immigration clearance upon arrival in the Maldives. One of the main reasons to visit the Maldives is that you can hop on the next flight and take a much-deserved vacation. The Maldives also turns out to be a very child-friendly destination due to the direct flights. Most resorts look after families with various activities for kids and cater to great accommodation options.
The Maldives is truly one of the most memorable vacation destinations in the world. Call GT Holidays and add the Maldives to your travel bucket list today. Follow our Instagram profile to know about the latest offers and discounts.