The Maldives is known for its turquoise beaches and luxurious waterside villas. Blessed with good weather, crystalline waters, white sandy beaches, and swaying palm trees, it offers the perfect combination for a dreamy vacation. The island is an excellent choice for beach getaways, with innumerable charming islands and 26 coral atolls. Read on to learn more about the top 10 islands in the Maldives that offer the ultimate experience for tourists.
1. Male Island
Male is the national capital with an international airport, making it convenient for travelers to explore and move to other cities. With beautiful heritage structures, turquoise beaches, and palm-fringed lagoons, it is the preferred island for couples and water sports enthusiasts. If you seek a distraction from the routine hustle and bustle to enjoy the best water sports, then Male is the best island in the Maldives for activities amidst a natural paradise.
2. Maafushi Island
If you need a romantic escapade, you must head to Maafushi Island. You can relax and explore adventurous activities within a budget. Maafushi is the best island in the Maldives for couples. It offers the perfect balance of luxury and convenience. As a couple, you can experience the sparkling turquoise ocean, beautiful villas, and several attractions to add rejuvenating vibes to your vacation. Maafushi island is an ideal location for honeymooners. You can relax and sunbathe at Bikini Beach, explore snorkeling together, plan a dolphin safari, or chill by the floating bar. At GT Holidays, our travel agents will help you book your Maldives tour package from Chennai, per your requirement.
3. Biyadhoo Island
Biyadhoo Island is just 30 minutes away from the airport via speedboat. This tropical heaven is surrounded by powdery white sandy beaches and blue waters. Amidst clusters of thousands of tiny coral islands, Biyadhoo offers a spectacular experience to tourists. You can choose to relax by the beach, swim around the reef turtles and sharks, or participate in a wide range of water sports for which the island is famous. Biyadhoo island is the best island in the Maldives for a family vacation. If you're after an affordable getaway, call GT holidays to book this charming destination.
4. Fuvahmulah Island
Fuvahmulah is a unique island located on the equator and is the only one in the Maldives with freshwater lakes and full of tropical vegetation. You will find different flowers, coconut palms, and fruit trees like mango and papaya throughout the Fuvahmulah island. Besides the lush greenery, you can enjoy scenic beaches and other entertaining activities like surfing, snorkeling, fishing, excursions, and trekking. Fuvahmulah island is an ideal venue to host wedding or birthday parties, concerts and festivals, and corporate events if you wish to celebrate a personal or professional occasion. If you wish to head on a fun vacation away from the daily bustle, call GT Holidays to book Maldives travel packages.
5. Dhiffushi Island
The small but tranquil island of Dhiffushi is slowly getting noticed by tourists due to its pristine and clean beaches and peaceful shores. You can expect the same resort life but for an irresistibly pocket-friendly budget. If you are looking for a cost-effective vacation to the Maldives, plan your vacation with GT Holidays to Dhiffushi island with a Maldives tour package from Chennai. Discover the underwater world at Dhiffushi through snorkeling trips. Turtle snorkeling is one of their famous underwater trips. You can take a beautiful boat trip excursion with your family to watch dolphins during sunset. Another option is to go rowing with a rental kayak. On days when you want to let your hair down and relax, head to the two bikini beaches and unwind on the pristine stretch of white sand. Shop on the island and enjoy the local Maldivian cuisine at affordable prices.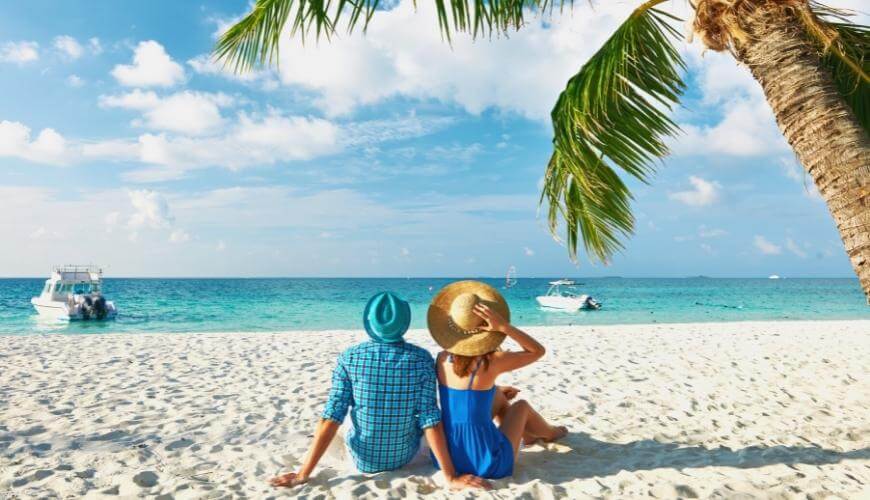 6. Thulusdhoo Island
If you love surfing, Thulusdhoo island is for you. Visit the Maldives to enjoy the crystalline turquoise lagoon and white powdery sandy beaches. The island is 23 km from Male airport and boasts a beautiful house reef with a diverse range of corals and marine life. You can plan your day trips and head out to experience some snorkeling and scuba diving spots in the surrounding area. Explore the local island for its famous breaks known as surfers' paradise, or take a boat trip and go dolphin watching. The beach's soft sand and calm waters can be a perfect place to relax, sunbathe and rejuvenate. Surfing is available throughout the year, especially at Cokes and Chickens, two of the Maldives' well-known and best surf breaks. It's safe to say that Thulusdhoo is considered one of the top 10 islands in the Maldives for surfing.
7. Utheemu Island
Do you like heading out to historical places on your relaxing vacations? Utheemu is one of the best islands in the Maldives for a family trip to stoke your interest. Visit the island via a ferry or by boarding a domestic flight to Hanimaadhoo. Utheemu Island in the Maldives is the birthplace of Sultan Mohamed Thakurufaanu, who is considered a hero. During the 15th century, the Sultan, alongside his brothers, defeated the Portuguese invaders. Utheemu Ganduvaru is a 500-year-old traditional timber palace and the childhood home of the Sultan and has garnered the presence and tourism of the island. Bodu Thakurufaanu Memorial and Kadhuvalhu old mosque are some historical spots on the island. Additionally, you can visit 'Badi Fasgandu' to observe local lifestyles.
8. Hanimaadhoo Island
Hanimaadhoo is one of the biggest islands of the Maldives that stretches over 7 km, with one side surrounded by a beach and the other side with house reefs. It is popular among budget travelers for snorkeling, scuba diving, kayaking, fishing, and Dolphin watching. It's an excellent getaway for water sports and nature lovers. Hanimaadhoo boasts a long stretch of white sandy beaches, a clear blue lagoon, and lush vegetation as part of its scenic beauty. The island is well connected to Male international airport with multiple daily flights.
9. Dharavandhoo Island
Dharavandhoo is known for the best diving sites in the Maldives. The ideal location offers the best experience this tropical paradise island has to offer. Along with affordable accommodation, Dharavandhoo offers multiple water activities. For an ultimate experience in one of the best islands in the Maldives for a family, book your tour with GT Holidays.
10. Ukulhas Island
Ukulhas island is located about 70 kilometers east of Male and is surrounded by clear lagoons and coral reefs. Ukulhas is one of the top 10 islands in the Maldives to enjoy spotting turtles, giant mantas, zebra sharks, and reef sharks. The main tourist attraction of the Island is its snow-white and spotlessly clean bikini beach.
People wrongly assume the Maldives to be a costly place for vacation. Get in touch with us to book Maldives travel packages at an affordable price and head to your favorite island paradise. Follow our Instagram profile to know about the latest offers and discounts.