When vacationing in the Maldives, the turquoise ocean beckons you in its lap of adventure. Most hotels and resorts on the archipelago present stunning scenery and luxury, but the Maldives hotels with house reefs are the ones that offer a close encounter with beautiful marine life. You can swim directly to the house reefs from the hotel's shore without additional expense. Staying in hotels with house reefs allows you access to the snorkeling and diving spots without a boat ride since it's only a few minutes away from the beach. Go to the Maldives and explore what the diving destination has in store for you. Whether for a family vacation or a couple's retreat, Maldives hotels with house reefs are the best option for your stay.
For the best underwater experience, here's a compilation of the 5 best house reef hotels in the Maldives.
1. Lily Beach
Have an exciting island holiday with an opportunity to dive and snorkel near your hotel's shoreline. Lily Beach's House Reef in the Maldives is easily accessible for swimming and snorkeling during the day and at night. Located in South Ari Atoll on the private island of Huvahendhoo, the resort's house reef presents spectacular marine life with colourful table-like corals, curious fish, sea anemones and other aquatic creatures. The 10 entry and exit points of the house reef give you the privilege of snorkeling anytime and diving despite strong currents.
2. Reethi Faru
For a mesmerising experience of the underwater world in one of the best house reef hotels in the Maldives, you should stay at Reethi Faru. As one of the new resorts in Raa Atoll and on the tiny island of Filaidhoo, Reethi Faru comes with a beautiful house reef where the glistening, crystal clear waters offer you a perfect blend of ethical, biodiverse and indulgent luxury. Enjoy the vibrant house reef, full of amazing marine life, by just taking a few steps away from the shore. With the conservation marine center, Reethi Faru is trying to bring back colourful reefs by creating new corals. You can go snorkeling with your kids among a school of blue stripe snappers and doctor fish and enjoy seeing the hawksbill turtles.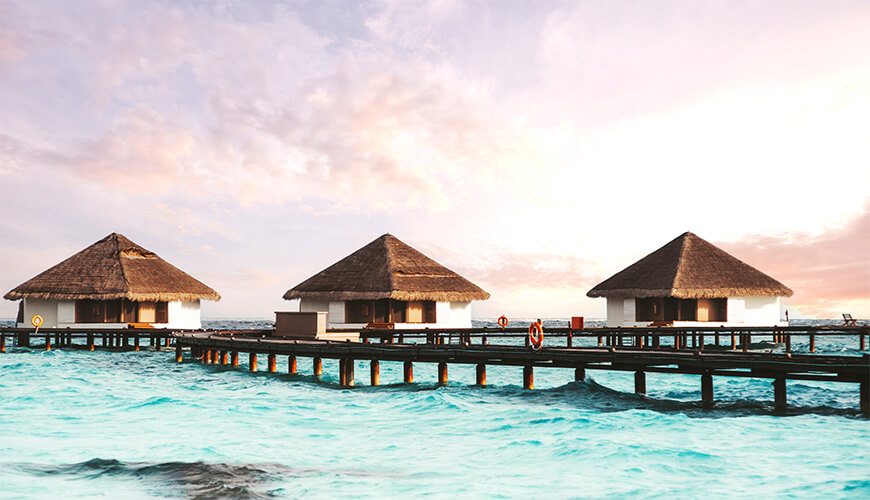 3. OBLU NATURE Helengeli
The best way to explore the excellent house reef at Helengeli Island is to stay at the 4-star OBLU NATURE Helengeli through Maldives tour packages. The unique location of the resort's amazing house reef offers plenty of good places to snorkel and a superb channel diving experience just metres from its shoreline. The house reef comprises two deep channels creating a route that ensures a rich flow of marine life. While snorkeling, you'll encounter giant marine creatures, such as sharks, rays and turtles, and colourful schools of reef fish, including butterfly fish, anemonefish and triggerfish. Even if you are new to diving and snorkeling, the resort offers a certified team of experts with excellent knowledge of the local waters. The experts will guide you to explore the exotic house reef and experience the awakening of all your senses.
4. Hurawalhi Island Resort
Stay at the Huruwalhi island resort for its sheltered and shallow house reef close to the beach. Experience nature and comfort together at the resort's house reef with the exotic marine life at its doorstep. Just don a mask, grab a snorkel with a pair of fins and head to the house reef whenever you feel like snorkeling. With GT Holidays Maldives honeymoon packages, stay at this luxury adults-only resort and enjoy breathtaking adventures in the ocean close to your villa. Explore the reefs as a couple and spot hawksbill turtles, parrot fish, clown fish, puffer fish and lobsters. You may sometimes chance upon Mobula rays and Manta rays.
5. Kandolhu Maldives
One of the perfect islands in the Maldives, with white sandy beaches and lush greens, is Kandolhu, with its resort located just a few minutes from some of the best dive sites in North and South Ari Atoll. A favourite among Maldives diving resorts, Kandolhu is home to one of the most beautiful, colourful and lively house reefs in the Maldives that's easily accessible. With options of three dives each day, you will find large table corals and many clown fish living in sea anemones as part of one of the best snorkeling experiences. Book your Maldives travel packages today!
Snorkeling and diving in the Maldives are a must, and if your hotel has its house reef, then the easy access makes for hours of snorkeling adventures. If you wish to enjoy your holidays with your family, friends or partner, call GT Holidays to book one of the best Maldives hotels with house reefs. Follow our Instagram profile to know about the latest offers and discounts.