Are you planning to take a trip to Bali and wondering how you get to Bali in the fastest possible way? Then be rest assured that Bali is well connected to major cities of the world, and it's no different in India. As one of the most popular holiday destinations, you can reach Bali via air and water routes, with the easiest and fastest way to get to Bali from India being by air. GT Holidays offers many Bali travel packages to choose from and customise per your requirements. Follow our Instagram profile to know about the latest offers and discounts.
Read on for information on how to get to Bali from India.
Reach Bali by Air
You can reach Bali in multiple ways, but the flight is the best and fastest. You can take a flight from all major international airports in India to get to Ngurah Rai International Airport. The Ngurah Rai International Airport is 13 km from Denpasar, the capital city of Bali; hence it is also known as Denpasar International Airport. Bali has only one international airport, located in the Kuta area in Southern Bali. You will travel a total distance of 5829 km from India to Bali and reach it in approximately 9 hours. All the flights usually have a stopover at Kuala Lumpur, Bangkok or Singapore, from where you take a connecting flight to Bali. The Denpasar International airport is 20 minutes from Sanur and 1 hour from Ubud by car. It is best to make your bookings with GT Holidays in advance since that's how to get to Bali cheaply and affordably. Our agents can help book your flight tickets at cost-effective rates through several airlines like Thai Airways, AirAsia, Malaysia Airlines and Singapore Airlines.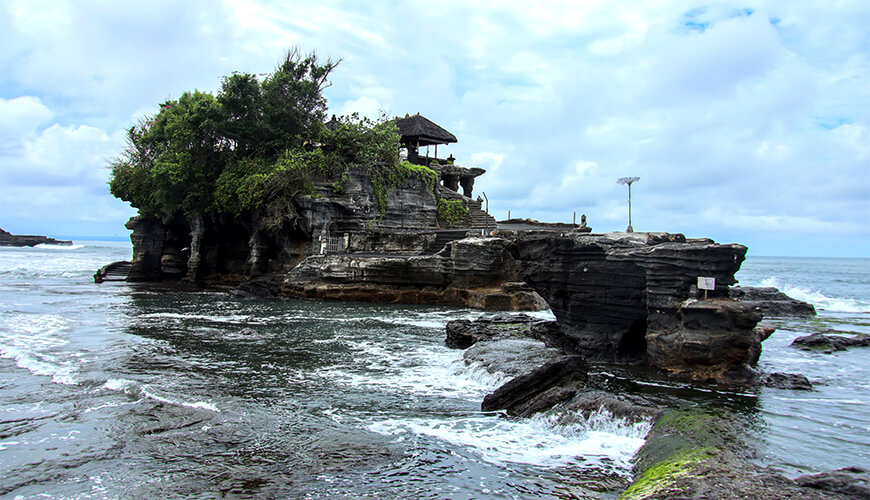 Reach Bali by Sea
Bali is a well-known destination for cruise lovers and honeymooners who prefer taking luxurious cruises to the island. If you plan to take a honeymoon trip to Bali, you can choose from the many cruises from South-East Asia that have a stopover at Bali. The Bali honeymoon packages from GT Holidays can get customised to travel via the sea route. Your first part of the travel will involve a flight to Singapore, Java or Sumatra and from there, our agents can book you on your onward journey to Bali via the sea route on a cruise ship. It is important to note that you may have an unpleasant experience on the cruise if the seas turn rough, especially if you are seasick. In that case, it would be best to avoid travelling via ship.
Reach Bali by Road
You cannot reach Bali directly because an island can never have any road connectivity to other parts of the world. If you are wondering, how you get to Bali by road, then the only way is to fly to a city closer to Bali, like Jakarta, Bandung or Yogyakarta and take a train to Surabaya's Gubeng Station. An air-conditioned train will take you from Gubeng Station to Banyuwangi and then a ferry to Denpasar. Another option is to reach Singapore, take a ferry to Jakarta, and take a 23 hours bus journey to Bali, covering about 1200 km. The long and exhausting route is best avoided as it may get risky. Expenses covering the various modes of travel and visa and other permits for all the countries on the route make the trip very expensive. You can travel by local buses, rental cars, minibuses, Bemos, bicycles and bikes throughout Bali as they are a popular mode of road transport among the locals.
Taking a flight from Chennai is how you can get to Bali cheaply. Connect with GT Holidays and get your flights to Bali at affordable prices through Bali tour packages. You can book your flight tickets well in advance to grab a good deal. If your stay in Bali is for more than 30 days, then make sure you apply for a visa-on-arrival once you enter Indonesia. You will not require any visa for a stay of fewer than 30 days, only a visa exemption stamp from the immigration counter.