As newlyweds, most couples want to head out to a place that offers a beautiful landscape and where they can find a perfect balance of privacy and rejuvenation. With a great climate, lush greenery, enchanting beaches, and fascinating culture, it's clear why Bali is famous for honeymoons. Bali is the perfect place for a romantic getaway for newlyweds and honeymooners.
If you are in your wedding planning stage, then book ahead of time with GT Holidays and get to choose one of the best Bali honeymoon packages, all-inclusive. Here are 7 reasons why you should choose Bali as your honeymoon destination.
1. Scenic Romantic Settings
Your honeymoon is a time of romance. Bali is the ideal place for memorable experiences because of its scenic and romantic landscapes that are beautiful beyond belief. When you step into Bali, you will be surrounded by an exotic and colourful vibe. You can visit many beautiful sites with your spouse at a very affordable Bali honeymoon trip cost.
Head to Bali's rice-field terraces to be one with nature. Recognized by UNESCO, the highlands' cascading hillside offers you impressive 180-degree views, where you can click some romantic pictures with a lush green backdrop.
Spend some romantic time walking endlessly on the long and secluded spectacular golden-brown beaches and fabulous rock formations as you watch the best sunsets.
You can choose from one or more options of dining and pampering your spouse with romantic dinners on private cruises, on a secluded spot with a gorgeous mountain view, or in a private cave to make it a special time with each other.
Visit the famous rainforest and enjoy the togetherness.
Climb atop one of the volcanic mountains of Bali early in the morning to witness the rising sun and embrace the shining rays as a pact of your love.
2. Spectacular Beaches
Enjoy your couple's time at some of Bali's most gorgeous beaches through our Bali honeymoon packages.
You can choose to either lounge with your partner on the beach or decide to soak up the sun. The two of you can frolic around in the ocean or participate in fun sports activities in Bali on the beach.
Take surfing lessons as a couple, help each other learn how to ride the waves, and feel the sheer exhilaration of the adrenaline rush you will cherish forever.
Go for a fancy candle-lit dinner on the beach and spend a romantic evening by the sea.
3. Exotic Accommodations
When choosing Bali as your honeymoon destination, you will not have to worry about finding suitable accommodation. With GT Holidays, our agents will always offer you only the best and most exotic accommodations that take care of your personal needs and privacy. We will find you the most spectacular and best places to stay in Bali honeymoon hotels or resorts as per your budget. You can choose from a wide range of accommodations, from simple beach huts to stunning water villas in well-known resorts. If you are more of an adventurous couple, then you can select jungle resorts or cliff resorts up in the mountains. The accommodations offer you privacy and amazing views with tropical surroundings that are apt for your honeymoon escape.
4. Fun Couple Activities
It can get quite boring as a couple if you only relax in Bali. Explore the island by participating in fun activities with your loving partner. Our agents can help you plan some activities as per your choice. A list of activities will be offered to you depending on the kind of Bali travel packages you choose.
If you are a nature-loving couple, then you can choose from the following activities:
Explore the adventurous jungle trail
Trek onto active volcanic mountains
White-water rafting
Waterfall slides
Bike tours along scenic routes of Bali
If you belong to a group of water-sport enthusiastic couples, then there are plenty of options available:
Swimming, snorkelling, scuba diving
Wild water rafting
Surfing, kite surfing
Jet skiing
Parasailing to experience a birds-eye view as a couple
If you are a culturally-inclined couple, then Bali offers many historical and cultural spots to appreciate their history through architecture. The vibrant and artistic ambiance is one primary reason why Bali is famous for honeymoons.
Temple visits & partaking in religious ceremonies.
Visit the traditional textile-making shops.
Witness various artisans like woodcarvers, stone-carvers, musical instrument makers, etc., while they work on their next project.
Attend a variety of cultural or traditional performances in music and dance.
Visit the various traditional Balinese painting galleries and museums.
Take some traditional Balinese dance lessons as a couple
Make reservations for couples Balinese massage to relax and rejuvenate.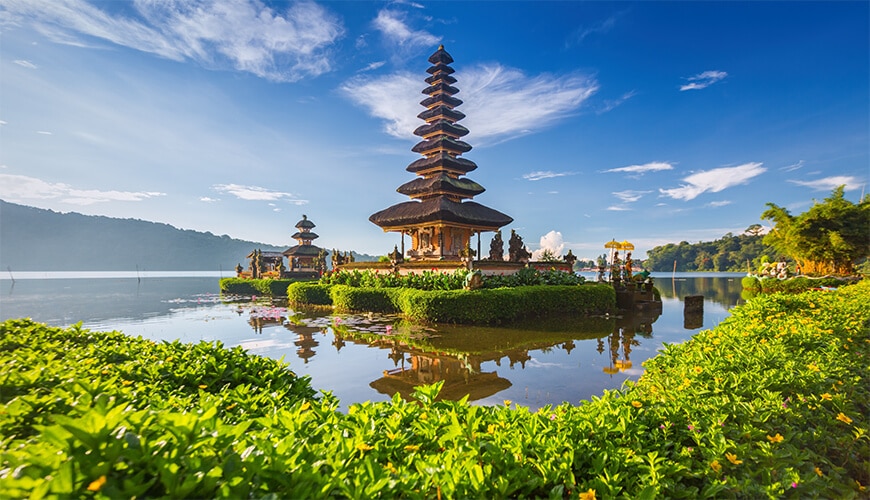 5. Balinese Treats
You are in a food lover's paradise, so explore all the tasty Balinese treats and your better half on your honeymoon in Bali. As a couple, you will find that the Balinese cater creatively to their culinary offers, especially for honeymooners. Our agents can pre-book various restaurants through our Bali tour packages for you to experience the cuisine at its fullest. Enjoy their staple of rice accompanied by assorted vegetables, meat, or seafood as per your choice and seasoned with the most delicious spices and sauces. The following are a few of the famous dishes of Bali:
Nasi Goreng is a simple yet delicious fried rice cooked with either meat or vegetables and generally served with a fried egg on top.
Mie Goreng is similar to Nasi Goreng but is made with fried noodles, meat, and vegetables and served with an egg.
Pisang Goreng is a sweet made with fried bananas and served with condensed milk, honey, coconut, or ice cream.
Satay is chicken, pork, or beef skewered on sticks, grilled, and served with peanut sauce.
Betutu is a steamed or baked chicken or duck stuffed with a delicious mixture of spices, shallots, ginger, garlic, and chilli.
An exciting activity you can do as a couple is taking a cooking class and learning tricks to cook up some fantastic Balinese dishes.
6. Traditional Art & Craft Markets
A honeymoon trip to Bali will stay incomplete without you visiting the vibrant art and craft markets that have something that will catch your eye. Walk together in the markets, hand in hand, and find some lovely handicrafts, vintage items, clothes, silver jewellery, etc., for you to take back home as part of your memorable trip as newlyweds. Make a trip to Ubud Art Market, and you will be in a world of beautiful silk scarves, handmade woven bags, baskets, hats, statues, kites, and many other hand-crafted goods. Visit Art galleries in Seminyak to look at various styles of Balinese paintings. You may wish to commission a painting for your new abode as a newlywed couple. The artists will create one as per your requirement while you spend a lazy afternoon watching them at work. Bargain with local art and craft dealers, and you will make the most of your Bali honeymoon trip cost.
7. Safety Standards
Another major reason why Bali is famous for honeymoons is that it's known to be one of the safest tropical destinations worldwide. You are also safe from any diseases as there are no significant health hazards or tropical diseases that you need to be concerned about. As a couple, you can walk on the streets even after dark.
Bali embraces you as a newlywed couple with its perfect climate and traditional vibes. Call us at GT Holidays to arrange for your first trip as husband-wife from our many customisable Bali honeymoon packages. Follow our Instagram profile to know about the latest offers and discounts.