As one of the most serene and beautiful places in the world, Bali is known for its idyllic charm and people's gracious warmth. You can sense the Balinese magic in the air while exploring the beautiful island. You will feel one with the tropical land that allows you to enter an exciting world of culture, scenic beauty, and adventure. Call GT Holidays for our customized Bali tour packages to find out which suits you best. Out of the many reasons to visit Bali, here are the top 6 reasons you should think of it too.
Scenic Beaches
Indonesia has more than 17,000 islands, with Bali being the top favorite as a tropical beach destination. You can visit several beaches around Bali, each offering its idyllic charm to enhance your tropical paradise vacation experience. While some beaches offer extreme water sports and scuba diving for you and your family, the other beaches will want you to lounge on the soft white sand or take breathtaking pictures on the limestone cliffs with your loved one. Book your customized Bali travel packages with our agents in GT Holidays, and they will ensure you get what you want. From the famous Kuta and Nusa Dua to the isolated ones, away from the crowds, there is a long list of spectacular beaches for every kind of mood and need.
Culture & History
One of the soulful reasons to travel to Bali is to understand how beautifully Bali still holds onto its historical and religious practices. You will observe that the Balinese people conduct many cultural ceremonies and celebrations wearing their traditional ceremonial attires. Some daily rituals are done yearly to honor gods and their ancestors, while others are to appease the spiritual world. Specific festivals based on their unique Hindu religion around the ancient Balinese calendar get celebrated to keep their unique and beautiful culture alive and vibrant, like the Omed-Omedan kissing festival or the monster parade. You can enjoy Bali's culture through its fantastic dance, music, and architecture, with a seamless blend of sacred Hindu religion and regional customs. You will find yourself immersed in Bali's culture and history when you visit museums and temples, in hotel lobbies, and in religious sculptures that adorn road junctions.
Adventurous Spirit
If you are an adventurous traveler, a holiday in Bali must be a must. The islands have a range of activities that will nurture your adventurous spirit. You can decide what will get your adrenaline pumping, from beach activities like surfing, paragliding, and deep-sea diving to land activities like zip-lining, cliff jumping and swinging. If you are an adventurous couple on your honeymoon, we at GT Holidays can customize Bali honeymoon packages. We will ensure you engage in activities that are both soul-satisfying and great for bonding with your partner.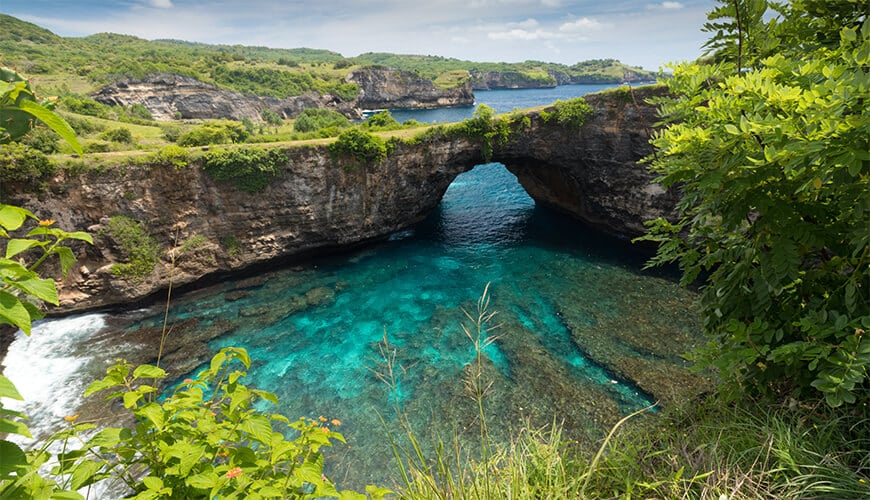 Excellent Accommodations
Whether you live in a budget-friendly hotel or a luxurious private villa, Bali offers a wide range of unique accommodations that suit your requirements. Our Bali tour packages from GT Holiday offer you the best comfort and luxury at affordable prices. You will enjoy your time in Bali and its natural wonders as part of your hotel stay. The various hotels offer modern and world-class amenities with hospitality and infrastructure that is outstanding and well-equipped. You can also hire private villas at unbelievably affordable prices if you intend to travel with family and friends. Most hotels have swimming and infinity pools set amidst scenic backdrops that allow you to lounge and enjoy your vacation. At the same time, some magnificent luxury resorts and private villas offer panoramic beach views and sunsets that are breathtaking and have a charm of their own. You can also book Balinese massages that will help you relax and rejuvenate after a long day of travel. Call us today to find out what Bali travel packages are available for your budget.
Exotic Culinary Scene
If you are a foodie, you don't need more reasons to visit Bali. You will readily embrace its exotic culinary scene when you experience the rich flavors of Indonesian dishes. From local street food to Haute Balinese cuisine, you will find the flavors to be amongst the world's best, and that too at affordable prices. The rich and exotic cuisines have their roots in Bali's fresh local produce and traditional recipes. Fruit stands in markets offer fresh-cut pieces for you to enjoy. Bali being an island, fresh seafood is part and parcel of the Balinese diet. Many local shops prepare and serve grilled fish with garlic butter right before you. Most restaurants, hotels, and resorts have authentic Balinese staples like Mie Goreng and Nasi goreng, that's a must-try during your visit. The thriving Balinese culinary scene has also embraced vegan and vegetarian options if that's what you prefer. If you enjoy cooking, you can join a cooking class as part of your customized Bali tour packages and learn to make a few of Bali's tasty dishes yourself. Most places in Bali offer international menus, with many restaurants also serving organic and vegan food.
Artistic Creativity
When you explore shopping markets around Bali, you will find that the island holds a rich artistic heritage in the form of arts and crafts. Balinese art is steeped in its ancient traditions and rituals. You can see the various forms displayed in many stores or as part of murals throughout the region. You will be mesmerized by the beautifully handcrafted souvenirs and paintings showcasing Balinese culture. The creativity and artistic expression of the locals are highly cherished worldwide. One of the ancient dyeing techniques, Batik, has been elevated to an art form and holds a deep ritual and social significance. Stroll through the different marketplaces and shop from simple handmade crafts to high-end artistic pieces, depending on how much you want to spend. You can get a great deal on Balinese art, unique motif batiks, and intricate carvings throughout the market. A visit to any of these art markets is one of the many reasons to travel to Bali. Head to Bali and get a glimpse into the beautiful world of Balinese artistry and creativity.
Visit Bali for its natural beauty encompassing the glorious mountains, lush greenery, gorgeous waterfalls, iconic paddy fields, flower gardens, scenic lakes, and rivers. When you book your Bali tour packages with us, you will be ready to get enticed by an exciting new world of adventure, culture, and exploration. There are more reasons to visit Bali beyond stunning beaches and sacred temples. Call our agents at GT Holidays to find out more. Follow our Instagram profile to know about the latest offers and discounts.