When you think of tall towers, glittering nights, shiny and clean roads, and a touch of royalty, what's the first place that comes to your mind? Well, no matter which city you think of, you can't escape the thought of Dubai while listing these pointers.
Located in the United Arab Emirates, Dubai has been a constant place of tourism in the last few decades, and its popularity doesn't seem to be dwindling. With sky-high buildings, fast cars, modern technology, and delicious cuisine, Dubai has something to offer to everyone. Whether you're thinking of visiting Dubai with your family, friends, or partner or exploring this magical city all by yourself, you will have a grand time.
If you're planning a trip to Dubai soon, we at GT Holidays are here to help you out. Whether you're looking for Dubai tour packages, Dubai honeymoon packages, or searching for the top 10 things to do in Dubai with family, we have got you covered. Our Dubai travel packages have everything to make your trip pleasurable, exciting, and comfortable. All of our packages are customized, keeping the happiness of our customers in mind, creating an itinerary you're sure never to forget.
10 Things to Do in Dubai
There is a lot to do in Dubai in terms of sightseeing, exploring, shopping, and more. However, if you're looking to add some activities to your list, here are the top 10 things to do in Dubai:
1. Travel Up The Burj Khalifa
You can't visit Dubai and not witness the magnificence of Burj Khalifa, the tallest building in the world. Containing 160 stories, you can ride up the building on the high-speed elevator to view the city. It's best to book your slots beforehand because it's almost always packed with tourists and locals.
2. Get Mesmerised By The Palm Jumeirah
The Palm Jumeriah in Dubai is an iconic manmade island in the shape of a palm tree when viewed from above. It's home to some of the most luxurious resorts in Dubai, such as One & Only The Palm, Atlantis, The Palm, FIVE Palm Jumeirah Hotel, and more. Enjoy the fountain show and some exquisite seafood at one of the available food options.
3. Go Shopping At The Malls And The Souks
Dubai is a shopper's paradise. You can spend hours hopping from one luxury store to another, gawking at posh handbags, perfumes, shoes, and whatever your heart desires. The Dubai Mall, for instance, is the second-largest mall in the world. If you wish to see something more local, take a walk around the numerous souks to get your hands on souvenirs, handwoven fabrics, spices, ceramic art, and unique jewelry pieces.
4. Unwind At The Kite Beach
Dubai has plenty of beaches where you can spend a relaxing day on a sunny afternoon with your loved ones, with the Kite Beach being one of the most famous. Resembling Miami with its clear water, long stretch of sand, and sunbathing joys, it's the perfect spot to destress and leave your worries behind.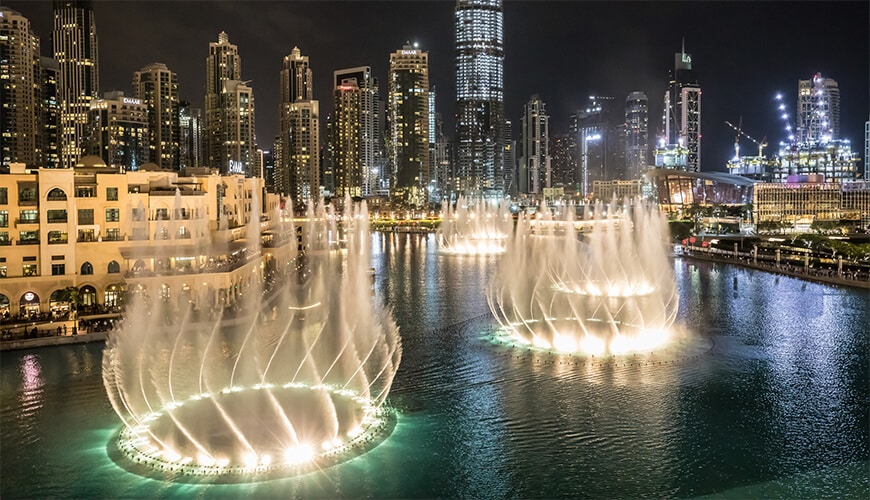 5. Explore Dubai Marina
Dubai Marina is where you can easily spend a day without realizing where the hours flew by. Surrounded by malls and skyscrapers, it's the world's second-largest manmade marina. From restaurants and cafes to dinner cruises and boat tours, there is so much to experience for a tourist.
6. Deep Dive Dubai
Deep Dive Dubai, with a depth of 60 meters, is the deepest pool in the world. This is the place to be for all the divers waiting to take on a thrilling journey. Anyone over the age of 10 can choose to indulge in scuba diving and snorkeling. The location is also the largest underwater film studio in the region.
7. Dubai Miracle Garden
With 150 million flowers on display, sprawling over a space of 72,000 square meters, visiting the Dubai Miracle Garden feels like part of heaven, with vivid colors all around. It is also in the Guinness Book of World Records, revered as the world's most extensive flower garden. Just imagine visiting this location on your anniversary day with your partner or perhaps with your spouse on Valentine's Day. Sounds fabulous.
8. IMG Worlds of Adventure
The first mega-themed entertainment spot, Dubai's IMG Worlds of Adventure packs the exhilaration of six adventure zones. Two zones are dedicated to Marvel and Cartoon Network, and the other four are IMG Boulevard, IMG Kids Zone, Haunted Hotel, and Lost Valley Dinosaur Adventure. Being the biggest temperature-controlled indoor entertainment location, it covers an area of 1.5 million square feet and can welcome over 20,000 guests daily. Visit this spot and feel like a kid experiencing roller coasters, themed retail stores, and luxe dining venues.
9. Museum of The Future
Dubai has always been ahead of its time. That essence is wonderfully displayed through the Museum of The Future, which is truly a marvel in architecture and engineering skills. The museum is an exhibition space to view futuristic ideologies, products, and services. The circular shape of the building stands for humanity, and the green mound it sits on signifies planet earth. The void is meant to be a metaphor for the future and its many possibilities. The structure is a beacon of hope to assure everyone that bright times lie ahead.
10. Al Marmoom Dubai Camel Race Track
Camels have been a symbol of the Middle East since time immemorial, and your trip to Dubai will be incomplete if you don't witness the adorableness and talents of this beautiful animal in person. For that very purpose, visit the Al Marmoom Dubai Camel Race Track, where you can watch camels race, an experience that will give you a taste of what the Arab culture was like back during the 7th century.
So, what are you waiting for? Reach out to us and book your Dubai tour package now! Follow our Instagram profile to know about the latest offers and discounts.