Bali is the most popular Indonesian island known for its natural settings, scenic beaches, traditional culture, rich history, creativity, art and crafts, and the genuine warmth of the local people. A land of cultural treasures, the dream destination of Bali has some of the most iconic landmarks and landscapes you will remember for a lifetime.
We have curated a list for you to find out what Bali is famous for and what makes Bali such a popular destination for people worldwide.
1. Ancient Temples
Dream Island Bali is also known as 'The Island of Gods' since it is home to several thousands of temples. You will find that the Balinese Hindu temples are unique as they display a seamless confluence of Indian culture and Bali's traditional beliefs. As magnificent, intricate structures or as small shrines, most ancient temples in Bali are popular attractions that allow you to explore its fascinating history and traditions. Most of these temples are around the coastline and highlands, offering an exotic backdrop. Head to the famous temples and immerse yourself in their beautiful ancient architecture.
Goa Gajah temple
Gunung Kawi temple
Taman Ayun temple
Besakih temple
Pura Petinget temple
Ulun Danu Beratan temple
Batukaru temple
2. Gorgeous Beaches
You will love leisurely lounging on spectacular beaches with our Bali tour packages! Bali boasts of a fabulous coastline with beaches that differ from one area to another. While some offer you pristine white sand and turquoise waters, others have black volcanic beaches. You can choose your beaches per the activities you intend to take.
Surfing
Uluwatu is one of Bali's top places to surf, offering six different reef breaks. Head to the beach to ride the epic waves all year round. If you want to practice as a beginner, then Canggu beach is better since the waves there are manageable.
Snorkeling
If snorkeling is your sport, make a trip to Menjangan island. The beach has one of the best snorkeling spots since its home to many tropical fish species, including angelfish and clownfish, along with green sea and hawksbill turtles.
Sunbathing
If you are not sporty but enjoy lounging on the beach, what is better than the soft, white sand of Balangan Beach? Find an excellent spot on this secluded and quiet strip of coastline to kick back and relax as you sunbathe amidst scenic nature.
Swimming
If you prefer calm, clear beaches, then Sanur beach offers perfect swimming conditions.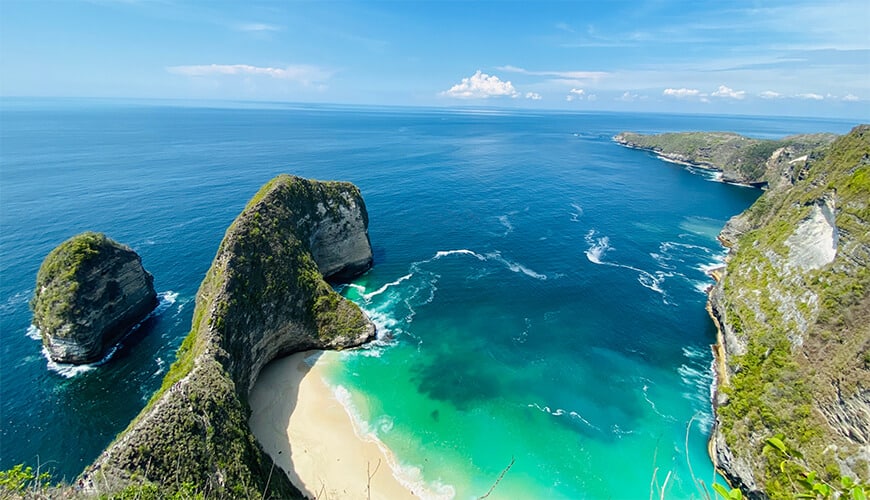 3. Instagram Worthy Spots
If you love to post vacation pics on Instagram, then Bali has several gems you can visit. With our Bali travel packages, you will get around to the most picturesque places on the island.
Nusa Penida
A visit to Nusa Penida will tell you what Bali is famous for and why it's considered an Instagram hotspot. Just a 30-minute ferry ride from Sanur will get you to the most jaw-droppingly unique locations that have become crowd favorites. Angel's Billabong is a natural infinity pool with crystal clear water in the center of some beautiful rock formations. Just a 5-minute walk away lies Broken Beach, where you can get amazing pictures around a cove by the cave, which gives a great backdrop of an archway leading into the ocean. Head to Crystal Bay to dive in for snorkeling and to watch the spectacular sunset. The Thousand Islands Viewpoint is yet another rocky point surrounded by limestone cliffs and lush greenery off the coast.
Bali Swing
The latest Instagram spot associated with Bali is the Bali Swing. This spot is quite popular with honeymooners and is part of our Bali honeymoon packages. As you experience the various levels of swings, you get clicked up high in the air with lush greenery as the backdrop. Most Bali swing places also have props like a giant nest, basket, etc., for you to take pictures with your loved one.
Handara Golf & Resort Bali Gates
Use the tall and traditional Bali gates outside the Handara Golf & Resort Gates as your backdrop in your pictures.
Mount Batur
Get adventurous and hike up to Mount Batur to capture the panoramic views of the magnificent active volcano.
Rice Terraces
Imagine your fabulous pictures walking through the lush green rice fields with the sun rays falling on you through the palms. Jatiluwih and Tegalalang Rice Terraces are some of the island's most famous Bali Instagram spots.
4. Popular Neighbourhoods
When you choose the neighborhood to stay in or spend your time in Bali, choose the most popular ones. The dream island Bali is home to some smaller neighboring islands that are part of the total nine districts.
Ubud
Nestled between the rice terraces in Gianyar, you will find Ubud to be Bali's major arts and culture center. Walk into the numerous art museums and galleries, or take a scenic walk along Campuhan Ridge Walk or the Ubud market to get some souvenirs back home. Enjoy a tour of the Museum Rudana, Goa Gajah, and Agung Rai Museum of Art. You can take your kids and family to Ubud Monkey Forest, a wonderful and tranquil sanctuary of the Balinese long-tailed monkeys.
Seminyak
If you wish to stay in luxurious accommodations around a pristine white sand beach, then Seminyak is the place to go. Stay in upscale villas, resorts, or hotels that offer a perfect blend of high-end and local restaurants and shops.
Kuta
Kuta is a surfer's paradise and one of the busiest and liveliest places for any tourist. The beautiful beach has gentle waves, and the soft sand makes it ideal for you to learn and practice surfing. You must visit Kuta for its vibrant location, various restaurants, and shops.
5. Marine Life
When you take a dream cruise to Bali through GT Holidays, you enter a part of the Coral Triangle that holds the most incredible marine biodiversity on earth, with 76% of all known coral species worldwide. Go scuba diving or snorkeling to experience what Bali is famous for. Enjoy the vibrancy of life on the reefs with over 3000 species of fish along with Giant Manta Rays, Giant Moray Eels, Hammerhead Sharks, Reef Sharks, and Hawksbill turtles.
6. Safari Park
Our Bali trip packages can customize by visiting Bali Safari & Marine Park with your family. Observe more than 100 species of unique animals, including some rare and endangered species. You can also look at exhibits featuring the Sumatran elephant, Sumatran tiger, white tiger, leopard, Komodo dragon, etc.
7. Balinese Art
The dream destination Bali wraps you around its culture and history with the help of Balinese art forms. Everything is integral to Bali's cultural heritage, from painting and sculpture to music and dance, which you may find prominently at the various temples. Travel between June and July if you want to check out the Bali Art Festival, a celebration that immerses you in the Balinese traditions. Visit the Celuk village for some unique silver crafts and jewelry created by skilled craftsmen who produce exquisite pieces with craftsmanship passed on through many generations.
From Bali's scenic vistas to exotic cultural treasures, you have a gamut of things to experience around what Bali is famous for. Call us for our Bali honeymoon packages from Chennai, and our agents at GT Holidays will help you discover the most iconic landmarks and landscapes Bali has to offer. Follow our Instagram profile to know about the latest offers and discounts.