Dubai is known for many things; sky-high buildings, clean streets, posh malls filled with international brands, luxurious resorts, and an air of royalty, to name a few. However, another element makes Dubai an exciting and desirable holiday destination: Food! Middle Eastern cuisine has enticed travelers for generations now. Even mentioning shawarma, hummus, falafel, and baklava makes someone daydream about their next meal. So, before you plan your trip to Dubai, you must know about the best restaurants in Dubai you can't miss out on.
Al Baik, for example, is one of the top 10 fast food restaurants in Dubai that you can opt for when you're hoping to try something crispy, quick, and delicious, all at the same time. The city is sprawling with fine dining restaurants that let you gorge on cuisines from around the world. Rest assured that your trip to Dubai will bloom with hearty meals and happy tummies.
Have you been looking for Dubai tour packages and haven't found something that meets all your requirements? Fret not because we at GT Holidays are here to help you with that and so much more. Whether you're on the hunt for Dubai travel packages or Dubai honeymoon packages, we have it all. Every tour package from our end can be customized per your needs and desires, providing you with an itinerary that lets you cover every corner of the gorgeous place you're visiting. Just leave the planning to us while you sit back and enjoy your holiday.
Restaurants to Try Out in Dubai
Listed below are the top 10 restaurants in Dubai you should surely check out whenever you plan your trip:
1. Pierchic
Are you a lover of Italian cuisine? Relish the best of that and more at the award-winning Pierchic that takes inspiration from Laurent Gras, the Michelin-starred chef. Beatrice Segoni, the head chef of this restaurant, is incredibly passionate about her work and hopes every guest enjoys their meals as much as she enjoys crafting them. Do you want to hear the best part? The floor-to-ceiling windows let you view the serene sea while you enjoy your meal or a romantic date with your partner.
2. The MAINE Oyster Bar & Grill
While searching for the top 10 seafood restaurants in Dubai, there's no way you won't find The MAINE Oyster Bar & Grill featured in almost every list. Known for being the first homegrown New England Seaside Brasserie in Dubai, it is sure to satiate your cravings for oysters, lobster rolls, and fish tacos.
3. Al Beiruti
If you're in the mood for Lebanese food and are waiting to gorge on some comfort food items, Al Beiruti is where you want to head. Named after the capital of Lebanon, it reflects the soul of the country through its menu, right from the loaded fries to the zaatar hummus and the generously seasoned chicken shawarma that will have you licking your fingers and plate clean.
4. Zuma
Located close to the magnificent Burj Khalifa, Zuma is Japanese dining at its finest. In addition to providing multiple options for sushi, grilled food items, and shared platters, the place also offers private dining rooms for brunches, social luncheons, corporate dinners, cocktail parties, receptions, and more. Containing two floors, the sushi counter is a spot no tourist can get enough of.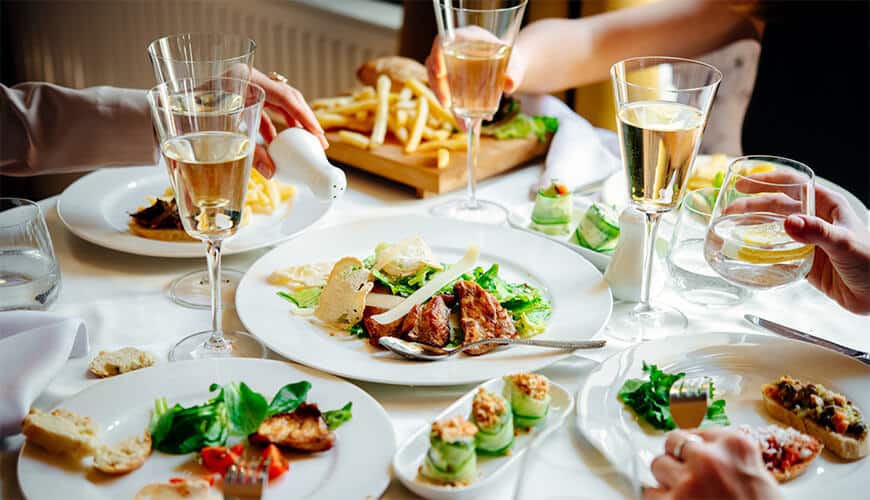 5. Indya by Vineet
Bestowed with the Michelin Bib Gourmand Award and a Gault Millau toque, Indya by Vineet is one of the top 10 restaurants in Dubai for those who enjoy Indian cuisine with a twist. Mixing ingredients and styles from both the east and the west, this restaurant also has a gin room that boasts 24 different gin brands. Now you know where to go when you want to enjoy Indian food along with unique cocktails.
6. LPM Restaurant & Bar
Want to give yourself the feeling of dining at a Parisian eatery, tasting delicate French dishes? Well, then, LPM Restaurant & Bar is a restaurant that will suit your preferences. The Riviera-inspired cuisine is fresh, playful, and oh-so-delicate. Their cocktails alone take up one whole wall at the bar. Now that's something you'd want to experience firsthand, would you not?
7. Café Isan
Some restaurants just outdo their atmosphere in a manner that makes you feel you're actually in that particular country, eating that cuisine. Café Isan is one such restaurant. Designed in a way to mimic a street-ride Thai restaurant, the dishes here are as delicious as they are experimental. If you have a soft corner for spicy Thai food, do pay a visit to Café Isan.
8. Hunter & Barrel
Most people love steaks. Some might hesitate to go for them because certain restaurants have them priced way too high, with the taste being average at best. However, what if you could visit a restaurant that not only serves juicy and perfect steaks while also not being too heavy on your wallet? Take your pick from a selection of fresh meats and seafood. That is Hunter & Barrel for you.
9. Blue Seafood Asia
Blue Seafood Asia has it all for you, whether you're looking for sushi, soft dim sum, or cooked fish treats. Featuring among the top 10 seafood restaurants in Dubai, Blue Seafood Asia provides a mix of scrumptious Asian, Thai, and Japanese cuisines. The Asian-inspired seafood will get your mouth watery and work its way straight into your heart.
10. Blu Pizzeriá
Sometimes you just want to feast on some good old delicious pizza. Imagine that you have been strolling about the beautiful roads of Dubai, exploring all the famous monuments and spots, and you suddenly feel hungry and find yourself hoping to get a slice of pizza. In such a situation, head to Blu Pizzeriá right away.
Is your mouth watering yet from the thought of all the decadent dishes and plush fine dining restaurants in Dubai? Well, you could experience them for yourself. All you have to do is visit our website and reach out to us to book your Dubai travel package. Follow our Instagram profile to know about the latest offers and discounts.