When we plan a trip, there's so much that we want to do. However, more often than not, we end up skipping some of the most exciting activities due to a lack of time or inaccurate planning. This is why choosing a reputable travel provider can give you the best of both worlds. While searching for a Dubai activities package, for example, you would want to pick one that not only lets you shop your heart out but also contains several activities that will give you the adrenaline rush you're seeking.
Are you looking for Dubai tour packages that provide you with everything from a desert safari to visiting the most attractive buildings and landmarks? At GT Holidays, we provide you with a package including the best Dubai offers. Our Dubai travel packages differ depending on your budget, how many days you can spare for your trip and the kind of activities you're willing to indulge in. Reach out to us to customize your trip to enjoy the vacation of your dreams.
Things You Must Do in Dubai
Before planning your holiday in Dubai, make sure these activities feature on your itinerary:
Experience the Magnificence of the Burj Khalifa and Dubai Mountain
You can't leave Dubai without witnessing the magnificence of the Burj Khalifa, the tallest building in the whole wide world. Ride up to the 124th and 148th floors to get a view of the city that you will never forget. Situated near the Burj Khalifa and on the 30-acre Burj Lake is the Dubai Fountain, the tallest performing fountain in the world. Let the spectacular show of water, lights, and music engulf you in its magic.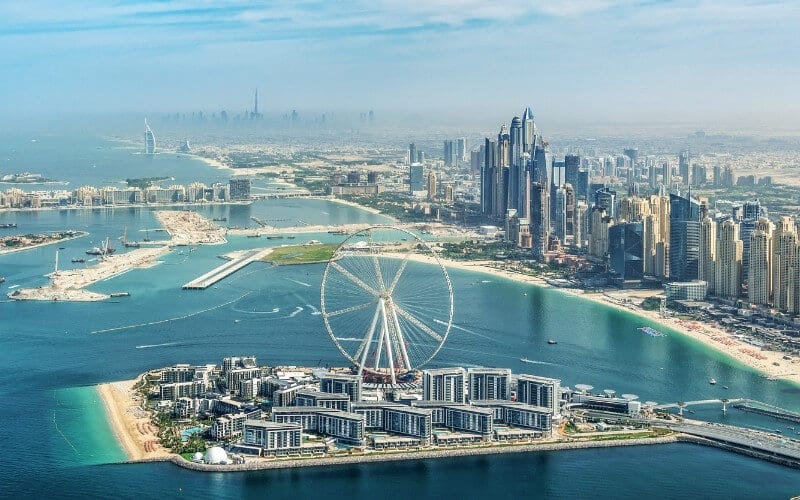 Shop at Meena Bazaar
While shopping at the malls in Dubai is super fun, if you're looking for something more traditional, Meena Bazaar is the place to go. Any shopaholic will be thrilled at the sight of the jewelry, shoes, perfumes, spices, and souvenirs that populate the area of Meena Bazaar.
Skiing at Dubai Ski
For all the adrenaline junkies out there, there's nothing better than skiing at Ski Dubai, an indoor ski resort within the Mall of the Emirates. The area adequately maintains a temperature between -1 degree to 2 degrees Celsius across the year. You can also meet penguins amidst this snowy wonderland.
Visit the Dubai Aquarium and Underwater Zoo
Are you fond of animals and the underwater world? If your children are fascinated with creatures living under the sea, you must take them to the Dubai Aquarium and Underwater Zoo. Featuring a 10 million liter tank that holds more than 400 sharks and rays, including giant groupers and sand tiger sharks, this spot has over 140 species of aquatic animals. Visitors can also feed some animals and interact with the penguins, otters, and king croc.
Relax At the Kite Beach
Once you feel slightly tired from all the sightseeing, move on to a serene and relaxing activity at Kite Beach. Just pack a beach mat, a pair of sunglasses, food, and sunscreen, and gift your family a day of sun-soaking. Believe it or not, it almost feels like you're at Miami Beach, waiting to sip on a pina colada.
Go on a Desert Safari
One of the best excursions in Dubai has to be the desert safari. After all, who wouldn't want to experience the many hues of the Middle Eastern desert? You can pick a time of the day that best suits you while you interact with locals, gorge on some delicious Arab cuisine, and spend the night under the glittering stars if you wish so.
From the best excursions in Dubai to the best deals for a desert safari in Dubai, GT Holidays guarantees you a good time and more! Follow our Instagram profile to know about the latest offers and discounts.