Whenever we visit a new place, we want to try out new cuisines and taste the local dishes. Dubai is one such city that has numerous cuisines to offer, especially Middle Eastern delicacies. While hummus, falafel, and shawarma are undoubtedly delicious, one can't keep an Indian away from Indian food for too long. Thanks to an active Indian population, there are plenty of Indian restaurants offering to satiate your hunger and remind you of your home. Read on if you're in Dubai and looking for the top 10 Indian restaurants in Dubai.
Bombay Brasserie
Bombay Brasserie is one of the top 10 Indian restaurants in Dubai, for a good reason. Not only does it have a selection of Indian dishes one can try out, but it's also decorated with stunning mural art decked up with the concept of a botanical bar, along with the view of a live kitchen.
Kinara by Vikas Khanna
Pretty much everyone has heard of Vikas Khanna. The reputed chef has been the face of MasterChef India for a long time. No wonder his restaurant is among the best Indian restaurants in Dubai. Combining delicate aromas and an enticing display of spices, this restaurant is one you must not miss.
Aryaas
Are you searching for South Indian cuisine in Dubai? Aryaas has it all and more. Their unique blend of Indian cuisine and western-style dishes is what pulls in tourists from all over the world.
Amala
Located in the gorgeous Palm Jumeirah in Dubai, Amala specializes in authentic North Indian Mughlai cuisine in Dubai.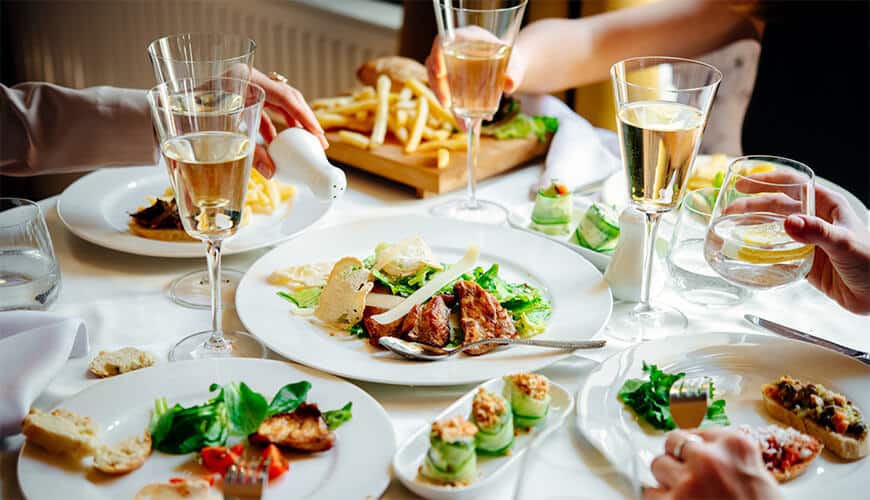 Rang Mahal
Situated within the JW Marriott Marquis Hotel, Rang Mahal offers the perfect venue for a casual dinner with friends and family. In addition to creating delicious dishes, this restaurant's ambiance is also commendable. The menu ranges from Kerala's famous meen moiley to Indonesia's renowned Ayam curry.
Antique Bazaar
If you are looking for an Indian restaurant in Dubai with a royal ambiance, visit the Antique Bazaar. The interior resembles an ornate Mughal décor with elaborate carved seats and ivory set tables. The food is equally scrumptious and decadent, with the menu ranging from prawn chaat and tandoori lobsters to mutton dum kofta.
Indego by Vineet
Vineet Bhatia, the renowned Michelin star chef, is the brainchild behind this restaurant. It aims to satisfy Indian food cravings among the expatriate Indian community and tourists looking for authentic Indian food. The dishes at this restaurant look so exquisite that you won't stop gushing about them on your social media.
Gharana
With a name as royal as Gharana, it's evident that this Indian restaurant reflects heritage and royalty in every aspect. While the flavors will have you wanting more on your plate, the fabulous décor will leave you in awe of the dedication given to keeping the traditions and culture of India alive.
Raju Omlet
Fine dining is something everyone enjoys, but when food is offered with a unique and quirky twist, things get even better. Raju Omlet, Dubai, is a casual eatery and every egg lover's delight. While there are many things you can order at this place, they are famous for their cheese omelets and spicy potato wraps.
Maharaja Bhog
Do you want to taste a bit of Rajasthani and Gujarati cuisine amidst the deserts of Dubai? Maharaja Bhog is where you would like to go. Check out the many curries, lentils, and pickles on their menu, and don't forget to treat yourself to a sweet dish.
At GT Holidays, we are more than happy to offer a wide range of Dubai travel packages that match your budget and travel style. Our tour experts are happy to present multiple options that you can choose from. And if you are looking for Dubai honeymoon packages that include some of the best tourist attractions in Dubai, call us. Follow our Instagram profile to know about the latest offers and discounts.