If you want to experience something beyond historic monuments and scenic spots during your vacation, head out for some adventure and indulge in thrilling water sports in Bali. The extended sandy seashore and tranquil blue water make Bali Indonesia's adventure sports capital with various water activities to enhance your vacation experiences.
Bali water activities packages are highly popular with globetrotters, with plenty of activities for everyone to enjoy. You can divide water sports into two categories: On the surface activities like boating, rafting, paragliding, and skiing and underwater activities, like scuba diving, snorkeling, etc. Let's look at some popular water sports in Bali that can enthrall young and old through our Bali tour packages.
Scuba Diving
You will find the world's best dive sites in Bali, as the islands have a bio-diverse archipelago. Surround yourself with coral reefs and colorful marine life as you dive into temperate waters. Most places in Bali offer lessons to newbies at one of the numerous dive centers. Book your holidays with GT Holidays, and we can include the Bali water sports package at an affordable price.
Snorkeling
Snorkeling is perhaps one of the easiest Bali adventure sports if you like discovering the vibrant underwater marine life without the heavy scuba diving equipment. Most snorkeling spots are easy to access and enjoy since you do not need any certification for snorkeling. With GT Holidays Bali honeymoon packages, you need to get in the warm tropical waters with your partner to discover vibrant coral reefs around the tropical marine life.
Surfing
Bali is the perfect location to learn surfing, especially if you are a novice, due to the temperate waters, wave quality, and consistency. Our Bali water sports package includes some of the best spots if you are into surfing on the southern coasts and around the Bukit peninsula. It would be best if you are an advanced surfer to use these surfing spots as they mainly comprise serious reef breaks and large curls.
Rafting
River rafting in Bali is the perfect activity for adventure sports enthusiasts. The island of Bali has many rivers, but not all are safe for rafting. Ayung, Telaga Waja, and Melangit are the only rivers approved for rafting. These three rivers are suitable and safe, but you must choose as per your rafting intensity preferences. With our Bali tour packages, you can go to any of the three, but Ayung or Telaga rivers are more popular than the Melangit.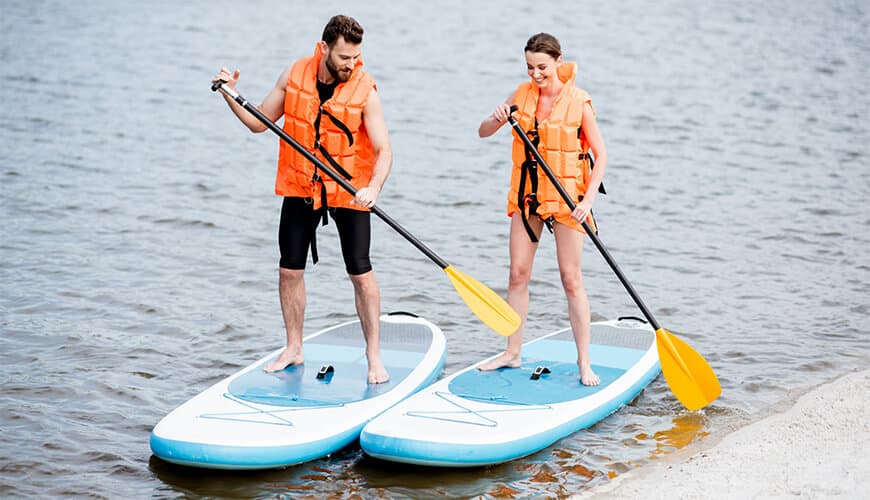 Stand-Up Paddle (SUP)
Stand-up paddle surfing or SUP amongst the various Bali adventure sports is a leisurely way to enjoy the island's beautiful coasts. All you have to do is stand upright and balance yourself on the specially designed boards and cruise on the surface of the water at your own desired speed with the help of a single, long paddle. As a beginner, you can also rent SUP boards and learn to practice by taking lessons from the many surf schools in Bali. You can head to Kuta beach, the best place for SUP, or visit the beaches of Sanur and Nusa Dua during low tide.
Sea Walking
Sea Walking at Nusa Dua is a great way to explore the marvels underwater, especially if you are not a confident swimmer or diver. You just put on a helmet and head down to the bottom of the sea with the help of a professional guide. With GT Holidays Bali honeymoon packages, you can experience this extraordinary way of diving with your partner to observe the stunning marine life together.
Flyboarding With Water Jetpacks
Welcome to the newest Bali adventure sport, Flyboarding, which uses a water jetpack to attach to your jet ski, enabling you with the propulsion required to soar above the sea. You will be able to fly and maneuver some moves like spin and dive under the supervision of a professional instructor. Many locations in Bali now offer Flyboarding for people between 17 to 65 years of age.
Kitesurfing
If you love extreme water sports, kitesurfing or kiteboarding is a must in Bali. In kitesurfing, you use elements of wakeboarding and paragliding in the form of a board and a traction kite to help you glide and propel across the waters. Book our Bali water activities packages and head to beaches like Sanur and Tanjung Benoa, which are suitable for kitesurfing and offer lessons to newbies in the flatwater near the shoreline and under the constant flow of winds.
Banana Boat
Banana boat rides are one of Bali's favorite, fun, family-friendly water sports activities. The name gets derived from the fact that you use a large-sized inflatable boat shaped like a banana for the fun activity. Six passengers and a professional guide can sit atop the boat in one go. You can imagine the banana boat ride as horseback riding, as you straddle the boat with a speedboat pulling it to sail across the sea surface. Feel the sea breeze and enjoy the speed and laughter as you hold the ropes tight during the ride. Our agents can book a Bali water sports package for your entire family.
Jet Skiing
Jet skiing in Bali is an integral part of most plans by tourists. It is similar to going for a long drive, just that the drive is on the sea. You will enjoy this thrilling adventure that enthralls you with exciting speeds on a 700 cc Jet Ski as you ride on the waves soaking in the fantastic coastal views. Book your Bali honeymoon packages with GT Holidays and enjoy your couple time as you drive past Bali's skyline and explore the scenic waters.
Parasailing
Parasailing n Bali is meant for two people, making it one of the perfect Bali adventure sports for you and your partner. A professional will guide you beforehand with step-by-step instructions. You and your partner will be strapped with a harness and get lifted upwards in the air as the boat garners speed. Enjoy the view of the stunning waters and white sand from above as you satisfy your adrenaline for the activity. Professional and friendly parasailing instructors control the 6-minute ride to make you feel comfortable throughout the journey.
Whether a water sports newbie or a fanatic, you can always find something interesting in Bali. GT Holidays offers many Bali travel packages to indulge in the water sports of your choice. Call us to book your vacation and make time for adventure and action with water sports in Bali. Follow our Instagram profile to know about the latest offers and discounts.