A Maldives vacation experience is sure to be etched in your memory for a lifetime, but if you still need a souvenir to remind you about the pleasant experiences, this blog is just for you. We have listed some of the best places where you can buy little knickknacks for friends and family. Read on to learn more about the best places in the Maldives, famous for shopping exquisite and local handcrafted products.
A visit to these markets will give you a glimpse of what is famous in Maldives for shopping and allow you to experience the colourful vibe of this peaceful place.
Male Local Market
The Malé local market in the Maldives, located at the northern waterfront is one of the most happening shopping destinations. It is famous for street shopping in the Maldives, which is dear to locals and tourists alike. You will find many authentic and exclusive handcrafted items in the market, including mats made from coconut and palm leaves and wooden flower vases made from seashells and lacquerware. You may also want to pick up cute miniatures of boats, brooms, and slippers as souvenirs for your loved ones back home. Our GT Holidays agents integrate a market visit into your itinerary when you book Maldives tour packages with us. The market is open from 8 am to 11 pm and is also known for its lip-smacking Maldivian delicacies you can try during your visit.
Majeedhee Magu
Majeedhee Magu is a street market in Malé that should be on your go-to list. As one of the most famous and busiest shopping places, the street is lined with numerous stores, shops, and boutiques selling everything you expect. From garments, jewelry, and perfumes to accessories, handlooms, handicrafts, and electronic goods, Majeedhee Magu is known for all the famous things to buy in the Maldives. You can put your bargaining skills to use when you shop here as most shops will reduce their prices. You can make a pit stop at one dining place to enjoy local delicacies. The market is open from 9 am to 11 pm to buy souvenirs and experience the local lifestyle of Male people. Experience the local vibe when you plan your vacation with our Maldives trip packages.
Le Cute
Le Cute is ideal for cosmetic shopping in the Maldives. Head to Le Cute, a well-known retailer of reputable international brands in Malé city that deal with perfumes, cosmetics, creams, lotions, and other body care items. If you are travelling as part of one of our Maldives honeymoon packages, pay a visit to Le Cute between 9.30 am and 6 pm and prepare to pamper your spouse and yourself with some luxury skin products.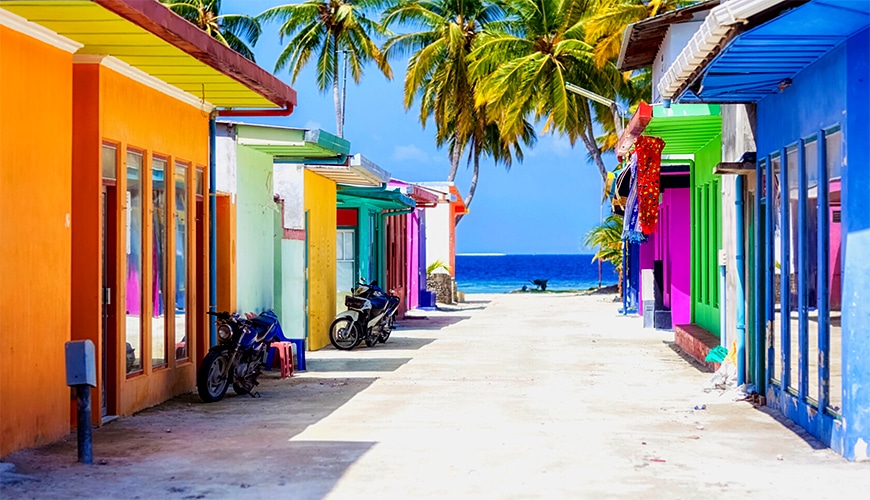 Island Bazaar
If you wish to carry something back from Maldives that is a classy and unique lifestyle product curated by local artisans, visiting Island Bazaar is a must. As a boutique based in Male', Island bazaar runs a Maldivian lifestyle brand and promotes products that respect its culture and help revive its tradition and heritage. As a tourist, you will enjoy exploring the store in the Maldives, famous for shopping everything from homeware and apparel to handicrafts and jewelry collection that embodies the Maldivian tranquil and warm styles. If you're a shopaholic, you will love the products that showcase local talent in an elegant European-style boutique open from 10 am to 6 pm.
Centro Mall
If you want to splurge on high-end labels in the Maldives, visit Centro Mall near the pier in Hulhumale. It's a hub for luxury shopping in the Maldives, and the mall contains several cafes, banks, flagship stores, and a Supermarket. You can visit the mall from 7 am to 12 midnight and shop at over 30 brand outlets for clothes, perfumes, shoes, games, etc.
Book your Maldives tour package from Chennai with GT Holidays and get a customised itinerary to make the most of your vacation. Follow our Instagram profile to know about the latest offers and discounts.