Most islands in the Maldives are private and small enough to be explored on foot. You will never find yourself in a traffic jam as the number of vehicles plying on the roads is minimal. Even exploring the public islands is manageable, and there's never been a need for rental car services in the Maldives. If you are wondering how to get around the Maldives, do not fret; there are excellent options to commute between islands.
Here are some of the best ways to get around the Maldives, whether on land, water, or air.
By Air
If you wish to travel faster to distant islands, seaplanes or domestic flights are the best options. Travelling by air is better for getting around the Maldives without a car. There are two terminals in Malé airport; for flights within the Maldives, a domestic terminal and a seaplane terminal.
Seaplane
You can book seats in a seaplane to travel across the Maldivian islands of your choice. A seaplane can carry around 15 travellers at a time. It's the easiest, most fun, and quick way to commute between islands as they do not require landing strips and land directly on the water. Though you might find seaplanes relatively compact, they fly at a low altitude, offering the most incredible aerial views of the reefs and the islands, making the trip worthwhile. You will also enjoy the spectacular views of the untouched, uninhabited islands. The seaplanes do not operate at night, so ensure that your travels are planned accordingly.
Domestic Flight
If you have an international flight landing at the Malé airport late at night, you can choose domestic flights to reach your destination. Domestic flights work during the day and night and carry around 35 to 60 passengers to 16 regional airports across the islands. The domestic terminal is a short walk away from the international terminal; hence taking domestic flights is one of the best ways to get around the Maldives.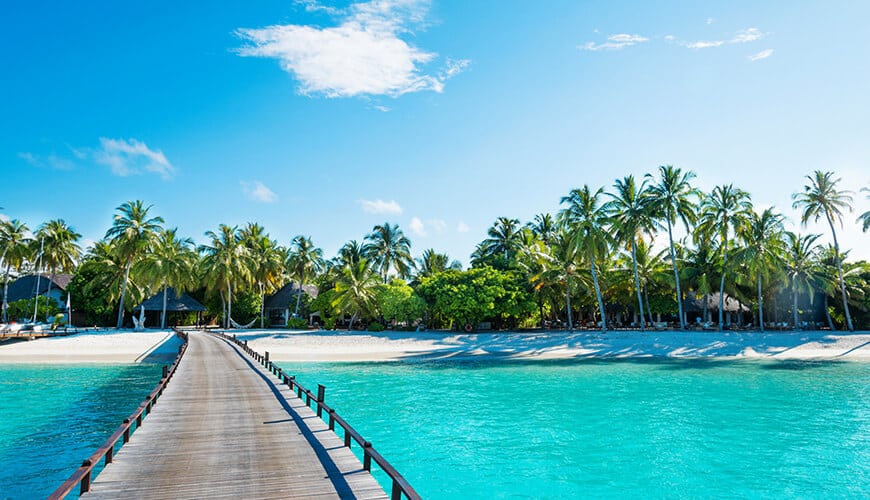 By Sea
Depending on the resort's location, you can also opt for a ferry speed boat or a yacht from Male Airport to reach the resort in 45 to 90 minutes.
Ferry
Public ferries are the cheapest way to get around the Maldives, and they leave every 10 minutes from Malé airport. You must be aware of the baggage restrictions and limited ferry schedules. The ferries may not be the best choice as they often run late or get canceled and also do not stop at the resort islands, nor do they operate on Fridays.
Speedboat
Riding over the water in a luxury speedboat is a much more fun experience than on ferries. You can choose a speedboat through your resort or personally for reliable travel. Our agents can assist you by pre-booking your trip when you book through one of our Maldives tour packages. The fares vary depending on the distance to your destination. And if you're planning to splurge, consider booking a private charter speedboat for faster and direct travel between various islands.
Yacht
A yacht is the best way to travel comfortably and in luxury. If you believe in travelling in style and prefer something more personal, charter a yacht with access to both resort and remote islands and isolated reefs. With careful planning, our agents can pre-book a yacht with your Maldives honeymoon package to make your island hopping easy and fun.
By Road
If you travel in cities like Male and Addu, road transport is the primary way to get around the various popular spots. Here are three options you can choose from to travel within the cities.
Bus
Bus service in the Maldives is affordable but limited to specific routes, including the airport. You can use private bus services and buses designated especially to and from the airport to other parts of the island. You may find the bus waiting time a little erratic as it depends on the traffic density. The buses are generally crowded, making travelling with luggage a bit cumbersome, especially during the rainy season.
Taxi
You will find that a taxi in the cities is a much better option due to their efficient service. You have to hail a cab and take a comfortable and air-conditioned ride to your desired place within the city. You can also easily book a cab through a hotel or local taxi services. If you are in the city for sightseeing, you can choose the option of shared taxis.
Bicycle
Once you are at your desired destination in the Maldives, exploring other interesting spots is easy through bicycles. You can check with your resort, as most offer complimentary bicycles at a nominal cost. We can assist in renting bikes for your trip through our Maldives travel packages. Bicycles will allow you to travel at your own pace amidst smooth routes lined with lush green coconut trees and surrounded by tranquil settings. Feel the cool breeze on your face as you ride to explore the island.
Choose any of the above transportation when you come to the Maldives. Our agents at GT holidays can book your Maldives tour and decide in advance on the best ways to get around the Maldives so that you reach your destination smoothly. Follow our Instagram profile to know about the latest offers and discounts.