Dubai is the perfect place to experience desert safari for real. Most of us have seen pictures of gorgeous desert safaris in movies and TV shows. Just imagine yourself riding along the dunes while the winds ruffle your hair and caress your face. You can dine with your loved ones and taste the delicious Middle Eastern delicacies, interact with locals, learn about their lives, and sleep under the stars spread across the sky like a warm blanket. You can turn this dream into a reality through the numerous desert safari Dubai packages.
Have you been looking for substantial and holistic Dubai tour packages that include a desert safari in their itinerary? GT Holidays offers plenty of Dubai travel package options that help you make the most of your vacation. Our tour experts will gladly share the latest information about the package, including the desert safari Dubai package price. Follow our Instagram profile to know about the latest offers and discounts.
Features of Desert Safari Family Packages in Dubai
There are many options for choosing a desert safari in Dubai. Some of the options are as follows:
Morning Desert Safari
If your Dubai trip is packed with activities for the rest of your days and evenings, you can opt for the morning desert safari. Once the car picks you up at 9 am, you will be taken straight to the desert, where you can relish 20 minutes of dune bashing along with experienced drivers, post which you can proceed to the camp.
While at the camp, you can try camel rides, sand boarding, and quad biking. You will be provided soft drinks at the location, and after about two hours, you will be dropped back at your hotel.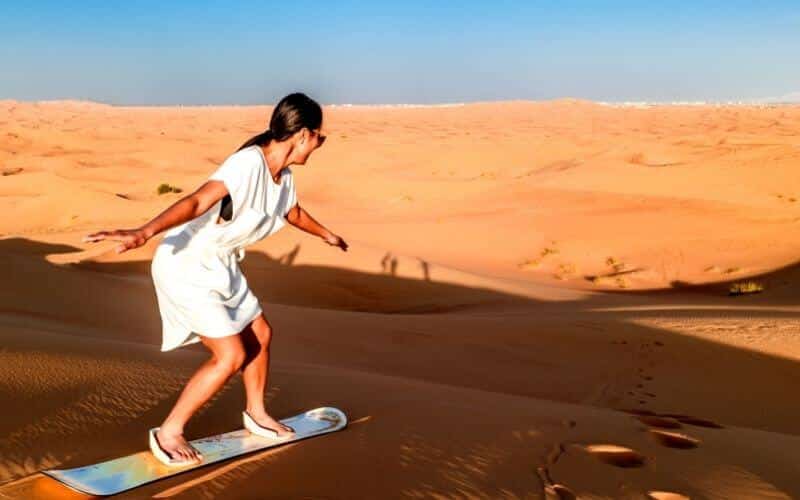 Overnight Desert Safari
If you genuinely want to experience the magic of a desert safari, an overnight desert safari is the best option. Serving as an extension of the evening desert safari, it begins when the guests from an evening desert safari leave the camp area. Tourists can spend a relaxing and mesmerizing night in the tent under the starry sky. The package provides you with pillows, blankets, and a mattress. With shower facilities available, you will also be served breakfast and tea or coffee before returning to your hotel.
Remember to carry a tripod with you because you will surely want to capture unforgettable moments in the desert through photographs. It's best to carry your toiletries along, but ensure not to make your luggage too heavy for the safari.
If your Dubai trip begins with an overnight safari, leave your luggage at the hotel you will be heading to after your desert safari experience. Get ready to taste fresh dates and the famous Arabic coffee as a welcome gift at the camp. Some of the inclusions to enjoy at your overnight safari are camel rides, henna painting, a belly dance show, a fire show, sand skiing, and squad biking.
Dune Buggy Safari
A dune buggy safari is a must for visitors seeking an activity to thrill them to the extreme. The terrain vehicles that an individual can drive in the desert are known as dune baggies. You can ride the dune buggy for an hour or two, as per your preference. You will be provided with refreshments during this experience, and you can also opt for camel rides and so on at an additional charge. Provided with goggles and safety helmets, you can be assured of complete safety during this activity while knowing you're about to have an unforgettable experience.
Dinner in the Desert
Munch on the delicious snacks and beverages and enjoy the scrumptious buffet while watching dance shows and more. Some people wish to not indulge in the dune buggy experience and instead head straight to the campsite to relax and take in the surroundings. This option is preferred by those who have little kids or adults in the family.