Ooty or Udhagamandalam is considered the Queen of Hills thanks to its natural beauty and splendour. The hill station is loved for its extensive tea estates, lakes, and the beautiful flora and fauna that dot the Western Ghats. No wonder, it is one of the most popular honeymoon destinations for newlyweds. If you are looking for affordable Ooty honeymoon packages from Chennai, read further:
How To Choose a Honeymoon Tour Package for Ooty from Chennai?
A typical honeymoon package for Ooty from Chennai must include all the popular tourist attractions, including Botanical Gardens, Ooty Lake, Rose Garden, Kotagiri, Doddabetta Peak, and Tiger Hill. And it must include plenty of time for leisure, shopping, and some private time.
But most important of all, the honeymoon package must not pinch your pocket. Make sure they include decent amenities like complimentary breakfast and dinner, chauffeuring, and more.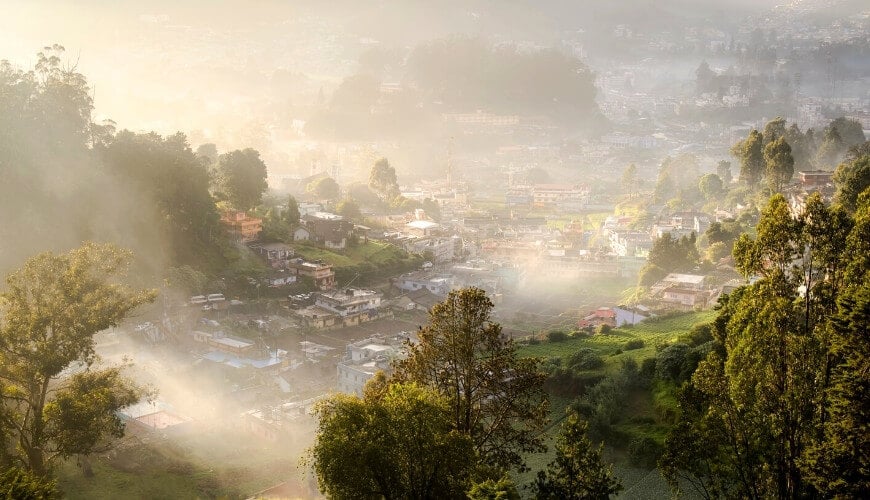 What Is a Good Budget for Ooty Honeymoon Tour from Chennai?
At GT Holidays, we offer plenty of affordable honeymoon packages from Chennai – an average package costs around INR 10,000 to INR 20,000. But again, any budget would be good if it fits into your thoughtfully decided plan of travel.
How Much Does the Ooty Honeymoon Trip Cost from Chennai?
The budget for the Ooty honeymoon tour package totally depends on your handpicked itinerary. To have a memorable experience and witness all the alluring views, the budget for Ooty can start anywhere from INR 10,000 to INR 15,000 and can go up to INR 25,000 and more.
Which Is the Best Site to Book Ooty Honeymoon?
Chennai is home to thousands of traveling agencies and tour packages, and it's very easy to get lost and confused deciding to pick one. So, we are here to make things easier for you!
GT Holidays' Ooty honeymoon trip packages from Chennai are meticulously designed keeping in mind all the needs of honeymooners in a well-thought-out budget that wouldn't put a dent in your wallet so that you can revel in your enchanted bliss without a care in the world!
So, are you ready to make the trip of your lifetime? Then book GT Holidays' Ooty honeymoon tour package from Chennai today!
Follow our Instagram profile to know about the latest offers and discounts.