As South India's leading tour operator, we have always found Krabi, Bali, and Phuket the top pick for Indians planning an international honeymoon vacation. This fact was even officially confirmed when a recent survey found that more and more Indians travel to Krabi and Bali to escape the Indian monsoon. Read on if you are planning a romantic vacation to Thailand and looking for affordable Krabi honeymoon packages from Chennai:
Why is Krabi a Popular Honeymoon Destination?
This magical place is an archipelago of over 154 small and large islands that boasts rich flora and fauna. Krabi boasts miles of secluded beaches, sea caves, exotic marine life, and hot springs. When honeymoon couples aren't lazing on the pristine white beaches, they're actively scuba diving, snorkelling, kayaking, rock climbing, or trekking in the jungles of Krabi.
At GT Holidays, we offer a comprehensive range of Krabi honeymoon trip packages from Chennai to help you enjoy a memorable vacation.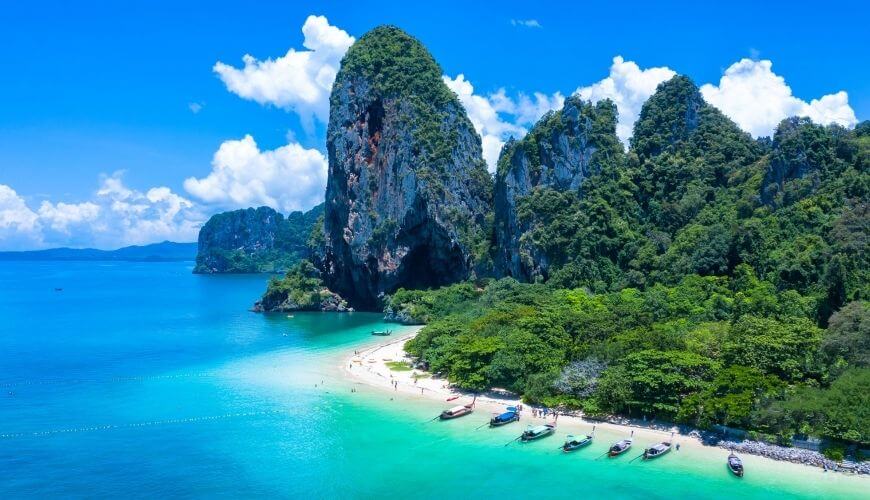 What Places are Famous in Krabi?
Krabi is a traveller's delight offering the best of Thai heritage with all the modern conveniences. As newlyweds, you can explore some of the below-mentioned places as a part of our Krabi honeymoon tour packages from Chennai:
Railey Beach is very popular due to its massive limestone cliffs and lush green forest. You can enjoy activities like snorkelling, kayaking, and rock climbing.
Ao Nang and the Noppharat Thara beaches are where most action happens. Along with water sports, young couples can explore the fascinating corals and the marine diversity of Krabi.
Khao Phanom Pencha National Park is like a romantic dream come true. Lush forests and enchanting caves, calming sounds of waterfall and streams, and creatures in their natural habitat create a wonderland around you.
The 4 islands tour is a major attraction of our Krabi honeymoon packages from Chennai. We'll take you to the island's most iconic landmarks, viz., Koh Gai-the Chicken island, known for its chicken-shaped mountain top, Koh Poda, the island with turquoise waters, and the tiny yet beautiful islands of Koh Mor and Koh Tub.
When is the Best Time to Visit Krabi?
The ideal time to visit Krabi is from November to March, which is also the peak tourist season. June to October are off-season in Krabi because of incessant rains during these months. Couples can avail of the best Krabi honeymoon packages cost from Chennai at GT Holidays. We offer the best options that match your budget and suit your tastes. Follow our Instagram page to look at the daily offers.