Packed with spellbinding beauty and rich natural reserves, Seychelles is a perfect honeymoon destination for newlyweds. If you love towering mountains and gorgeous beaches lined with coconut and palm trees, you should book a Seychelles honeymoon package from Chennai at GT Holidays. But here are a few things you must know before booking a honeymoon package:
Where to Visit and What to Do in Seychelles?
Seychelles is an archipelago of 115 islands, out of which three are most visited, viz. Praslin, La Digue, and Mahe. Some of the must-visit places in the country include Bird Island, Fregate Island, and Aldabra Island. Praslin is famous for Vallee de Mai, a UNESCO World Heritage Site famous for the indigenous rare black parrot. A tour of Vallee de Mai nature reserve, reef safari, and some romantic time at the shores of Anse Lazio and Anse Georgette will make the trip more exciting. Mahe is famous for Victoria City, the Botanical Garden, Clock Towers, and King's Garden. La Digue is famous for its pristine beaches.
From your pick-up at the International Seychelles airport to hotel stays and travel to the three major islands, everything is part of the Seychelles honeymoon packages from Chennai. The three islands, La Digue, Mahé, and Praslin, have their uniqueness. The island of Mahé offers tours to Victoria city, the botanical garden, Clock towers, and King's garden, while La Digue is known for its pristine beaches. Visit Praslin to view its scenic beauty at your leisure.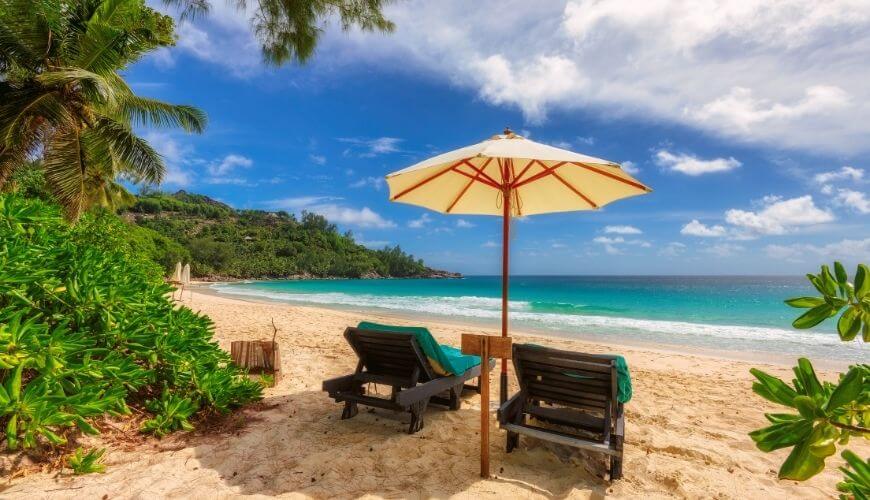 Is a Seychelles Honeymoon Tour Package Costly?
A Seychelles honeymoon tour package cost from Chennai can be budget-friendly, as per your choice of activities. Our expert staff offers excellent deals and discounts to make your trip fun-filled and hassle-free.
How to Book a Honeymoon Package for Seychelles in Chennai?
When booking a honeymoon package from Chennai, remember to read reviews about the tour operator. Do they offer a customized itinerary? Does the agency provide a 24×7 helpdesk to coordinate things during the vacation? You could waste time looking for a travel agency that ticks these boxes or works with us!
At GT Holidays, we specialize in planning travel packages at affordable prices. Our travel agents offer the best deals and are happy to customize your Seychelles trip package for a couple from Chennai. Our travel guides can help you plan a hassle-free trip by acquiring air tickets, passports, and visas for the travel. We have the credibility and experience to make your international travel dream come true.
Call our GT Holiday office to book your Seychelles honeymoon trip packages from Chennai and avail the best deals we have to offer. You can follow us on Instagram for the best deals.