Greece is one of the world's most favored honeymoon destinations. This country has a long and impressive history that beautifully coexists with the modern lifestyle. You must visit Greece if your idea of a romantic vacation includes exploring the various islands, lazing on the pristine beaches to soak in the Mediterranean climate, and seeing some of its ancient villages and monasteries. But before you browse for affordable Greece honeymoon packages from Chennai, read this:
Places You Must Include in Your Greece Honeymoon Trip Packages from Chennai
Given the country's beautiful coastline, sun-kissed islands, and remote beaches, almost every part of Greece exudes romance.
Santorini
Santorini is the most famous romantic getaway, where couples prefer to make memories of the exquisite blue sea and its renowned sunset. Make sure your package includes a day trip to the volcanic Caldera and the hot springs of Thirassia. At GT Holidays, we also arrange trips to Akrotiri to explore the ruins of the Minoan civilization.
Mykonos Island
Mykonos Island is a paradise for water sports enthusiasts. It is called the Island of the Winds because of the strong winds that blow on the island, making it an excellent choice for windsurfers.
Athens
Athens is a city that displays the contrasting skylines of the old and the new. Don't forget to explore historical spots like the Panathenaic Stadium, known for hosting the modern Olympic Games, and the Parthenon, a temple dedicated to Athena, the goddess of wisdom and war and patron goddess of the Athenians.
Other places like Delphi, Olympia, and Kalambaka, are known for their ancient architecture and historical sites. Depending on the places you want to visit, you can customize your itinerary as part of our Greece honeymoon packages from Chennai.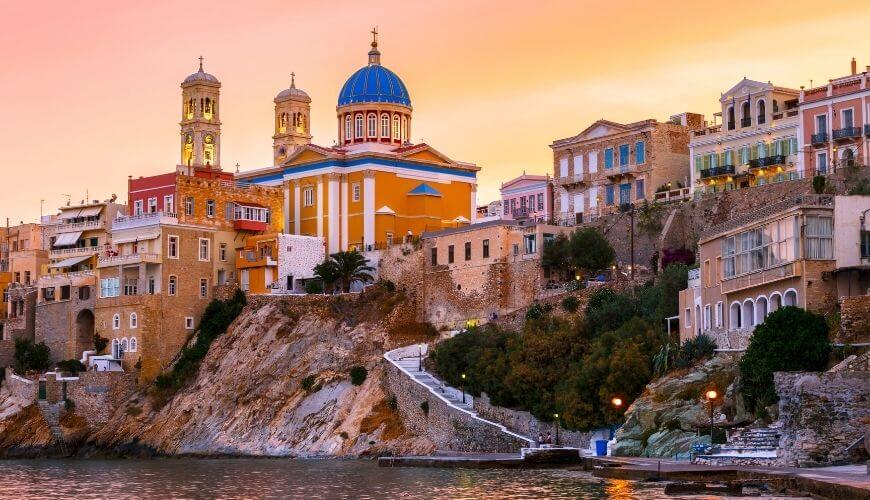 What are Some Exciting Things to Do in Greece?
Besides daytime tours, honeymoon couples can also experience the country's vibrant nightlife. Some of the other things you can do in Greece include enjoying Sirtaki, a Greek folk dance, visiting the scenic harbours of Kalamata and Thessaloniki, and enjoying some great food in one of the many Greek tavernas, koutoukias, and ouzeries. If you enjoy shopping, use your bargaining skills while buying embroidered clothing and pottery at the old Monastiraki Turkish bazaar.
Book Greece honeymoon tour packages from Chennai to enjoy all of these activities as a part of your itinerary.
Visit GT Holidays to find out about Greece honeymoon packages cost from Chennai, and our staff will offer the best deals of the day. Follow our Instagram page for daily offers.