No matter which restaurant you are dining at in the Maldives, you will find that local produce and seafood make every meal a very indulgent experience. Every resort offers various cuisines in multiple restaurants. It is best to select your dining options at the time of booking your Maldives travel packages.
Here are the top 10 restaurants in Maldives that offer you not only world-class cuisines but also a dining experience that will last in your memories for a lifetime.
Dining Under Stars
As the name suggests, imagine you sitting with your partner under the twinkling stars on a secluded corner on a private beach lit by lanterns. This romantic dining under the stars can be possible at Gili Lankanfushi resort in Maldives. Pre-book the fantastic dining experience through our Maldives honeymoon packages to surprise your spouse. The staff will serve you an exotic feast amid lush surroundings and natural soothing sounds. The culinary team at Gili Lankanfushi loves to spoil you with a fine-dining experience that's very different than a traditional restaurant. The staff can also arrange a customised culinary experience per your tastes and preferences and take you to a secret yet romantic location where you'll enjoy all your meals in a dreamy setting.
Fiyavalhu resort in the Maldives offers an extensive seafood menu for seafood lovers, from prawns to octopus to lobster, that you can relish on the beach under the stars. Enjoy the sounds of crashing waves at your feet, the perfect romantic setting. The chef can design a barbeque culinary experience just for you if you are a meat lover.
Dining Underwater
When you travel thousands of miles for a vacation in the Maldives, you must add the underwater dining experience to your to-do list. With your Maldives tour packages, our agents can help you book underwater dining at 5.8 Undersea restaurants. With the fantastic ambiance and delightful menu, your search for a gastronomical heaven will end. A multi-course tasting meal gets served at 5.8 as part of a fine dining culinary experience. Sample the flavours of the many inventive dishes for lunch and dinner in the world's largest underwater dining venue.
Ithaa Undersea is yet another renowned underwater restaurant that provides an intimate experience. Sit with your loved ones 16 feet below the surface and dine while watching various sea creatures swimming around you.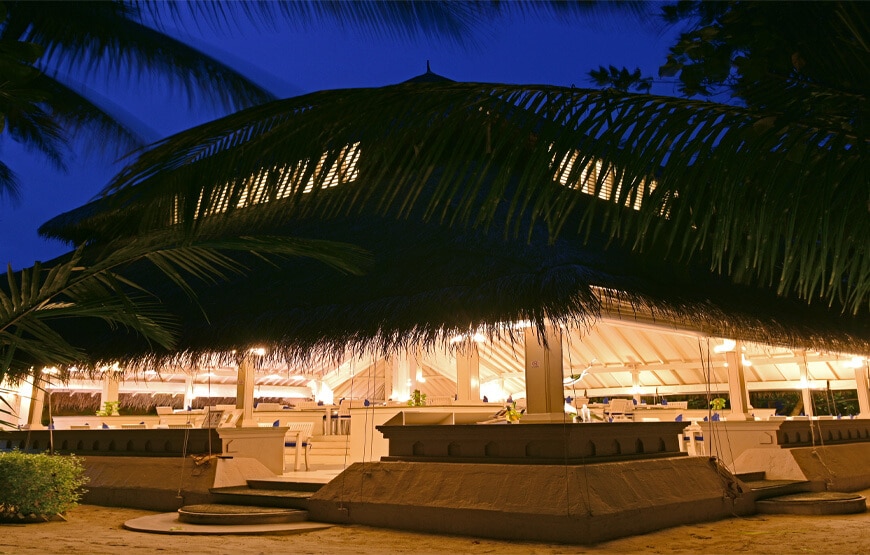 Dinner on Boats
When you live in a resort in the Maldives, you more often than not have your meals at the resort since the other alternatives are at a distance. Hence, most resorts offer you an option of a dinner cruise so that you can have a different dining experience at every meal. The Ba'theli lounge & restaurant at the Milaidhoo Island Maldives is one of the top 10 restaurants in Maldives and the only one in the world set on a boat in a lagoon. At Ba'theli, the chef creates gourmet dishes inspired by the island cuisine. Most dishes served here are influenced by the Maldivian Spice Route and are made using the finest herbs and spices that enhance the dish's flavours.
Another over-water dining experience you can have is stepping aboard a dhoni for a romantic dinner cruise for two. The Baros Dining can also arrange a private chef, and your exclusive gourmet meal can get served on the Piano deck. Restaurants in Baros are known t create magic in every bite by constantly innovating with the latest techniques and international ingredients to ensure a pleasing palate.
In Villa Dining
If you are a newlywed couple on your honeymoon in the Maldives, you will want to try out some In-Villa dining at the Anantara Veli Maldives Resort. Book your stay at the resort through GT Holidays Maldives honeymoon packages and savour a delicious selection of Thai, Italian and Japanese dishes in the comfort of your villa. You can also request meals to suit your specific dietary requirements.
When you are away from home, the craving for Indian food takes over. There are many Indian restaurants in Male, Maldives, that will satisfy your palate. To ensure you do not miss the Indian fare, we help you choose a resort in the Maldives with Indian restaurants. Adaaran Select Hudhuranfushi offers excellent water with an outstanding premium all-inclusive deal with unlimited food. You can order for In-Villa dining from their in-house Indian called the Indian Pavilion, which serves authentic North and South Indian cuisine and Jain food.
Family Dining
When you travel to the Maldives with your family, you want everyone to have the best dining experience at affordable Maldives restaurant prices. One of the well-known and award-winning restaurants is Thila at Kurumba resort. From a delicious continental breakfast to Maldivian grills and decadent desserts, there's something for every family member. Kids get their special menu in the gourmet restaurant.
As a family, you can choose a location for your meals; on the beachfront, balcony, on the deck, or among the lush palm trees.
If your family is into seafood and meats, head to one of the most popular restaurants Sea Fire Salt in the Maldives. Located over a lagoon at Anantara Dhigu Maldives Resort, Sea Fire Salt is a fine-dine steakhouse restaurant known for its freshly caught Maldivian fish and grilled meats. You and your entire family can enjoy the grilled seafood platter, which has a spectacular assortment of king prawns, lobster, scallops, and sea bass served on top of a slab of pink Himalayan salt to elevate the taste of the food.
Visit our website and explore the top 10 restaurants in the Maldives personally by booking your Maldives travel package with us. Follow our Instagram profile to know about the latest offers and discounts.