If Bali is on your mind and you wish to be surrounded by the natural beauty of forests, waterfalls, lakes and volcanoes, head to North Bali. Most places to see in North Bali still retain their calm and charisma, making them popular enough to add to your Bali itinerary.
Here are some North Bali gems that are a must-visit with our Bali tour packages.
1. Kintamani Volcano
North Bali is home to one of the most famous villages, Kintamani, known for its scenic surroundings and dramatic landscapes around six ancient villages. Make a trip to Kintamani and explore the mesmerising crater lake beside the ancient volcanic Mount Batur. You will need to wake up early in the morning and head towards a 1700-metre-high active volcano to reach the Kintamani and Mount Batur viewpoint before sunrise. Enjoy the trip by trekking or cycling up the mountain and get rewarded by watching the magical light. Visit to Kintamani volcano will give you the exclusive opportunity to experience one of Bali's last active volcanos up close.
2. Sekumpul Waterfall
Enjoy Bali's famous waterfalls found in the north, mainly around the central highlands region. Venture out to the Sekumpul waterfall, and witness one of the most beautiful and powerful waterfalls in Bali. You should know that the waterfall is quite deep and challenging to reach, so ensure that you prepare for the trip. Imagine a scenic view with the waterfalls cascading from an 80-metres height into a lagoon beneath with dense vines adorning the cliff. Explore the impressive waterfalls from an aerial view from the viewing deck or take a leap of faith and hike down to the bottom with an adventurous spirit.
3. Git Git Waterfalls
If you want to visit a waterfall that does not involve risk-taking but gives a sense of adventure, then Git Git waterfalls are for you. Though one of the tallest waterfalls in Bali, Git Git's accessible location allows you to reach it easily. Embrace the tropical scenery as you watch the 35-metre-high waterfall set amidst a natural jungle paradise environment. Take a dip, spend time with your loved ones, and admire nature. Since Git Git is very popular amongst tourists and locals, ensure you visit early to avoid crowds.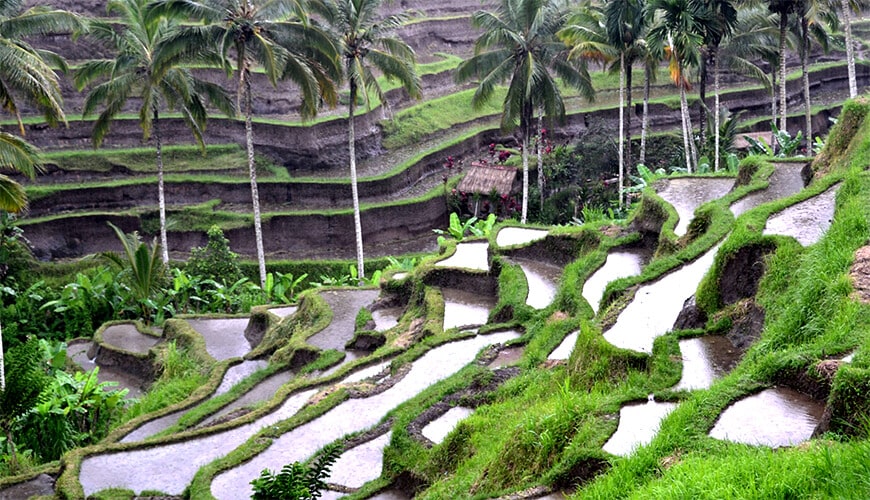 4. Ulun Danu Bratan
You may have noticed the Ulun Danu Bratan temple as one of Bali's icons for tourism. 'Ulun Danu' means lakeside, and the temple sits on lake Bratan, hence the name. The Ulun Danu Bratan temple is a must-visit place for its sheer magnificence. Imagine a 'floating' temple built in the middle of a lake, symbolising harmony and stability. Head to the lake, located 1200 metres above sea level and enjoy a fascinating view with a cool breeze amidst the most mesmerizing temple complex set within the highlands. Get mesmerised by the lush mountains that add a dreamy touch to the landscape. Click some memorable pictures with your dear ones at Ulun Danu Bratan, one of the serene places to see in North Bali.
5. Handara Gate
If you have Ulun Danu Bratan on your Bali honeymoon packages itinerary, head to the famous Handara Gate, which is just a 5 minutes ride away. The ancient Hindu gates are majestic and iconic enough to be known as iconic places in Bali. Capture some great poses as a couple at the entrance and make memories for a lifetime.
6. Banjar Hot Springs
One of the most interesting facts about Bali is that the island has many volcanoes, which offer some great hot springs. Avoid the unauthentic ones and head straight to the Banjar hot springs near the Banjar village in the Singaraja area. Step into a lush green jungle garden to enjoy the cleansing waters, locally referred to as "Air Panas Banjar" hot springs. The 38-degree temperature and the water's sulphuric properties have known to be good for your skin and overall health.
7. Lovina Beach
Explore the unique and lovely black sands at Lovina beach, a coastal area in North Bali. If you enjoy snorkelling and diving, then Lovina beach is perfect for a day of watersports. You will have frequent sightings of Dolphins as you stroll on the beach or swim in the calm waters. Enjoy a dolphin-watching tour in a boat set to sail for a group of 5-6 people.
If you're looking for places off the beaten path in Bali, North Bali has some great spots. From captivating waterfalls and volcanic beaches to stunning temples and hot springs, you have the best places to see in North Bali. Call GT Holidays to learn more about Bali travel packages. Follow our Instagram profile to know about the latest offers and discounts.