There's a reason why Bali is a popular vacation destination. People visit the island repeatedly to enjoy its natural green landscape, tropical climate, and spiritual vibe. If you feel tempted to do the same, visit us. We can customize your Bali travel packages, helping you plan a memorable vacation. Read on to learn more about the top 10 tourist places in Bali.
1. The Rice Terraces of Tegallalang
If you love natural landscapes, you will adore the scenic twists and turns of the Tegalalang rice terraces. As part of the UNESCO World Heritage Site (cultural landscape of Bali province), the rice terraces of Tegalalang showcase the attractive emerald-green rice fields worked on by the local farming community. You will be mesmerized by the awe-inspiring green rice paddies that seem to spread to eternity. Capture Instagram-worthy scenic landscapes during your visit and get immersed in the lap of mother nature. Mark this famous hotspot on your top 10 Bali tourist attractions list.
2. Aling Aling Waterfall
What better way to embrace mother nature than getting wet and adventurous under a 90-foot waterfall? Head to the far north of Bali, where adventure heaven awaits in the Aling Aling waterfall. A beautiful 10-15 minute nature walk allows you to enjoy 3 other waterfalls on the way and click pictures of the magical route. If you are a thrill-seeker and enjoy cliff jumping, water slides, and natural pools, you will have a great time at the Aling Aling waterfall. Book one of GT Holidays Bali tour packages that will get you this fantastic spot. You can slide down or jump off the cliff around a deep green jungle ravine near the waterfall and enjoy your adrenaline rush.
3. Nusa Dua Beach – Adventure
Continuing your adventure streak, you can also visit the beach at Nusa Dua and enjoy the thrilling water sports activities. Depending on your vacation schedule and interest, you can try some or all water sports. With activities from swimming and jet-skiing to water parasailing and scuba diving, you can spend your entire day amidst sparkling blue waters and glittering white sand.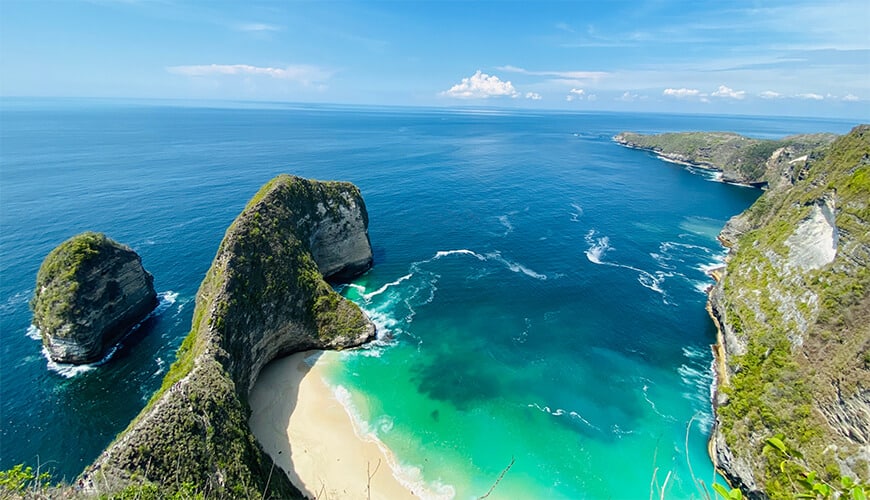 4. Besakih Temple
To experience the spiritual vibe of Bali, you must make a trip to the largest temple in Bali, the Besakih Temple. Ranked amongst the top 10 tourist places in Bali, the temple sits on the southwestern slopes of the island's highest mountain, Mount Agung. The temple complex comprises 86 temples that have been standing for more than 1,000 years. Also known as Bali's 'Mother Temple, the temple is one of the holiest, most prominent and most important complexes of Hindu temples that stood its ground even after the disruptive volcanic eruption of 1963. Try to visit the temple during any of the 70 religious ceremonies or celebrations held annually to understand the faith of devotees in Bali. You will be surrounded by breathtaking scenery, with the Besakih temple nestled within mountains, hills, streams and lush rice paddies.
5. Ubud Royal Palace
If you are visiting the town of Ubud, then the Ubud Royal Palace should be on your Bali travel packages itinerary. Situated in the Gianyar regency of Bali, the Ubud palace is a historical building complex as it used to be the official residence of the royal family of Ubud. Also known as the Puri Saren Ubud, the palace is a centre of arts and culture that's easily accessible. Explore the well-preserved Balinese architecture and the beautiful garden settings where you can attend the Balinese dance performances in the evening.
6. Ubud Monkey Forest
Give a visit to Ubud Monkey Forest, which houses almost 700 Balinese monkeys and nearly 186 species of trees and plants. Listed in the top 10 Bali tourist attractions, the nature walk will present you with 3 main Hindu temples where you can seek blessings and some monkey moments that will keep you entertained.
7. Ubud Art Market Shopping
While in Ubud, get your shopping fix by visiting the Ubud Art market. Located opposite the Ubud Palace, the market is open from 8 am to 5 pm and is a cultural hub of Bali's traditional and unique products. You can find everything here, from authentic handicrafts and art pieces to local clothes and humble souvenirs.
8. Mount Batur Trekking Experience
Capture the natural beauty of Bali by taking a 2-hour trek to the famous Mount Batur to watch the breathtaking sunrise. When you reach the top of the mountain, 1717 meters above sea level, the summit offers insanely scenic views of Mount Abang and Lake Batur in the background. GT Holidays will help pre-book professional and trained local guides to assist with a trek with every safety measure to ensure a perfect trekking experience. You can make a reservation as a couple when you book Bali honeymoon packages.
9. Tanjung Benoa
As a water sports enthusiast, a visit to Tanjung Benoa will allow you to participate in virtually most beach and ocean activities. From banana boating and sea walking to flyboarding and scuba diving, choose to your liking and have a great time.
10. Bali Handara Gate
Your trip to Bali will not be complete unless you pose near the Bali Handara Gate for that instagrammable picture. Add the location to your list of must-visit attractions in Bali to capture the massive height and the artistic designs on the Bali Handara Gate.
No wonder Bali is known as the complete destination! Ensure you cover the top 10 tourist places in Bali by contacting GT Holidays and booking your trip with us.