Bali is known to be a year-round vacation destination due to its consistent tropical temperatures, but the seasons play a significant role in tourist attractions. In Bali, you will find two primary seasons throughout the year, i.e., dry, and wet. Yet, it would help you plan better once you know the best season to visit Bali so that you can enjoy exploring the tropical island.
To help you decide the best time to visit Bali, below are the 3 tourist seasons throughout the year.
Peak Season (April-August, Late December)
The dry season is from April to October and is the peak season. This is when the weather is consistent, and humidity is relatively low. You will be able to enjoy most locations and activities in Bali during this period. Since the period is the best time to travel to Bali, try to enjoy the perfect setting for outdoor fun, such as cruising, surfing, and sunbathing from April to October. If you intend to spend your Christmas-New Year holidays in Bali, then the 3rd and 4th week of December will have a substantial festive crowd on the island enjoying the beaches and the buzzing nightlife.
If you wish to spend your honeymoon in Bali during the peak season, you will find the weather most welcoming with sunny with clear skies. You can enjoy sightseeing and have a great time participating in various outdoor activities like trekking, surfing, diving, cycling, etc. GT Holidays have many Bali honeymoon packages for you to choose from. Our agents can help you book one between April and August since the weather will allow you to acknowledge its natural charms, ideal climate, and relaxed setting. You can swim in the crystal-clear beach water and take in the stunning panorama as you take romantic walks with your partner. From June to August, you will experience constant guts of winds and observe beautiful kites flying in the sky. You can try and participate in the Balinese 'kite season' or enjoy the sight of hundreds of Balinese kites dancing in the wind.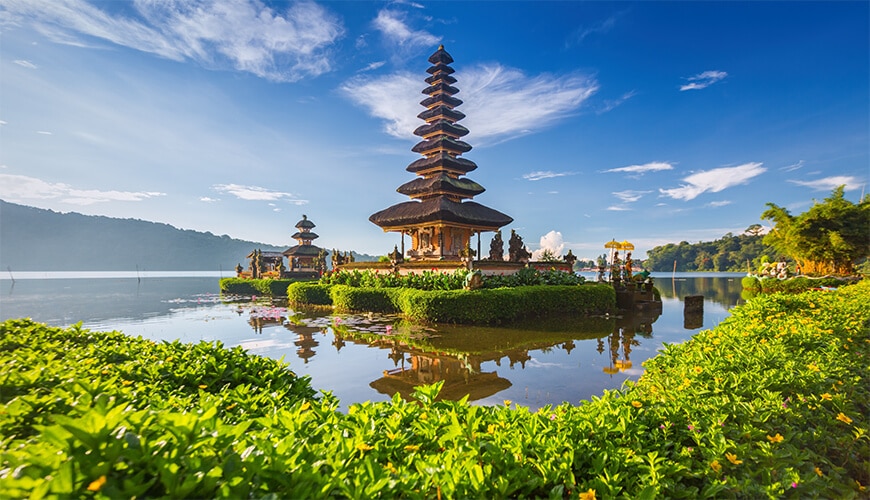 Shoulder Season (September-Early December)
The shoulder season is when Bali offers you its exotic locales and great weather with less crowd and accommodations at cheaper rates making it the best time to visit Bali. The beautiful landscapes get more manageable for you to book, and enjoying the iconic landmarks and temples becomes possible due to less crowd. You will experience the beginning of the monsoon in November and early December, with a few occasional showers. On days without rain, you can head out to beaches and enjoy as many activities as possible or stay indoors and immerse yourself in a peaceful spa experience. With our Bali travel packages, take time to marvel at the beauty of nature surrounding Bali while swimming in the pool or participating in local indoor activities. The shoulder season invites you to enjoy the great weather of Bali at comparatively lower prices.
Off Season (January-March)
The island of Bali becomes quieter after New Year, and hence you will find the months of January to March to be off-season. The Bali monsoon season sets in by December and goes on till March, so you'll need to carry a raincoat or umbrella while heading out. You will find great stays at lower prices, and most tourist spots will have less or no crowd at all. Booking Bali tour packages in the off-season may become a great way to enjoy your time together as a couple. Stay indoors and enjoy a peaceful time with your partner amidst rain and breeze, creating the ultimate romantic vibe for you at an affordable price.
Once you realize Bali is a year-round travel destination, it will be easier to decide the best season to visit Bali. While April to October offers pleasant days and nights along with fun annual festivals and events, the wet season of November to March will allow you to enjoy the beaches, clubs, spas, and restaurants. If you love adventure, you can participate in water sports like white water rafting and canyoning or head to waterfalls and dams. Get on the inflatable rafts that take you into the lush rainforests to view Bali's rare flora and fauna.
No matter when you intend to make plans to vacation in Bali, you will never go back disappointed. Call GT Holidays to plan your customized package once you decide your best time to visit Bali. Follow our Instagram profile to know about the latest offers and discounts.