Bali is known for its rich spirituality, rainforests, lush rice paddies and scenic beaches. The enchanting island is as beautiful on land as it is on water. Experience some fantastic trips to spectacular beaches via Bali cruise packages and relax or indulge in the various activities to spice up your vacation.
Book a Bali cruise tour with GT Holidays and treat yourself to 5 famous cruise trips in Bali.
1. Lembongan Island
Take a catamaran cruise for an exciting day trip to Lembongan Island, a scenic village near Bali. As you sail towards the island, head to the open deck to savour the panoramic views of Bali and its coastline. You will head towards the southeast coast of Bali to reach Nusa Lembongan, the island known for its pristine beaches, spectacular rock formations and diverse aquatic life. Once you land, you can partake in various water sports. You will have access to thrilling activities like snorkeling, scuba diving, kayaking, and parasailing, as well as fun ones like banana boat rides, water slides, fishing and swimming. Alternatively, you can soak up the sun and stroll on the golden sandy beaches. With our Bali travel packages, explore the island with your loved ones and savour the exotic meals for a beautiful holiday experience on day cruises around Bali.
2. Nusa Penida
Venture into the picturesque island of Nusa Penida through our Bali honeymoon packages with cruise, and enjoy a blissful day amidst crystal-clear waters, staggering cliffs, and pristine beaches. Take some memorable pictures as a honeymoon couple at the Instagrammable spots of the island. With turquoise waters crashing into limestone formations, and breathtaking lagoons, no wonder it's known as a photographer's delight. The water surrounding the island boasts diverse marine life and is known as the Coral triangle. It's an ideal place to enjoy water sports or take guided lessons in scuba diving and snorkeling with qualified instructors at Crystal Bay. You can book Banana boat rides and parasailing activities on request. A full-day tour will take you to the island's top attractions and relaxing beachside activities. With everything prearranged for you, the cruise will be an ideal and hassle-free tour for a day on the island.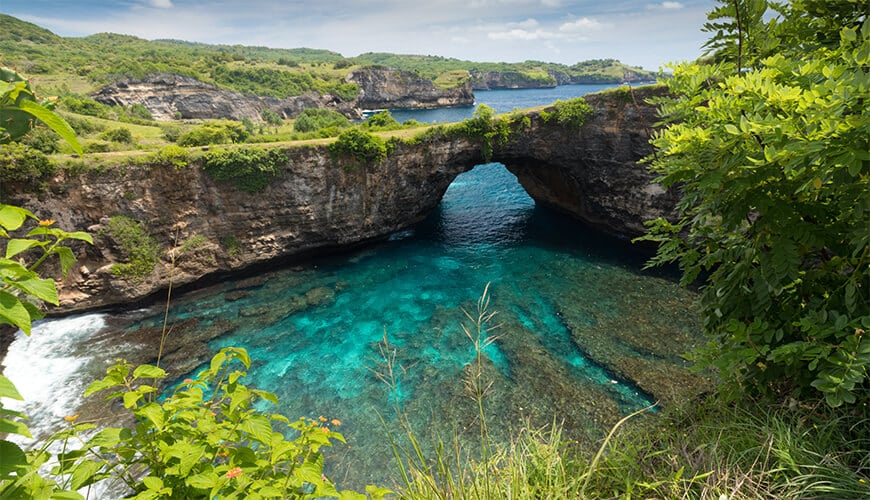 3. Blue Lagoon
If you are looking for a secluded beach with crystal clear blue waters and glittering white sands, take a Bali cruise trip to Blue Lagune, also known as Blue Lagoon. As an easily accessible beach from areas like Kuta, Seminyak and Jimbaran, you can spend a day at this non-commercialised beach that's also snorkeling heaven. Relax on the beach with your loved ones by picking a sunbathing spot or under the shade of the palm trees surrounding the beach. Reach out to us and pre-book your day trip to the enchanting and panoramic Blue Lagoon beach.
4. Sunset Cruises
Imagine yourself with your partner relaxing on the open-air top deck of a cruise ship, sipping on drinks and watching the sky changing its colours as the sun goes down. The changing hues of orange to purple and then red will take you on a dreamy and romantic experience as you board Bali's famous sunset cruise. Amidst the peaceful setting, all you have to do is embrace nature in its purest form and enjoy a great evening with live music, traditional dance performances, cultural shows and international cuisine for dinner. Get on board the sunset cruise with our Bali tour packages and watch the myriad shades of the sun glowing in the refreshing ocean.
5. Gili Islands
Do you like exploring secluded islands? Then, the Gili Islands are the perfect getaway you can experience via a boat cruise in Bali. As a group of three islands near the northwest coast of Lombok Island, the Gili Meno, Gili Air and Gili Trawangan, each offers activities like snorkelling, diving and paddle boarding for you to enjoy your time. You can explore some of the best snorkelling sites around Gili Trawangan, the most popular one with a cosmopolitan vibe due to the vibrant nightlife. All three islands are known for their picturesque settings, with coral reefs and white sandy beaches lined with the greenery of palm trees. Take a Bali cruise tour to Gili islands and experience its uniqueness.
GT Holidays ensures that all our Bali cruise packages are designed to fit everyone's budget. Whether you are looking for a family cruise, a romantic getaway or a solo trip on the boat, our agents will be happy to set it up as part of our customised Bali tour packages. With numerous cruises, you can choose any beautiful destination and get a memorable experience on the island. Call us today to plan your next trip. Follow our Instagram profile to know about the latest offers and discounts.