Planning a vacation in Bali is partly to explore the beautiful locations and partly to escape the stressful rigors of daily life. Bali is the perfect destination to get some 'me-time' and rejuvenate with the help of various Bali spa packages on the island. Known as the relaxing capital of the world, Bali presents a pampering spa culture that not only keeps your woes at bay but also manages not to break your wallet. The paradise island lures you with luxurious spa retreats, scenic surroundings, and world-class amenities.
While you may choose to visit a luxurious spa through a prior appointment or head to a budgeted day spa, the ambiance and treatments will vary in quality. Whether you need a quick fix or an exclusive spa treatment, you can decide which Spa in Bali to visit.
If you are new to Spa treatments, you may find it very intimidating and confusing at first to choose from an extensive list of options in a spa menu. Try out a few simple treatments to understand if it helps you relieve some stress. Check out some information on the various therapies and well-known spa locations before you seek a pamper session in Bali.
1. Foot Bath
You will notice that most spa treatments in Bali begin with a relaxing footbath. The ritual involves cleaning your feet and soaking them in warm and natural antiseptic ingredients for relaxed body healing. Foot cleansing and massaging stimulate circulation, prevent blood clots and reduce inflammation. You can avail numerous benefits with foot baths, from improving moods to reducing stress and pain in other body parts. Foot baths with organic ingredients, minerals, and salts also help eliminate toxins, thus allowing you to boost your immunity. The hot water used during the treatment helps to ease your tension and reduce pain and muscle cramps. With our Bali tour packages, you can destress at W Bali Seminyak's AWAY spa. The ambiance and the facilities make it easy for you to disconnect from the rest of the world. The Spa offers you an ultimate & detoxifying spa experience to emerge renewed and energized. For a pocket-friendly and less luxurious service, you can visit many small Spa around Bali, especially in Ubud, Seminyak, and Canggu.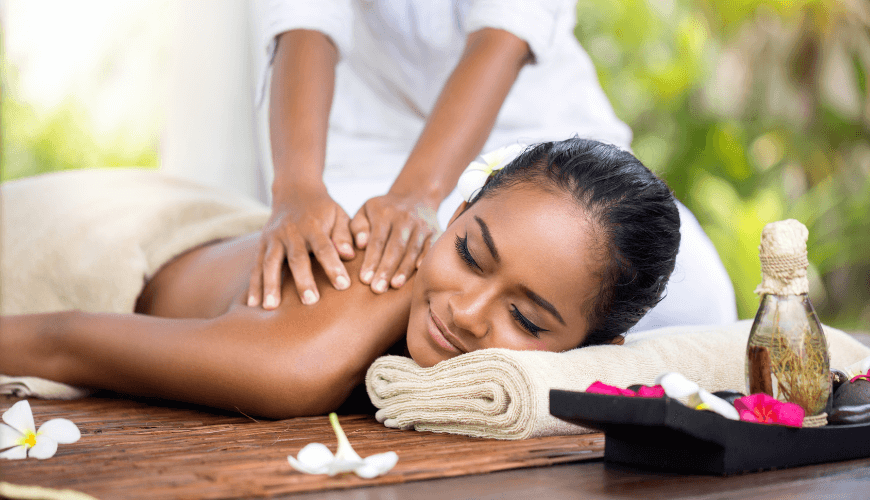 2. Traditional Balinese Body Scrub & Wrap
If you have some days to relax in Bali, try the centuries-old Balinese technique of body scrub and wrap through our Bali travel packages.
The traditional Balinese Boreh scrub offers the most stimulating experience, improving blood circulation and relieving fever and aches. The scrub gets followed by a warming body wrap made of ginger, cinnamon, coffee, clove, turmeric, rice, rice powder, and black pepper. As your body stays wrapped with ingredients that offer your body the warmth of hot spices, your therapist gives you a scalp massage to calm your mind. The mask helps clean your pores, release toxins, provide relaxation, and leave your skin feeling soft and fresh.
Lulur is another Balinese exfoliating scrub made with natural ingredients such as rice, turmeric, ginger, pandan, and essential oils. Your spa therapist will gently apply the paste on your entire body and scrub it off once it dries to remove dead skin cells. You get re-wrapped with a yogurt body wrap which helps to nurture the skin and make it supple. A warm shower often follows the Lulur body wrap. You will either shower once again or soak in a flower bathtub to get a complete Lulur wrap & scrub experience and feel refreshed.
We can help you indulge in a detox wrap at SPA Esc in Radisson Blu Bali Uluwatu. The spa cost in Bali differs from place to place, but Spa Esc offers you the experience of the authentic Balinese Spa at reasonable prices. You can enjoy a variety of facilities and treatments here.
3. Traditional Balinese Massage
If you have been stressed and exhausted, then the Balinese massage is what you need. Balinese massage originated as a therapy to reinvigorate your body and mind. The deep tissue massage is soothing and relaxing, as the attendant uses gentle stretching, long strokes, kneading, and acupressure all over your body. Rhythmical massage therapy helps in relieving the tension in your muscles. The aroma therapy through various massage oils stimulates your memory cells and reduces muscle damage if any. You get a head-to-toe treatment with a Balinese massage as you experience pampering of a different level at Spa Alila in Alila Villas Uluwatu. You will be offered unique and customized spa experiences in a relaxed, indulgent, contemporary environment. You will get to choose from several rejuvenating Balinese spa treatments with the help of personal consultations given by friendly and intuitive therapists. The locally based spa therapists are keepers of traditional rituals and concoctions offered in a serene and calm setting. We can book a time slot for two at Spa Alila when you choose from our various Bali honeymoon packages so you can tread the path of well-being with your partner.
With traditional music, sweet aromas of local flowers and spices, and an authentic ambiance, Balinese Spa's experience can become one of the main highlights of your trip to Bali. Call us soon to choose the right Bali travel package so we can reserve your time at the best Spa in Bali per your requirements. Follow our Instagram profile to know about the latest offers and discounts.