Bali is already known to be one of the most beautiful destinations in Asia, with an amazingly gorgeous landscape. With so much to see and do in Bali, you may also want to stay at a place that helps you relax, rejuvenate, and have fun. Water villas in Bali are a bit different from most regular hotels and resorts. With every possible amenity at your fingertips, the water villas are perfect for a holiday where you can recharge your mind, body, and soul in accommodations with fabulous interiors and calm surroundings.
Your vacation to Bali would usually be to take time off the regular hustle-bustle of life; what's better than making it the best time to relax and rejuvenate by booking yourself into a unique water villa in Bali? The luxury of water villas can be a great therapy that relaxes your body and soul. Plenty of water villas in Bali are set around unique locations to give you a perfect vacation.
Below are some benefits you get when you book Bali water villa packages from GT Holidays.
Serene Surroundings
Imagine yourself in a Bali villa, surrounded by calm waters and tropical greenery. Bali water villas give you an exotic escape from the maddening chaos of cities and offer you a slice of paradise with their breathtaking ambiance. Soak up the warm sun amidst the gentle breeze or take a dip in the water at your leisure; you will find peace and solitude in the luxury villas. You can relax and unwind with your partner or decide to spend time with your family in some of the beautifully designed accommodations. If you book your Bali water villa honeymoon package with us, our agents can offer you many options for water villas in Bali.
The serene and sensual Alila Villas Uluwatu is set on a clifftop plateau by the southern coastline on Bali's Bukit Peninsula. You will be amidst breathtaking coastal vistas, offering unending sky and ocean views. The eco-designed resort provides a secluded piece of paradise in the form of water villas for the perfect vacation getaway.
Another hidden gem in the most vibrant neighborhood that offers water villas is W Bali-Seminyak. The villas offer privacy and comfort in their range of accommodations, comprising one to three-bedroom pool villas. Find yourself amidst a beautifully landscaped verdant oasis, where you can enjoy the ultimate privacy on the sundeck, overlooking the private plunge pool.
The water villas at Four Seasons Bali at Sayan offer you the best spiritual jungle retreat & romance through our Bali tour packages. Your water villas will have elevated views of the Ayung river and gardens, and you can walk down a staircase descending from a roof-top meditation lotus pond into each villa. You can move freely across the resort through a dramatic suspension bridge that gives you a feeling of floating above treetops.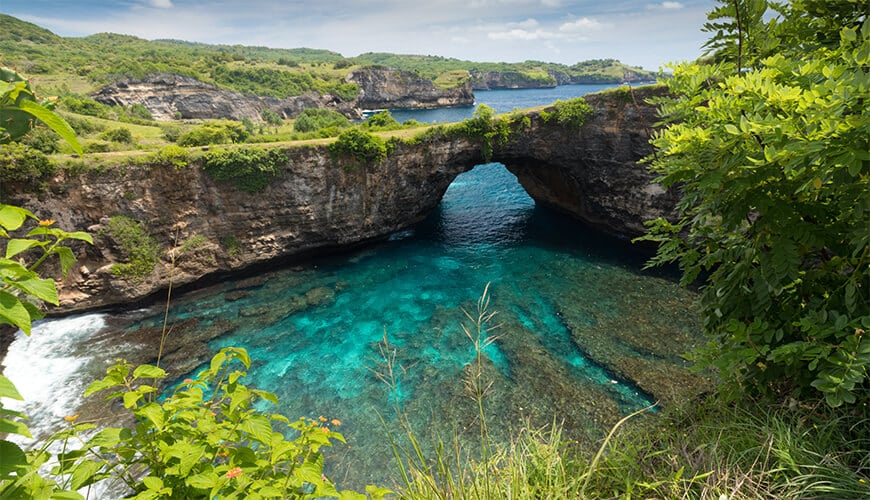 Personalized Amenities
With the luxurious water villas in Bali, you can expect various kinds of experiences regarding amenities and personal preferences. Get ready to be pampered by the generous hospitality of the staff, who will cater to all your food and stay requirements. Be prepared to be spoiled at the stunning pool villas at Alila Vilas Uluwas, as they are all about generous private space, incredible comfort, and views. The open-concept design of the water villas embraces the outdoors while ensuring you get undisturbed privacy, especially for couples who book the Bali honeymoon packages with us. The villas in Aila Villas Uluwatu offer you the ultimate luxury through a personalized stay tailored to your individual preferences. You will get offered a series of uniquely curated activities that seamlessly integrate Bali's indigenous nature, traditional culture, and the local community. Embrace an authentic Bali experience through the various wellness activities and bespoke journeys that Aila Villas Uluwatu has in store for you.
Unique Dining Experiences
Apart from the fabulous surroundings and amenities, the dining experience in the water villas in Bali is unique and detailed. While some water villas offer in-house restaurants, others provide a complete personal kitchen with cooking equipment and a dining area. You will indulge in memorable dining and bar experiences at the Alila Villas Uluwatu. Book your water villa stay through our Bali travel packages and feast on continental and Asian cuisines served by the warm and friendly staff as you sit around the gorgeous pool to celebrate love with your partner. The W Bali- Seminyak resort team will happily offer you a floating breakfast in your private pool.
With a range of water villas available in Bali, there are various kinds of experiences that you can get. Every one of the water villas is different from the others, and you can choose as per the amenities and exceptional experiences offered in each one of them. From luxurious 3-bedroom water villas to simple Bali huts on water, the price of each will vary as per your requirements and budget.
Next time you think of a trip to Bali, call our agents at GT Holidays. We assure you that we will book you and your loved ones into one of the stunning water villas in Bali, surrounded by the spectacular landscape and offering exquisite hospitality and facilities that live up to your expectations and budget. Follow our Instagram profile to know about the latest offers and discounts.