Who wouldn't want to escape the hustle and bustle of life and escape into an environment filled with thrills, magic, excitement, and sheer relaxation? We all deserve to move away from our laptop screens and the constant stress of work and go somewhere that rejuvenates our minds, body, and soul. Bali is one such place that offers everything you'd ever ask for in a dream vacation. The island is located in Indonesia and has been a tremendously popular vacation spot among international travelers for a long time. There are plenty of reasons why people love Bali.
Not only are the traditional events and traditional festivals in Bali worth witnessing, but the place also offers something for everyone. Among other things, Bali is known for its spiritual ambiance. You will find a lot of tourists visiting temples, meditating, and attempting to attain some much-needed peace of mind during their time in Bali. One of the best aspects of Bali is that it's a potpourri of natural beauty in many ways, featuring rice fields, flower gardens, waterfalls, lakes, and lush greenery. Imagine witnessing the events in Bali amidst these surroundings. Doesn't this sound fabulous?
Are you hoping to experience cultural and traditional festivals in Bali sometime soon? Looking for Bali tour packages that combine the goodness of sightseeing and letting you attend various festivals? At GT Holidays, we have you sorted. Our Bali travel packages and Bali honeymoon packages allow our customers to enjoy Bali festivals while also hopping from one scenic location to another. Visit the temples, beaches, and markets, and gift yourself some adrenaline rush by participating in the many adventure sports Bali offers. Reach out to us and book your vacation to Bali right away.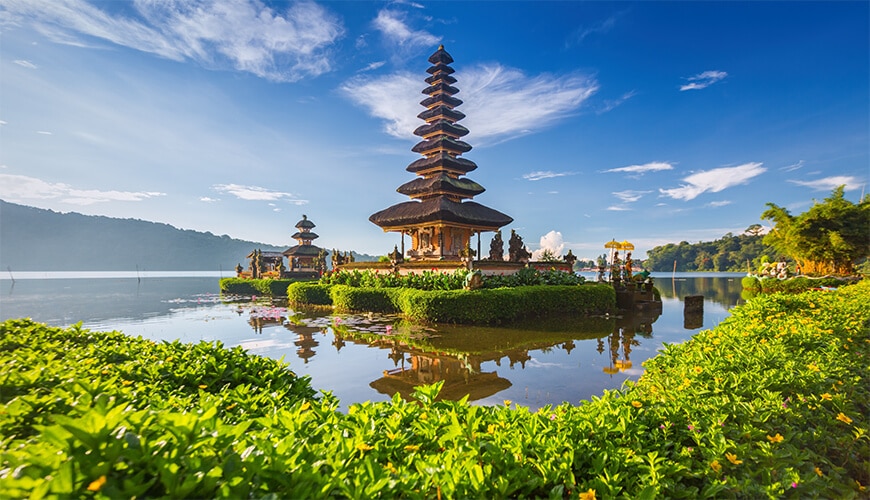 Traditional Festivals in Bali to Not Miss Out on
Bali has cultural events and festivals running pretty much throughout the year. Listed below are some of the Bali festivals that you shouldn't miss out on:
Bali Arts Festival
An annual cultural event held each year from mid-June through mid-July, the Bali Arts Festival is a display of art, music, and culture. The festival focuses on Balinese talent across Bali and other Indonesian provinces, with activities and competitions that are associated with fashion, literature, handicrafts, food, and modern dance performances and concerts. Locally titled the Pesta Kesenian Bali (PKB), the Bali Arts Festival takes place at the Taman Werdhi Budaya Arts Centre in Denpasar.
Chinese New Year
Bali's Chinese New Year is conducted every year from late January to mid-February, celebrated chiefly by Chinese Indonesians living in Bali and those who are Balinese and of Chinese descent. The festival puts up vibrant performances of the Chinese 'Barongsai', which is a lion dance or a traditional dance form from China. Tourists can watch the dance while relishing the delicious Chinese cuisine from nearby food stalls. The cultural influences from China have been visible in Bali through many generations, such as the use of ancient Chinese coins in rituals and the temples in Bali having Chinese architectural features.
Nyepi
Nyepi, also known as the Day of Silence, is an annual religious festival on the 12th New Moon of the Balinese Hindu Saka calendar to celebrate Bali's New Year. Festivities are held every day leading up to Nyepi Day, with the grandest one being held on Nyepi eve for the Ogoh Ogoh Parade. During the parade, locals can be seen carrying big, scary-looking statues created using paper and bamboo, symbolizing evil spirits and demons. They then walk through the streets with loud music blaring from all sides, burning statues in a purification ritual.
Bali Kite Festival
One of the most famous traditional festivals in Bali, the Bali Kite Festival begins in August, which is also when the tourists start coming in. Taking place along the coast of Padang Galak Beach, the sky gets filled with kites of all shapes, colors, and forms, right from the three-dimensional figures of goddesses and gods to animals. The festival has also now taken the form of Banjar, which is a competitive sport. The Bali Kite Festival promotes the region's customs among tourists. Visit with your family and witness your kids get awestruck at the incredible display of kites across the Balinese sky.
Nusa Dua Fiesta
Held for the first time in 1996, the Nusa Dua Fiesta represents a week of sporting events, cultural performances, and art exhibitions within the premise of a luxurious beach resort area. Although the tourism complex is exclusive, the area is open to the general public during the festival, with different events being conducted across numerous points. The festival takes place in October of each year, with the opening ceremony and parade conducted at Nusa Dua's peninsular region. As the celebration continues, the streets are crowded with brightly-colored floats along the 5-star resorts within the complex.
Ubud Writers & Readers Festival
The Ubud Writers & Readers Festival is one of those Bali festivals that lovers of literature and writing will surely enjoy. Revered as the most important annual literary festival in Southeast Asia, this festival celebrates academic ideas, words, and cross-cultural conversations. Regardless of the regions, boundaries, and borders, the Ubud Writers & Readers Festival focuses on issues associated with cultural and geographical barriers.
Numerous writers, activists, and authors are seen attending the event from all over the world. Inaugurated in 2004 by Janet DeNeefe, who is the co-founder of the Foundation, she created it as a response to the first Bali bombing in the form of a healing project. Not only does the festival shed light on the work of Indonesian authors on an international platform, but it also aids young Indonesians through educational programs.
So, are you all set to marvel at the traditions and culture of Bali? Get in touch with us to explore our eclectic Bali travel packages and pick one that meets your needs and requirements. Follow our Instagram profile to know about the latest offers and discounts.