Dubai is a well-known shopping destination that enthralls everyone with enormous malls and eclectic shopping options. Every part of Dubai will offer you endless retail therapy and attractions. The various malls hold a different kind of intrigue, and you must know precisely where to go for the best shopping experience in the city.
There are several malls in Dubai, so here's a quick look at the top 10 shopping malls in Dubai and figure out which one suits your needs the best.
1. The Dubai Mall
The Dubai mall needs to be on your list as it holds all the major shopping outlets and entertainment venues under one roof in downtown Dubai. Explore several flagship stores and your favourite high-fashion brands in the largest mall in Dubai. You will need to figure out how and where to spend your time in the gigantic mall that's spread over an area of 5,40,000 sq. ft. Create a list of the famously luxurious and renowned brands you choose to visit from the over 1200 shopping stores and indulge in a shopping spree of a lifetime. If you feel overwhelmed with shopping, make some time for other attractions at the mall to make the most of your day. From an Olympic size ice rink and Aquarium to an Underwater Zoo and restaurants, the Dubai mall holds enough more fun-filled moments for you to enjoy. Book the Dubai tour packages offered by GT Holidays and explore the Dubai mall to the fullest.
2. Dubai Festival City Mall
Head to the Dubai festival city mall for its fantastic ambience and spectacular light shows. As one of the best shopping malls in Dubai, it offers you an extensive range of luxury brands and popular outlets that attract the youth. Enjoy the gorgeous views of the waterfront and indulge in some great food and beautiful desserts while visiting the many restaurants at the Dubai festive city mall. Do not miss the dancing fountain called 'IMAGINE,' a popular attraction for everyone visiting the mall.
3. Mall of the Emirates
Visit one of the best shopping places in Dubai, the Mall of the Emirates (MOE), with our Dubai travel packages located at Al Barsha, Sheikh Zayed Road Interchange Four. With 600+ retail stores catering to numerous luxury fashion brands and popular outlets, you will get spoiled for choice at the mall. Get hooked by the marvellous structure and explore the several high-end dining, shopping and entertainment options with your family.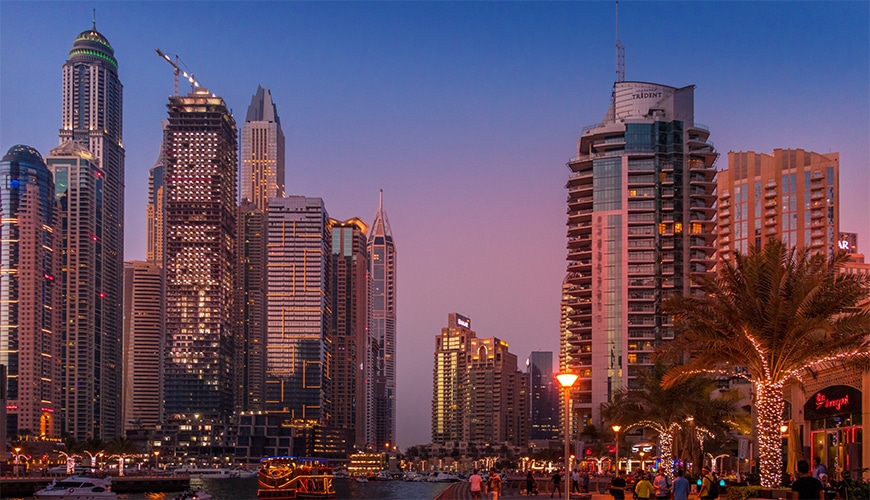 4. Ibn Battuta Mall
If you want to be at a place that offers retail therapy and entertainment, then Ibn Battuta is one of the popular malls to visit in Dubai. Known to be one of the world's largest themed malls and named after the famed explorer Ibn Battuta, the mall is spread over a wide area of 300,000 sq. ft. Marvel at the unique architecture of the themed mall that's divided into six courts based on the explorer's travels. Explore Andalusia, Tunisia, Persia, Egypt, India and China courts for fun attractions. The mall also holds multiple food & beverage outlets that cater to the Indian palate.
5. City Centre Mirdif
If you are in the family-friendly area of Mirdif, visit the Mirdif City Centre or MCC mall, which caters to the young and old. From Hamley's and Decathlon, Zara and Mango to Pottery Barn and Crate & Barrell, time will fly when you walk around the eco-friendly mall. You will be in one of the best shopping places in Dubai, where you can buy some of the most iconic and affordable brands and find things that suit every budget. Apart from shopping, you can also explore various entertainment choices like an indoor skydiving centre, sky trail, climbing wall and many other kid-friendly activities.
6. Wafi Mall
Experience Egypt in Dubai at the famous Wafi mall on Oud Metha Road within the Wafi City Complex of Dubai. It is one of the top 10 shopping malls in Dubai. As you enter the Wafi mall, the replica of the famous Sphinx will greet you. Get amazed by the Pharaonic design, part of its unique architecture, designed to look reminiscent of ancient Egypt. Don't let the interiors deceive you. The mall has over 250 stores showcasing a distinct design style and some boutique shops offering you an excellent shopping experience. You have several options for dining and spending time exploring entertainment and leisure activities. Head to the Arabian Souk below, especially for the famous Cleopatra's spa that draws much attention. If you intend to visit Dubai in December, do not miss the massive Christmas tree decorations and the light and sound show at the Wafi mall in the evenings.
7. City Centre Deira
Another good shopping mall on your Dubai tour packages sightseeing list is the City Centre Deira mall. You will find most of the popular retail shops at the mall. As one of the highly sought-after malls, it has retained its loyal customers for almost three decades. You can buy many gifts to take back home from the mall as it has many discount shops that make shopping affordable. Shop for various brands across the categories like electronics, accessories, jewellery, etc. Apart from shopping, you can enjoy dining at multiple restaurants and exploring entertainment options with your family through fun-filled activities, games, and rides.
8. Dubai Marina Mall
Visit the Dubai Marina mall, which has a great lineup of well-known brands and a constant stream of events to make the most of your time there. You can have a sumptuous meal at a gourmet dining place by the gorgeous waterfront. No wonder the Dubai Marina is on our list of the best shopping malls in Dubai!
9. Burjuman Centre
One of the old malls that makes it on our top 10 list is the Burjuman Centre. Covering over 2.8 million sq. ft., the mall serves as one of the best leisure spaces in Dubai. If you plan to Book one of our Dubai honeymoon packages and shop for a wide range of products with your spouse. With over 200 retail stores and boutiques at your disposal, you will have enough options to satiate your shopping needs. Other than that, you and your partner can catch a movie or dine at one of the famous restaurants.
10. Mercato Shopping Mall
Get a feel of the Italian Renaissance at the Mercato shopping mall, with the most stunning architecture and a Mediterranean atmosphere. As one of the top 10 shopping malls in Dubai located in Jumeirah, you will get treated to a tasteful design resembling Spain and France and a good selection of stores and several dining options. You can get your kids to enjoy games at the Fun City while you shop around.
Dubai is known as a 'Global Shopping Destination' for a reason. With several malls to cover during your visit, all you have to do is call us and book yourself one of the best Dubai travel packages that suit your budget requirements. Call us at GT Holidays for any queries regarding the various Dubai packages. Follow our Instagram profile to know about the latest offers and discounts.