Switzerland is a unique melting pot of different cultures – in Geneva alone, people from over 190 countries work and live peacefully. The beautiful mountains and lakes, scrumptious food, excellent climate, and pleasant people make this an ideal honeymoon destination for honeymooners. If you and your loved one are looking for Switzerland honeymoon packages from Chennai, read this:
Planning An International Honeymoon Tour in Switzerland from Chennai?
Before you even begin planning a trip, make sure you have a budget in mind – take a good look at your finances to understand how much money you can spend on a vacation. At GT Holidays, we help newlyweds plan their dream Swiss honeymoon packages from Chennai at affordable prices. Our package prices start anywhere at INR 1,00,000 and could go up to INR 5,00,000 or more, depending on the package chosen.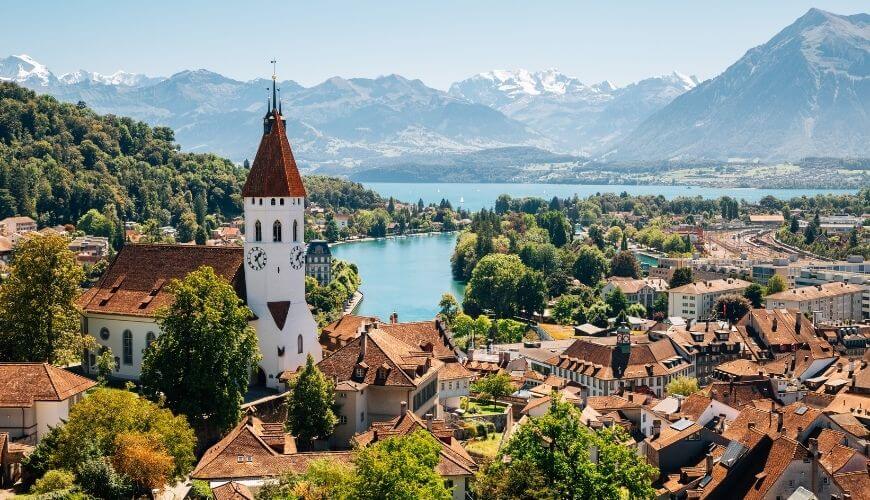 The Best Time to Visit Switzerland
April to October are the best seasons in Switzerland, but if you're a skier, December to March can be fun as well. March to May is spring in the country – a perfect time to enjoy the Alpine blooms. But peak season is definitely May to September. If you're looking to make the most of your holidays, choose July to August – that's when the daylight lasts up to 9.00 pm, leaving you with enough time to enjoy all the fun activities and enjoy the Alpine trails on the snow-free mountains.
How Many Days Do You Need to Explore Switzerland?
At GT Holidays, we usually suggest a 5 day 6-night stay to couples looking for mid-range Switzerland honeymoon tour packages from Chennai.
How Much Do Switzerland Honeymoon Packages from Chennai Cost?
Views of snow-capped mountains, lush green forests, glistening streams and waterfalls, culturally prosperous cities, and an abundance of restaurants and shops – this European country has everything a couple could wish for on their Switzerland Honeymoon Packages from Chennai.
If you choose your Switzerland international honeymoon packages from Chennai, the GT holidays offer affordable and best packages. A typical all-inclusive package would include visa processing, medical insurance, multi-lingual guides, etc. You don't have to do anything – call us, and we'll get everything done at your budget and to suit your tastes.
Why Choose GT Holidays?
GT Holidays offers a complete holiday experience. Our Switzerland international honeymoon from Chennai is cost-effective, customized to your needs, and includes all the country's important destinations.
Follow our Instagram profile to know about the latest offers and discounts.