When booking your Dubai tour package, it's always better to understand the upfront costs for your stay, food, and sightseeing. GT Holidays offer you an all-inclusive vacation that covers all your travel requirements. Everything gets covered in your charges, from flight bookings and transportation to accommodation and sightseeing.
We have a great line-up of resorts in Dubai that offer you world-class amenities and impeccable hospitality. Here are the top 10 resorts in Dubai that ensure a comfortable stay during your time in the city.
Get all your accommodation requirements, pampering, and fitness sessions under one roof at the Taj Exotica Resort & Spa, The Palm, Dubai. Located within Dubai, the resort offers many amenities in its all-inclusive offer. From a fantastic restaurant, outdoor swimming pool and fitness centre to a private beach, tennis court and a great bar, you can find all major facilities at the property. Our Dubai travel packages ensure that the 24-hour front desk is ready to assist you at a moment's notice, and they also offer room service and help you with currency exchange.
If you wish to stay in luxurious rooms and suites with panoramic views of the Arabian gulf, book your stay at one of the top 10 all-inclusive resorts in Dubai, the world-renowned Waldorf Astoria Dubai Palm Jumeirah. Along with modern luxuries, you can experience swimming in 2 temperature-controlled pools, participate in water sports exercises and play on the tennis courts. Kids can spend time in the Kids Club as you relax and rejuvenate at the Spa. You can also head to the resort's inviting private beach on Palm Jumeirah.
Another modern, stylish, all-inclusive resort that has something for everyone is the Caesars Palace Bluewaters Dubai. With our Dubai tour package, relax at the Qua Spa, head to the Techno Gym, and take laps at any of the five temperature-controlled pools. Experience the Empire Club or Caesars Forum as you stay across Ain Dubai. The luxury resort is situated on Bluewaters Island, with expansive views of the clear waters of the Arabian Gulf. Enjoy the 1.7 km stretch of pristine seafront, especially the 500m private beach.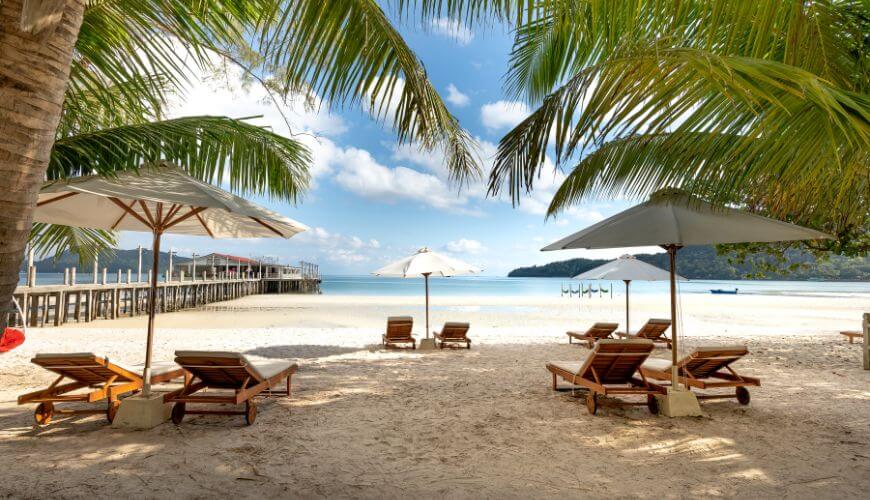 Stay at the One&Only Royal Mirage Resort Dubai, which overlooks the bay of Palm Island with amazing views of the Arabian Gulf. This luxury resort brags 1 Km of beachfront and multiple lavish gardens. The resort offers excellent accommodations and numerous leisure facilities, including 3 tennis courts, one water sports centre and a large temperature-controlled swimming pool. Your kids can enjoy the 'Kids Only' club, which has several engaging activities. As one of the top 10 resorts in Dubai, it offers 1 km of beachfront and 65 acres of lavish gardens.
As one of the prestigious 5-star resorts in Palm Jumeirah Island, Anantara offers many relaxing opportunities. You can utilize one or all of these facilities, from a 50 m infinity pool and jacuzzi to Turkish Hammam and balance wellness. You can also head out to the beach for Water skiing and boating activities.
The 5-star resort of Jumeirah Al Qasr is located on a 2 km private beach and is known for its uniquely styled rooms. With Dubai travel packages from GT Holidays, you can expect all your standard rooms to have splendid interiors with antique furniture, a private dressing zone and a walk-in rain shower. Jumeirah Al Qasr's ample rooms come with trench-style conduits or outfitted private galleries and offer views that overlook the Arabian Gulf and the hotel grounds. Enjoy your meals at the seafood restaurant facing the Arabian Gulf.
Another 5-star resort that offers excellent views of the Arabian Gulf is the Le Royal Meridien Beach Resort and Spa. Book one of our Dubai honeymoon packages and stay in the resort's deluxe rooms that flaunt 14 global cafés and bars. Enjoy a swim in the resort's infinity pool, take a sauna at the Roman-themed spa with saunas, or dip in one of the 5 Hammam pools. You can practice water sports or relax with your partner. Head to the Spa that offers varied treatments like reflexology, facials and aromatherapy.
Marvel at the spectacular Burj Khalifa and the surrounding skyline when you stay at the Four Seasons, Jumeirah. Enjoy the 5-star amenities of one of the top 10 resorts in Dubai, from the tennis court and 24/7 gym to poolside cabanas and access to the private beach. Enjoy delicious meals of your choice from the 7 restaurants.
If you want to stay at a resort in the Jumeirah district, then Mandarin Oriental Jumeirah is centrally located and close to the various malls. With high-end amenities, the mandarin oriental Jumeirah offers five outdoor swimming pools, a fitness centre and a shared lounge.
Book your stay at the Radisson Beach Resort Palm Jumeirah with GT Holidays Dubai tour package if you want a great resort that suits your budget and offers all the amenities. The 4-star resort is close to Palm West Beach and provides all-inclusive accommodation with a restaurant, free Wi-Fi and free private parking. You can swim in an outdoor swimming pool and do regular workouts at the in-house fitness centre. Enjoy your stay as you lounge at the private beach area or the bar.
Enjoy the benefits of staying at one of the top 10 all-inclusive resorts in Dubai through GT Holidays. Call us for details. Follow our Instagram profile to know about the latest offers and discounts.