With a natural coastline and many vast artificial islands, Dubai has earned a reputation as an unparalleled luxury vacation destination. There are plenty of great hotels in Dubai, but if you want to make your vacation memorable, we suggest you look at luxury beach resorts in Dubai with a private pool. Indulge yourself with utmost comfort and surround yourself with friends, family, or your partner in the privacy of some of the best beach resorts in Dubai.
Experiencing a stay at one of the luxurious beach resorts in Dubai with a private pool gives you an excellent glimpse of what Dubai is all about. From warm and welcoming hospitality, world-class amenities, and luxurious surroundings to exciting beach activities and fantastic food, you can get a taste of what all Dubai can offer. No wonder, to experience Dubai at its finest, you need to book your stay at one of the beach resorts in Dubai.
From romantic stays to family accommodations, here are the best resorts in Dubai with private beaches for a perfect luxury getaway.
We offer accommodations at the coveted Anantara World Islands with our Dubai honeymoon packages if you want the utmost privacy. The beach resort will be your private haven during your entire stay. You can sit back and gaze at the city's dramatic skyline from the privacy of your well-appointed rooms that offer private beach access. Choose from 70 seaside villas and suites that soothe your senses with a contemporary island design and subtle tones. When traveling with extended family, you can also opt for connecting rooms to spend time together.
Stay at one of Dubai's prestigious neighborhoods overlooking the pristine waters of the Arabian Gulf and the city's glittering skyline. Our agents can book your luxury accommodation through our Dubai tour packages at Mandarin Oriental Jumeira. Stay at the grand luxury beachfront resort closest to Downtown Dubai and the city's main attractions. Enjoy the resort's spacious and luxurious rooms that offer a contemporary feel and have balconies and terraces, offering views of Dubai's skyline or ocean views. Stroll on the prime stretches of the private beach or relax at the beachfront property, enjoying the resort's luxurious and world-class facilities.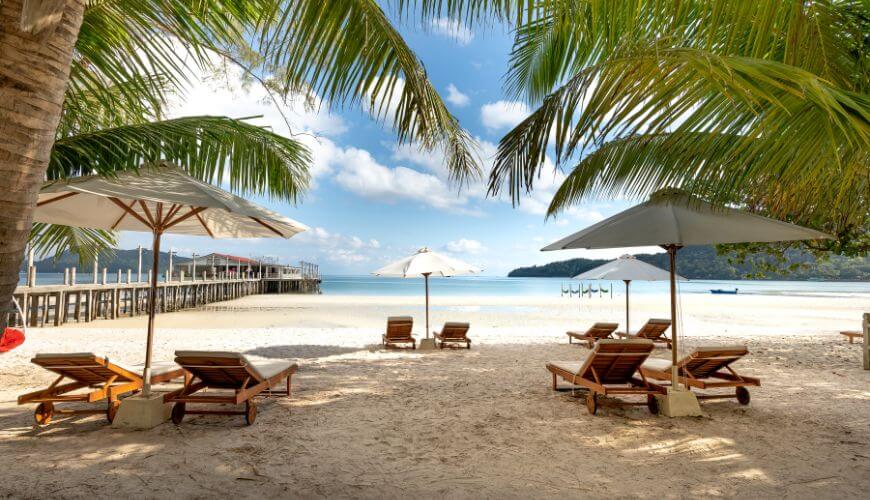 As one of the new entrants in the luxurious beach resort segment, One&Only -The Palm offers you an exquisite boutique oasis on the private Palm Jumeirah crescent. You will arrive at the resort via a limousine or a boat, only to be mesmerized by the lavish architecture. The spacious rooms and suites overlook the amazing 850 square-meter swimming pool, while the private beach villas offer direct access to 450 meters of beachfront. Enjoy the personalized service from your private beach and the spectacular views of the Arabian Gulf and the city's skyline. As a honeymoon couple, you can find an ideal escape by immersing yourself in complete seclusion in your luxury room, suite, or private beachfront villa with our Dubai honeymoon packages. You can also choose to stroll through the immaculate gardens of the resort and head towards the private beach and marina to relax.
Plan your vacation at one of the best 5-star resorts in Dubai with a private beach with luxurious amenities and pools. Head to Four Seasons resort at Jumeirah beach, close to the Dubai Mall and Burj Khalifa. Enjoy your bath in the marble-laid bathrooms and relax on a balcony that offers a beach view. Explore the resort's private beachfront, the two outdoor pools, and an indoor lap pool whenever you wish to feel refreshed.
For a relaxed stay close to a private and beautiful sandy beach in Dubai, you must consider the Park Hyatt, which boasts a 100 yards long infinity lagoon. Situated on the sandy banks of Dubai Creek, you can enjoy your time at the luxury waterfront retreat. Every room offers amazing views of Dubai Creek. Park Hyatt in Dubai provides a calm, secluded space with Greek isle vibes. You must head out to the private beach where you can spend a fun time soaking up the sun under the beach cabanas and sun loungers. Alternatively, swim in the 2 outdoor pools to feel rejuvenated after a day of sightseeing the vibrant Dubai. GT Holidays offers unique Dubai tour packages with the best accommodations on beach resorts. Follow our Instagram profile to know about the latest offers and discounts.
Our agents at GT Holidays ensure proper vacation planning, customized per your requirements and interests. Leave all your travel hassles behind and enjoy your stay at the beach resorts in Dubai.