Maldives offers both luxurious and affordable accommodation options, depending on your requirements. Whether planning a solo trip, honeymoon, or a get-together with friends and family, with GT Holidays, you needn't worry about where to stay in the Maldives. Our agents ensure that you always stay in resorts and hotels that offer great amenities, and scenic views and are close to beautiful beaches.
From luxurious to budgeted accommodations, here is our list of 7 best places where to stay in the Maldives as a tourist:
1. Coco Palm Dhuni Kolhu Resort
Don't worry about where to stay in the Maldives as a couple. For your honeymoon or a romantic getaway, stay at the Coco Palm Dhuni Kolhu Resort, just a short seaplane ride from Male city. The resort will have you enthralled with its spectacular villas spread in the formation of a palm leaf over the turquoise ocean. Surrounded by a designated UNESCO biosphere, your luxurious stay will allow you to experience the best of coral reefs and marine life. Get the much-needed privacy and pampering at the resort with all the world-class amenities to make your vacation memorable.
2. Soneva Fushi
Are you looking for a stay on a private island in the Maldives? We can book you into Soneva Fushi, the eco-friendly luxury hotel within the UNESCO Biosphere Reserve, through our Maldives travel packages. The hotel offers a variety of wine and dining options to excite your taste buds. Use the hotel's complimentary bicycles to explore the tropical greenery on the island. Partake in the many activities available, like water sports, stargazing, and glass-blowing workshops.
3. Baros
Are you a marine life enthusiast? If yes, head to Baros for one of the most loved resorts in the Maldives, set in the lush greenery amidst the glittering waters of a shallow lagoon. Find yourself surrounded by vibrant reefs as you live in elegant villas made of sandstone and timber. Choose to revel in complete privacy by booking your stay at Baros, Maldives, through our Maldives honeymoon packages.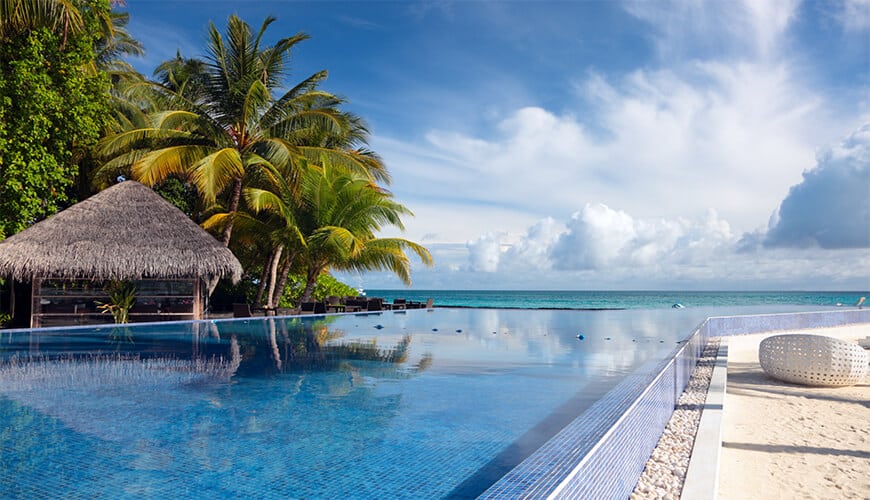 4. Anantara Dhigu Maldives Resort
When you need to satisfy the needs of a family vacation but don't want to compromise on luxury, then a resort like Anantara Dhigu offers you the perfect combination. The resort offers you some of the most spacious and luxurious villas in the Maldives, perfectly positioned on the beach and over the water to allow you to catch the sunrise or sunset. You will find several amenities to satisfy the entire family's needs, from a private plunge pool, a kids club, and a great variety of water activities. With eight dining options, endless activities, and adventures, you and your family don't have to worry about where to stay in the Maldives with family.
5. Meeru Island Resort
For a fun Maldives travel package with family, Meeru island resort is a perfect choice. From 286 rooms and suites, which include 106 water villas, you can decide on accommodation as per your requirement and budget at the Meeru Island Resort. As one of the Maldives' largest 4-star all-inclusive resorts, you won't have to worry about where to stay in the Maldives since the island welcomes tourists of all ages. With exclusive sections for families and couples, everyone is well taken care of. There are two swimming pools, two spas, and two buffet restaurants so that the needs of every guest can be accommodated.
6. Paradise Island Resort
Are you wondering where to stay in the Maldives on a budget? Find luxury at a budgeted price at the Paradise Island resort in the North male atoll. Stay in luxurious to affordable water villas perched over the edge of the reef with spectacular views of the surroundings. From water sports and adventures to therapeutic massages and candlelight dinners, get everything you want in a quality vacation away from the stressful life.
7. South Palm Resort Maldives
Treat yourself to an attractive combination of a beautiful private island and an affordable budget when you stay at the South Palm resort in the Maldives through our Maldives tour packages. Spend your time with your loved ones in total seclusion amidst the picturesque environment of white sandy beaches, blue lagoons, and tropical vegetation. Relax in the luxury beach resort accommodation with full-fledged amenities and soothing comfort. Enhance the experience of your stay in the Maldives through private resort moments at an affordable cost.
Where to stay in the Maldives depends on the kind of trip you want to take. Call us at GT Holidays, and our agents will help you with a customized package that will suit all your vacation needs. Follow our Instagram profile to know about the latest offers and discounts.