There's so much fun and adventure in Dubai that you might be overwhelmed by it all and look forward to a relaxing evening in an ultra-luxurious spa. There are some great massage centers in Dubai that not only pamper you but also help manage fatigue through various holistic therapies. We suggest you make time from your busy schedule to unwind at a good spa in Dubai and allow your body and mind to heal.
Read on to learn where you can get some of the best massage services in Dubai.
1. Anantara Spa
Visit the Anantara spa to get away from Dubai's fast-paced rhythm. This is the best place for couples' massage packages in Dubai. You and your partner can choose from their finest therapeutic treatments that blend modern, Arabian, and Oriental massage modalities. Surrounded by an awe-inspiring ambiance with marble interiors, you will enjoy a time of complete relaxation through various baths, Ayurvedic procedures, and massages. Revive your adventurous spirit through Anantara's wellness spa massages.
2. One & Only Spa
If you are looking for stress relief through traditional techniques, head to 'One & Only Spa, a spa in Dubai essentially based on ancient healing systems. With world-class facilities, the lavish spa is famous for its fantastic Turkish bath and hot stone massage therapy. Spa attendants at One & Only are happy to prioritize all your needs and can even customize services per your requirements. Our agents at GT Holidays can book you a visit to the spa through our Dubai tour packages to ensure relief to your muscles and stress levels.
3. Talise Spa
Are you looking for calm and tranquillity as newlyweds amidst the hustle-bustle of Dubai? Imagine a luxurious spa experience with your spouse amidst tranquil waters and lush landscapes. Step into the luxurious Talise Spa for an indulgent experience as you begin your journey of marital bliss with GT Holidays honeymoon packages in Dubai. Stay assured of being catered to by only the most professional and caring therapists, who will offer a variety of signature experiences in the form of facials, massages, and body treatments to you as part of couples massage packages in Dubai.
4. Amara Spa
After days of traveling in Dubai's heat and fun escapades at the Dubai desert safari, your skin will crave some pampering. For packages created explicitly for wellness and detoxification of the skin, visit the Amara spa, a spa in Dubai that's known to provide the best in luxury. Take in the Arabian vibes as you pass through the well-mowed garden and serene private patios. Indulge in relaxing treatments that comprise natural ingredients & modern wellness concepts. Choose from a wide range of spa treatments that include luxurious rituals as part of their signature massages and rejuvenating facials.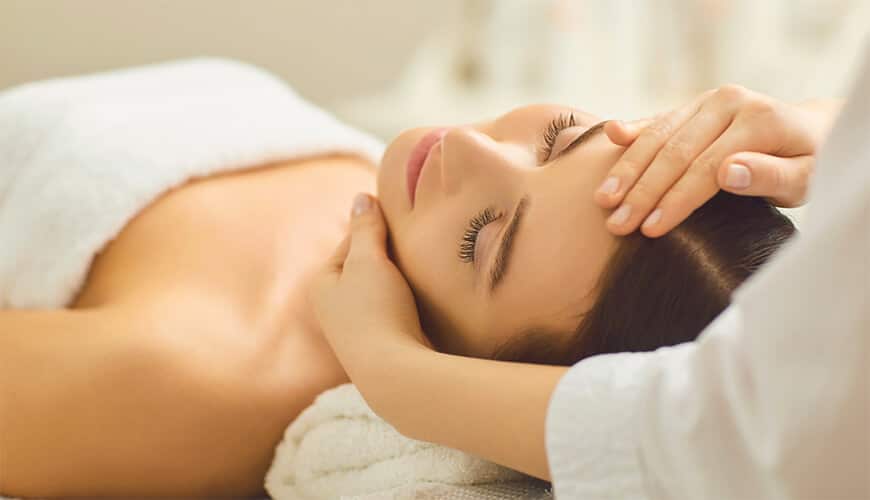 5. Spa Cordon
From the interior décor to your treatments, every area of the spa displays inspiration from earthy elements. Feel refreshed and rejuvenated through the body wraps using muds of 3 different kinds. Go for an Arabic-inspired body wrap or a hot stone massage and customise them with your choice of essential oils. For a customized spa treatment that relaxes your body and mind, go to Spa Cordon, where nature-inspired and vegan treatments offer you the best natural massage services in Dubai.
6. ShuiQi Spa
As the name suggests, treatment at ShuiQi spa is based on Japanese techniques to ensure a holistic spa experience. Enter the ShuiQi spa to be greeted by earthy hues and streaming water pathways that guide you toward the various treatment rooms. Enjoy the tranquillity of the spa rooms where wet and dry therapies get offered along with a great variety of services.
7. Westin Heavenly Spa
Experience utter bliss through the various massages and body treatments at the Westin Heavenly spa. Feel completely relaxed at the well-ventilated spa that offers a natural vibe making you leave all your stress behind. True to its name, the Westin heavenly spa offers massage center complete services in Dubai that soothe you to the core and hence can be a great place to visit after a long day.
8. Willow Stream Spa
For a personalized experience, visit the Willow Stream spa, where your requirements are well taken care of in an endearing environment. Do try their facial treatments for a radiating glow on your skin like never before! Feel like a royal by using their treatments for face and body. Trust their lavish body polishes and essential oils to work a miracle on your skin, mind, and body.
With too many things on your to-do list, vacations in Dubai can get very tiring. Book your time at a spa in Dubai as part of our customized Dubai travel packages and eliminate your fatigue. Follow our Instagram profile to know about the latest offers and discounts.