Dubai accommodates every tourist in various hotels and resorts through their diverse range from affordable budget to luxurious. Whether you are a honeymoon couple, family or a friend group, Dubai offers seaside resorts or city-center hotels per your requirements. When you book your vacation with GT Holidays, you need not worry about 'where to stay in Dubai?' Depending on your budget and stay requirements, our agents will arrange from a high-end resort to a well-equipped hotel at affordable rates.
Read on to find out more about where to stay in Dubai as a tourist.
1. Fortune Pearl
Wondering where to stay in Dubai with your family? If you wish to stay at a budget-friendly hotel with good amenities that take care of you and your family, Fortune Pearl hotel is an excellent choice in Dubai. Enjoy the rooms that offer a flat-screen TV, free WiFi and air conditioning for a pleasant stay. It's also easy to order your meals through the in-house restaurant, especially when travelling with kids and elders. Make the most of your visit at the high-quality property of Fortune Pearl, which offers access to a fitness center and indoor pool on-site. You have the added advantage of the hotel being strategically situated in Deira, with proximity to famous landmarks, making it easier for you to visit the well-known attractions.
2. Orchid Hotel Deira
Another great hotel in Deira is the Orchid Hotel, making it easier to travel to the airport and the metro station. Explore the hotel's fantastic amenities, from the restaurant and 24-hour front desk services to recreational facilities like rooftop swimming, sauna, steam room, and Jacuzzi. You are just 5.3 km away from the Grand Mosque and a 15-minute drive away from the Wonderland Amusement Park, making it a great hotel to stay in with family. Visit Gold Souk and Dubai mall, and head to the Dubai cruise terminal, Dubai Garden Glow and Dubai ice rink for a fun-filled vacation. Before you worry about where to stay in Dubai on a budget, think of Orchid Hotel in Deira.
3. Fortune Plaza
If you wish to stay amid tourist attractions in Dubai, staying at the Fortune Plaza hotel through our Dubai travel packages is the right choice. Located conveniently from the Dubai international airport and just 13.2 km from the Burj Khalifa, exploring Dubai becomes a piece of cake. Make the stay memorable with great amenities like an on-site restaurant, steam room and fitness center. The hotel also provides car parking and free Wi-Fi to help keep you connected. The hotel can arrange airport transfers to ensure your convenient arrival or departure. A stay at Fortune Plaza hotel can fill your days with varied activities, especially since it's close to the ocean. After a full day of activities, you can make a trip to the salon or a sauna to ensure you get rejuvenated for the next day.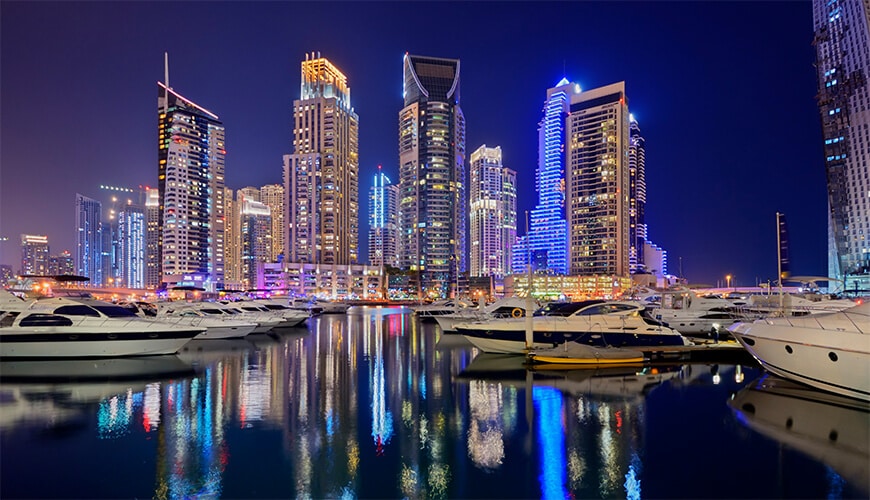 4. St. Regis Al Habtoor Polo Club Resort
Are you looking to stay in a 5-star luxury hotel in Dubai's city center? We recommend the St. Regis Al Habtoor Polo resort as it offers a fantastic property with Andalusian details and takes care of all your needs during your stay. The resort's indoor and outdoor facilities ensure you have the holiday of your dreams. Explore the poolside bar or café, or have meals from any of the 3 in-house restaurants. Indulge in a massage at the famous on-site Elixir spa, head to the gym or enjoy horse-riding whenever you feel like taking a break from sightseeing. The scenic elements of the St. Regis Al Habtoor Polo resort make it a perfect setting for destination weddings or a stay as part of Dubai honeymoon packages. You can also take your family shopping at Dubai Mall or the Global village and IMG Worlds of Adventure.
5. Al Maha Desert Resort
What better way to experience the Desert in style than live in Dubai, the city known for its deserts? Especially if you are wondering, where to stay in Dubai as a couple! Enjoy the spectacular view of the golden sand at the Al Maha Desert Resort and Spa, luxury accommodation just a 45-minute drive from Dubai. As you arrive at the main gate, the staff will guide you for approximately 8 km through a sand road toward the resort's main building. You may notice the wildlife roaming freely across the exclusive desert resort, thus guaranteeing desert views and 42 private suites to relax in. Rest in the luxurious Bedouin-style tents that display the heritage of Arabia through the décor. The resort has luxurious amenities, from large bedrooms, spacious bathrooms, rain showers, and private temperature-controlled swimming pools and sun decks.
6. Atlantis, The Palm
Stay at one of the famous and dream destinations to experience luxury in one of the stunning hotels, Atlantis, the Palm. With GT Holidays' Dubai travel packages, you will find everything about the 5-star hotel so memorable and luxurious that you understand why it's so sought-after. The romantic location with its sun-kissed beaches makes it apt as a wedding venue or a place for newlyweds to come through our Dubai honeymoon packages. Spend some great time with the love of your life as you enjoy a stroll on the private sandy beach or look at the most scenic views of the ocean from your rooms. If you visit with a family, take your kids to Aqua Venture, the largest waterpark, for thrilling water rides. The property holds an on-site spa, restaurants, and high-end boutique shops for you to use.
GT Holidays ensures you will have a memorable and comfortable experience without letting you worry about where to stay in Dubai. Follow our Instagram profile to know about the latest offers and discounts.