Maldive's pristine white sands, clear blue skies and turquoise ocean have much more to offer than its scenic calm. Whether travelling solo, as a couple or with family and friends, you will find several outdoor activities to do in the Maldives. The fun adventure will ensure that your visit to Maldives will be an experience of a lifetime.
Here are the 8 outdoor activities in the Maldives that will keep your vacation fun quotient high.
1. Snorkelling
The warm, inviting waters of Maldives have been gifted with fantastic coral reefs and an array of marine life. If you enjoy being part of nature, put on your snorkelling gear and get ready to be blown away by the mesmerizing underwater scenery. The sheer splendour of being surrounded by vibrant flora and fauna will make it one of the most memorable activities of your life. Book our Maldives travel packages and plan your snorkelling trip around March. Enjoy swimming around aquatic fauna like Hawksbill turtles, eagle rays, reef sharks, whale sharks, octopus, and schools of clown triggerfish, bannerfish, etc.
2. Water Skiing
If you intend to try water sports for the first time, we recommend water skiing since it's one of the most accessible and fun water sports in the Maldives. You will be strapped safely behind a boat that will pull you on an enjoyable ride in the calm ocean water. Water skiing is a safe sport, and the coast constantly has a lot of lifeguards; you can try water skiing without worrying about safety hazards. When you book Maldives tour packages from GT Holidays, our agents will suggest avoiding the months from June through September since the rainy weather, high winds and choppy ocean currents make it unsuitable for Water Skiing.
3. Scuba Diving
Are you interested in underwater life? If you wish to learn more about the numerous aquatic creatures that are part of the Indian Ocean, then Scuba diving is the outdoor adventure in the Maldives you are looking for. You will get a great insight into the life beneath the ocean and witness almost 700 different species of fish and aquatic fauna amidst nearly 70 varieties of colourful coral reefs. The warm ocean water temperature will make your diving experience feel very comfortable. We can book your visit from June to October and December to March so that you get the best experience.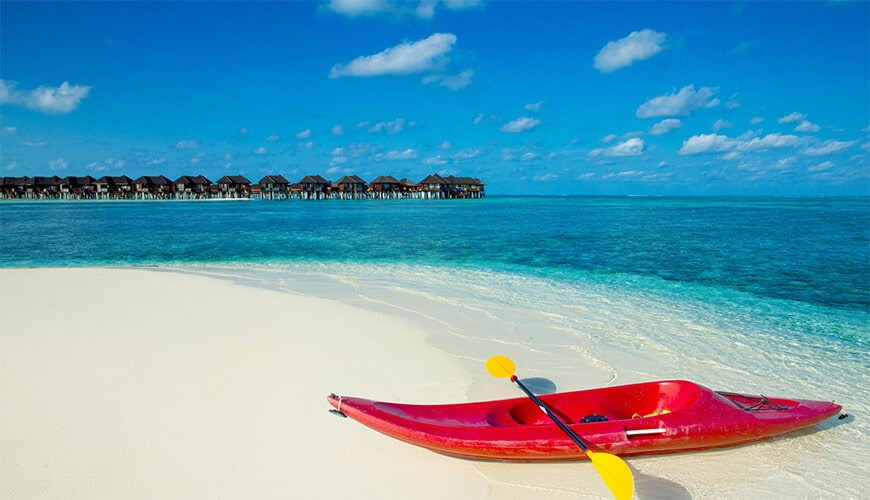 4. Parasailing
When in Maldives, you will have water sports on your mind, and parasailing is one of the exciting experiences you must try through our Maldives travel packages. You will get assistance in wearing an open parachute and later towed down with the help of a motorboat to fly through the air at an amazing speed. Find yourself gliding in the air as the wind caresses your face. Get an amazing aerial view of the ocean waters beneath you throughout the thrilling ride.
5. Kitesurfing
A recent and popular sport that is one of the most popular outdoor activities in the Maldives to catch your attention on the shores of Maldives could be Kitesurfing. You will be balancing yourself on a longboard above the water while holding onto a triangular sail that paces the constant winds and guides you in its direction. As a first-timer, we recommend you try Kitesurfing from June until October since the weather conditions are perfect for the sport.
6. Whale & Dolphin Watching
If you are not into diving and surfing, boat excursions to watch whales and dolphins might make your day. Our agents can book a dolphin-watching excursion in advance as an outdoor adventure in the Maldives, during which you will head to the seas by boat and explore the magnificent creatures swimming on the water's surface. You can spot several schools of dolphins swimming along with the boat, proudly displaying their best backflip skills. Plan to indulge in whale and dolphin watching excursions, especially during sunset and witness them swim amidst the stunning backdrops.
7. Jet Skiing
Awaken the adrenaline rush inside you by taking a jet ski ride in the Maldives. Rent the jet ski and ride alongside your friends or family to discover the fun of power and speed on the water. The Maldives offers the perfect weather and water conditions to explore the Indian ocean at your own pace. Head to the Maldives for your honeymoon through our Maldives honeymoon packages and have a good time riding the Jet ski with your spouse.
8. Fun Tubing
As the name suggests, the best way to have fun outdoor activities in the Maldives is to go to Fun Tubing. Imagine a roller-coaster ride offering high speed and adventure while slowly moving you out of your comfort zone. You and your group will be seated on an unpowered, inflatable tube tied to a high-speed boat. Ride over the water at high speeds and bump over the waves as you enjoy the fun adventure ride with your kids.
Try as many fun and crazy outdoor activities in the Maldives as possible to make the most of your vacation. Call us today for details. Follow our Instagram profile to know about the latest offers and discounts.