Dubai offers you world-class outdoor activities with international innovation, technology and safety standards. If you are travelling with Dubai travel packages from GT Holidays, then our agents will ensure that you enjoy some of the best outdoor activities in Dubai. Join in fun activities with your friends and family and take precious, unforgettable moments back home.
Here's a list of some memorable outdoor activities to do in Dubai that will give you an experience of a lifetime.
1. Camel Rides
When in Dubai, embrace its desert oasis by taking a camel ride as one of the fun outdoor activities in Dubai. A camel ride will allow you to revisit the times when travelling through the desert was a way of life. Experience the simplicity amidst the calm as you cross the dunes while holding on to the front hump of the camel. Click pictures with the lovable camels who are incredibly docile and offer you a unique riding experience and an opportunity to explore the desert. If you wish to take a camel ride, we can arrange this once-in-a-lifetime chance through our Dubai honeymoon packages.
2. Dune Bashing
Are you looking for exhilarating and adventurous outdoor activities to do in Dubai? Then, wait no further. With our Dubai travel packages, we can arrange a 4×4 vehicle with a driver for you to experience Dune bashing, one of the most adrenaline-inducing adventures. Experience the uttermost rush the moment your car hits the sands and goes up, down and around the dunes at full speed. The ride also allows you to explore the vastness of the golden sands and capture panoramic views of the magnificent desert landscapes.
3. Hot Air Balloon
For an outdoor adventure in Dubai, we recommend getting into a hot air balloon early in the morning and taking a tour of the Dubai skies. Enjoy the Dubai desert as you soar high and glide gently to get a spectacular view of the sunrise and the natural surroundings. Explore flora and fauna on the ground below as the wind gently carries you across the great Dubai desert conservation reserve. Look out for gazelles, oryx and camels, though they get hard to spot from 4,000 feet above. A hot air balloon ride with your near and dear ones can get a ride in simultaneously be relaxing and exhilarating. You also enjoy a hearty breakfast and open-air transport to and from the location.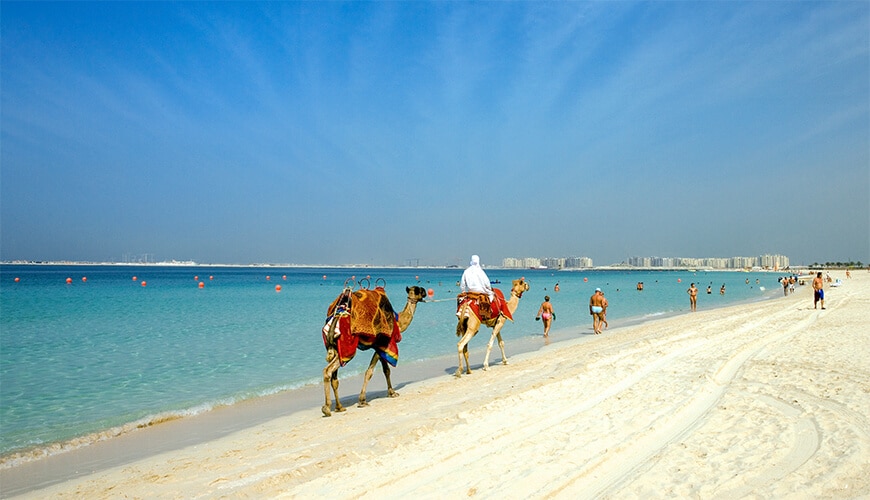 4. Ziplining
If you are travelling with friends or kids, we recommend you travel to Aventura Parks to enjoy Dubai's largest zipline park. Swing through 35,000 square meters of lush green forest from one point to another. Choose from 85 obstacles that include an extensive selection of ziplines that suit every level of interest and proficiency. The park is a perfect destination for family-oriented outdoor adventure in Dubai, offering activities for all ages.
If you seek an adrenaline rush of a higher level, head to the world's longest zip line on top of the Hajar mountains. With a speed of 150 km per hour and a height of 1,680 metres above sea level, the zipline will give you the best thrill of your life.
5. Speedboat Rides
One of the best outdoor activities in Dubai is getting onboard a speedboat ride to take a look around Dubai's landmarks and magnificent coastline. The speedboat tour is available only during early mornings and late evenings to avoid the desert heat, so ensure that you book your ride slots ahead of time. Admire the fantastic views of the Palm Jumeirah, the imperial hotel Atlantis, the Burj Al Arab and the Dubai Marina from the deck of your speedboat. Capture some great moments on your camera as you pass through locations that showcase the history and culture of Dubai. Make sure you follow all safety precautions and buckle up for the ride that will give you an adrenaline rush.
6. Sandboarding
Dubai deserts offer the perfect terrain for sandboarding with its tall and steep slopes in the dunes. Sandboarding is one of the popular outdoor activities in Dubai during the desert safari Dubai trip. Leave for the safari early in the morning, and when it's time for sandboarding, you will be professionally led on to propel down the smooth and hot dunes and feel the wind gushing on your face. Once you finish sandboarding, you will remember it as one of the most exciting things in Dubai.
7. F1 Car Driving
The thrill-seeker in you will find solace at the Dubai Autodrome, where you can satisfy your need for speed. Strap yourself into a Ferrari GT, McLaren or F1 car and speed away for a memorable driving experience. We can book your trip to Autodrome via our Dubai tour packages.
If you are interested in participating in the best outdoor activities in Dubai, reach out to our agents at GT Holidays for our best offers. Follow our Instagram profile to know about the latest offers and discounts.