Are you planning your travel to Dubai? Then as one of the top-rated travel destinations in the world, it's always better to check for the latest set of Dubai Covid guidelines for tourists as per the status of the Covid-19 spread. Dubai has now gone back to normalcy as far as tourism is concerned. As international travellers, you are free to travel to Dubai as long as you take the prescribed safety measures and follow all the Dubai Covid rules for tourists.
Post-pandemic travel to Dubai from India has resumed. Dubai has reopened its shops, restaurants, tourist attractions and religious establishments to make you feel at home. There may be restrictions and requirements in place that you will need to follow to help contain the spread of Covid-19, given the current status of the latest virus.
Our GT Holidays agents will continually update you with the Covid travel requirements if you book our Dubai tour packages. Follow our Instagram profile to know about the latest offers and discounts.
Here are the latest Covid-19 rules and travel restrictions in Dubai for tourists.
What Are the International Covid-19 Travel Requirements to Dubai?
You must not provide proof of vaccination or negative PCR test results.
If you plan on travelling onward from Dubai or transiting through the airport, please check Covid requirements for the port of entry at the destination.
Along with Covid protocols, you must comply with Dubai visa requirements.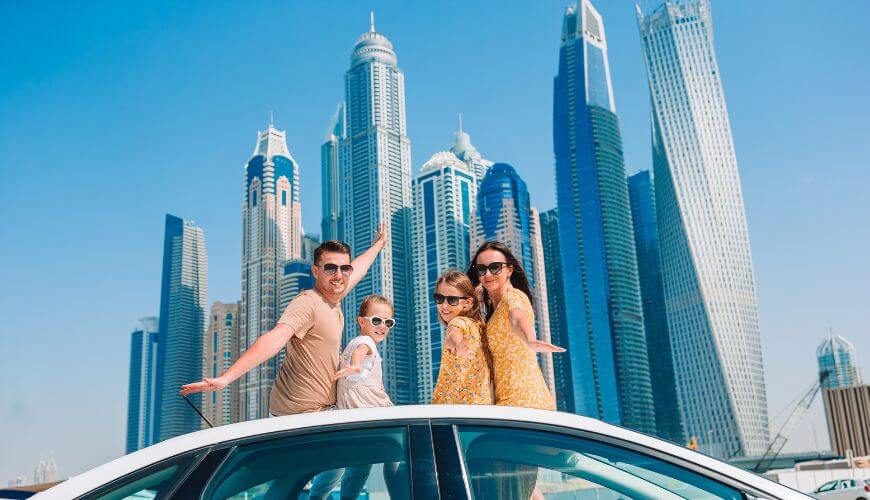 What Necessary Procedures to Follow Before Dubai Travel?
When you book our Dubai travel packages, the staff at GT Holidays will offer you travel advisory in India for the latest rules on international trips, along with your airline's requirements.
Make sure that all your entry and visa requirements to visit the UAE have been met.
What Are the Testing & Quarantine Requirements?
Whether you book our Dubai tour packages or Dubai Honeymoon packages, you must follow all testing and quarantine requirements when departing to Dubai. You must have any one of the following:
Your valid vaccination certificate reflects that you have been fully vaccinated with a vaccine approved by the WHO and should include a QR code system.
If you are not vaccinated, you must take an RTPCR test within 48 hours and submit the negative report issued by an approved health centre with a QR code system.
You can also carry a valid medical certificate the relevant health authorities issued stating that you have recovered from COVID-19 within a month from the travel date.
Please note that you must follow all the Dubai Covid guidelines for tourists:
You are allowed to carry printed or digital PCR test certificates or vaccination certificates in English with a QR code. SMS certificates will not get accepted.
Your COVID‑19 vaccination certificates will be accepted for travel to Dubai as long as your vaccination certificate is issued by recognized centres or approved by the national health authorities.
Your PCR tests must be based on a molecular diagnostic test for SARS‑COV‑2 viral RNA.
Please note that reports depicting Rapid antigen, antibody or other tests and home test kits will not be accepted at the airport.
Who is Exempted from Presenting Covid Documents?
You are not required to present any PCR or vaccination certificate in the following cases:
If you are amongst the first-degree relatives of a UAE national and travelling on the same flight.
If you are a domestic worker travelling with a UAE national sponsor.
A child below 12 years old will get exempted.
If you are a passenger with moderate to severe neurological or developmental disabilities.
Humanitarian cases
Individuals travelling for medical and any treatment purposes.
What Covid-19 Protocols to Expect on Arrival at Dubai Airport?
Though COVID-19 testing on arrival at the airport is no longer required, you can still avail it for those who wish to get tested.
As the Covid requirements can change on short notice, you should check for any updates regarding the latest protocols with your airlines before travelling.
Though wearing a mask is optional in Dubai, your airline can request that you wear masks if necessary. So, it's better to keep some masks handy at all times.
What Are the general Covid-19 requirements in the UAE?
Though the UAE government has lifted most of the COVID-19 requirements for all, it's best to check on the latest update before travelling to Dubai. You can go sightseeing without a mask as the mask-wearing Covid rules for travel to Dubai have been relaxed. You must always expect travel restrictions or new regulations to be made at short notice, especially in case of a new COVID-19 variant. No travel is risk-free during COVID-19. Ensure your safety by following all Dubai Covid guidelines for tourists and taking measures to have an enjoyable Dubai vacation.