Try a different adventure in Dubai by sailing on its dreamy waters to explore the glitzy city. Though the charm of Dubai's desert holds its unique identity, get an experience of the various Dubai cruise ship packages to enjoy a luxurious vacation filled with amazement. From elegant mosques to skyscrapers, the city offers you many spectacular views as part of your travel adventure. Our agents at GT Holidays can book a Dubai cruise tour that will cater to your requirements and enchant the cruise lover in you. Treat your soul to scenic views amidst calm waters and visit several destinations during the trip.
Plan your Dubai travel by first looking at all the cruising options available.
Dhow Cruise
As one of the most popular activities, taking a Dhow Cruise in Dubai will allow you to see the city in a different light. Enjoy breathtaking skyscrapers and luxurious shopping venues while you explore the old Dubai creek. You can also celebrate your special moments by having dinner on a Dhow cruise. Our staff at GT Holidays can help arrange the celebrations for your anniversaries and birthdays. We can book you a cosy dinner for two through our Dubai honeymoon packages if you are newlyweds. Get your friends and family together for the Dhow cruise and enjoy an evening that offers music, dance and fantastic food amidst mesmerising lights and an enticing environment. Just let us know the requirements of your event, and our agents will ensure that your expectations get met, and the event becomes memorable.
Dubai Marina Yacht Tour
If you wish to admire Dubai's stunning skyline, then we at GT Holidays can book you on a Dubai marina yacht tour through one of our Dubai cruise ship packages. Enjoy the opulence of Dubai and the spectacular views as you tour its coastline. Spend your time aboard the yacht around the sunbathing and seating decks as you glide over the Persian Gulf. Click some memorable pictures as you pass the iconic landmarks like the Burj Al Arab, Atlantis, and others. You can book various time slots as per your requirement and savour meals on board as per the time of the day. Though a private yacht will offer you complete comfort and state-of-the-art facilities, you can also choose to take a shared cruise from Dubai marina, which can be an affordable alternative. Book your Dubai travel packages with us, and we can help make reservations for your yacht tour in advance.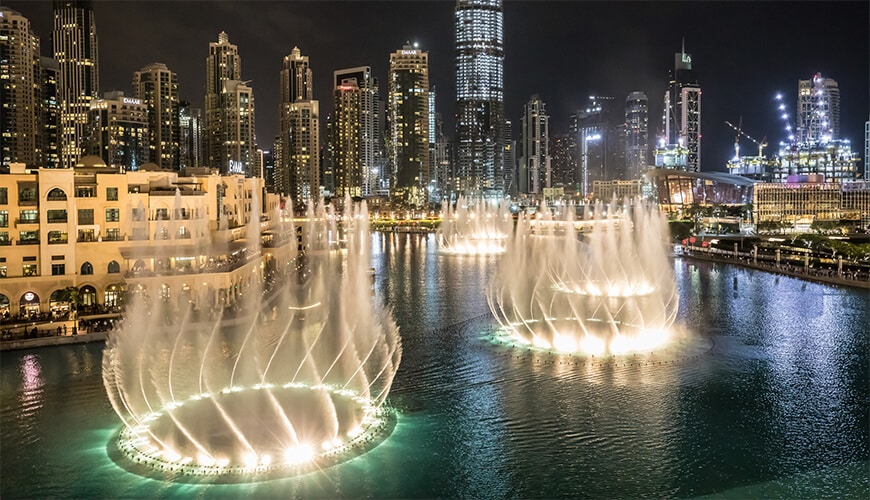 Dubai Water Canal Cruise
If you are a romantic at heart, get aboard the Dubai water canal cruise with your loved one. Fall in love as you sail through the two commercial districts in the charming city of Dubai with one of our Dubai cruise ship packages. Admire the 'city of lights' as you cruise down the new Dubai Water Canal and go past the iconic Dubai landmarks. You can enjoy a delicious spread of international buffet as part of the cruise dinner in Dubai in a Venetian-style canal amidst luxury and comfort. Capture the spectacular views of the illuminated Burj Khalifa, enjoy the onboard entertainment and relax as you gently cruise along the banks of the Dubai water canal.
Private Yacht & Boat Tours of Dubai
Choose to take a private tour on a yacht or boat and turn it into an exclusive experience of Dubai. We can book you on a 1 or 2-hour boat trip via our Dubai tour packages for an excellent way to view Dubai's landmarks. You can choose from a speedboat, a private yacht or a mega yacht to take an entertaining tour of the city with a group of your loved ones. The yachts will include life jackets and an audio system to ensure safety and entertainment as you take the sightseeing tour through Burj Al Arab, Ain Dubai and Atlantis the Palm.
Choosing the right time to visit Dubai is crucial if you wish to get the best experience of a Dubai cruise. A time when the crowd is less and the weather helps create the perfect ambiance is generally around mid-November to December. You can also choose to go during March as well since the climate is pleasant. GT Holidays can make reservations for Dubai cruise ship packages that suit your needs and travelling months.
Make the most of your time with your loved ones through one of the best Dubai cruise tours. We at GT Holidays can cater to your individual and group requirements at an affordable price without compromising travel service. Call us soon and book one of our most fascinating Dubai tour packages. Follow our Instagram profile to know about the latest offers and discounts.