Maldives is home to some of the world's best and cleanest beaches, known for their rich marine life. In fact, the waters are so clear you can see fish hiding among corals or swimming across in plain sight. Some famous beaches in this beautiful island country include Hulhumale Beach, Bikini Beach, Reethi Beach, and Cocoa Island Beach. We have extensively covered all of these beaches in our blogs.
And if you're looking for attractive Maldives travel packages that cover all of these beaches, contact our travel experts. At GT Holidays, we cover a wide range of tour packages within your budget and customized to your liking. Whether you're planning to travel with your family or looking for Maldives honeymoon packages, or adventure-based Maldives tour packages, we have you covered. Read on to learn more about Artificial Beach in Male, Maldives.
Where is the Artificial Beach in Male, Maldives?
The Artificial Beach is on the eastern coast of Male and a few minutes' drive from the Velana International Airport. It is also very close to Male's best and most highly-rated accommodations. This crescent-shaped beach is a popular choice for swimming and wedding ceremonies. The Beach House Resort in Male covers over 4 hectares, includes sandy shores and palm trees and is loved by tourists who frequent its multiple nightclubs, restaurants, cafes, and shops.
The Artificial Beach in Male, Maldives, was created in 1980 as a manmade lagoon built using sand and coral from nearby beaches. Later, in 2001, the government decided to convert this lagoon into a full-fledged beach by adding sand and coral. Today, the entire Artificial Beach stretch is popular with locals and tourists.
To the uninitiated, an artificial beach is a manmade beach that looks and feels like a beach and is created by adding sand and other materials to a lake or ocean.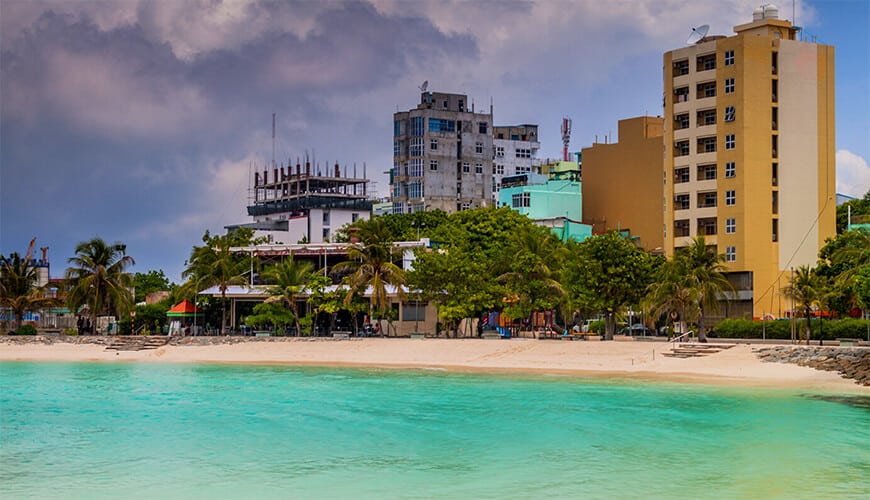 How to Reach Artificial Beach, Male?
As earlier said, the Artificial Beach in Male is only a stone's throw away from the city's tourist attractions and popular hotels. It is only 400m away from the Hulhumale Ferry Terminal. You could also take a bus from downtown Male. You could also reach the beach from Presidential Jetty, approximately a km from Artificial Beach.
Why Was the Artificial Beach Created?
While the Maldives is amidst the beautiful Indian Ocean, the capital city of Male did not have any beaches until recently. This beach is a recent addition to make Male even more attractive to its residents and tourists. The white sands and shallow waters are ideal for swimming, even for beginners.
What to Do at the Artificial Beach Male?
The promenade that runs the length of the beach is perfect for an evening stroll and is frequented by locals. The shore has a life of its own thanks to the multiple shops and beach shacks where you can shop for little knickknacks or sample the delicious street food. You can chat with the locals or groove to live music shows held randomly around the beach. It is also a popular choice for carnivals and music concerts.
And if you're tired from all the shopping, consider hopping into one of the area's multiple cafes and barbecue counters. With such a beautiful view and atmosphere, romance would naturally be in the air. The place is filled with newlyweds walking hand in hand on the promenade, enjoying the view and the surrounding.
The National Museum of Maldives is also a closeby attraction offering a glimpse of Maldivian history with hundreds of artifacts, including stones, clothing, etc.
Some other attractions a few kilometers from Artificial Beach, Male, include The Old Friday Mosque, Grand Friday Mosque, Victory Monument, and Sultan Park. Not to mention the Island Bazaar and the STO Trade Center.
If you are looking for comprehensive Maldives travel packages that include the best this island country offers, trust our tour experts to help you plan your dream vacation. Follow our Instagram profile to know about the latest offers and discounts.