The Maldives, as a tourist attraction with pristine white beaches and colourful landscapes, is known as a destination to relax and rejuvenate. Visiting a spa in the Maldives is one of the many ways to relax through secret and ancient healing procedures that offer tourists the best experience. Most resorts offer spa treatments using natural ingredients through trained and professional therapists. GT Holidays can help you with a list of Maldives spa packages to choose from before your vacation. If you are new to a spa experience, read on to know why it is so popular.
SPA stands for 'Sanitas Per Aqua' or 'Health Through Water.' The various spa treatments are an opportunity to help improve your overall well-being. Lately, top Maldivian resorts have created world-class wellness facilities with affordable spa costs in the Maldives. The Maldivian Spa combines local ancient culture with various massage practices, providing an excellent experience to you amidst soothing music, exotic aromas, and relaxing surroundings.
Treatments for Rejuvenation
Maldives tour packages from GT Holidays include most spa treatments that the Maldives offers:
Face cleansing and rejuvenation
Head massage with hair restoration techniques
Relaxation of arms and legs through anti-aging treatment for hands and feet
Therapeutic and revitalizing massages for energizing your body and soul.
Various Types of Massages
You can select from a variety of massages that are both relaxing and enjoyable as per your preference.
Head massage Full body massage
Foot massage
Thai /Balinese/Swedish/ Ayurvedic massage
Sports massage
Detox massage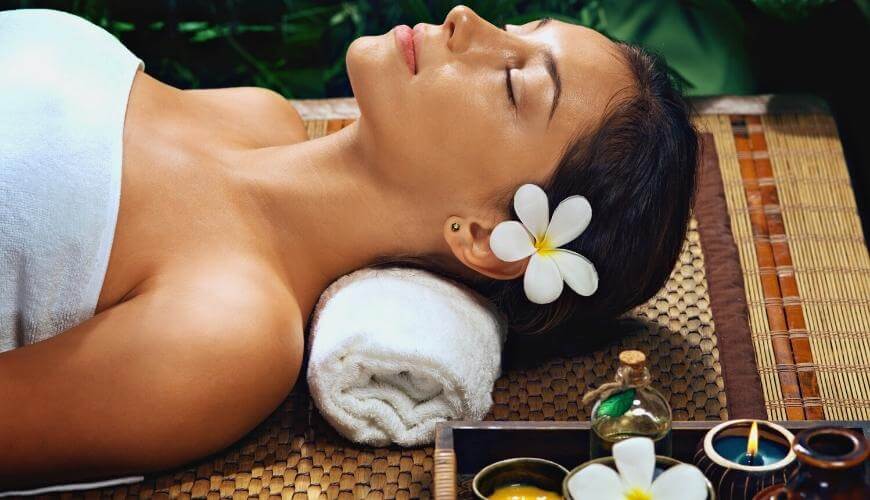 Memorable Experience
One of the most exciting experiences is the underwater Spa in the Maldives, set up 8 metres below in a secret underwater world. As the first and only underwater spa in the world, you can indulge in the panoramic views of the reef and get hypnotised by the calm tides. Our agents can explain the underwater Spa Maldives price at GT Holidays before booking this once-in-a-lifetime experience. If you are planning a romantic getaway in the Maldives, then book a spa session for two with 2 massage tables, relaxation areas, and a Jacuzzi through our Maldives honeymoon packages.
How to Choose a Good Spa in the Maldives?
Before booking a spa in the Maldives, make sure you read reviews on Google. The reviews must be balanced – stay away from overly glowing reviews or reviews that are meaninglessly critical. While the former is likely from the spa's employees the negative ones could be from competitors. Also, make sure the therapists are experienced and certified. A hygienic environment is equally important.
Plan a vacation in the Maldives through our Maldives tour package from Chennai and enjoy your holidays with peace, fun, and health benefits. Follow our Instagram profile to know about the latest offers and discounts.