Everyone travelling to Dubai city sightseeing tours. You can add an extra dash of adventure by heading to some of the best getaways from Dubai. Make some time for exploration and relaxation by visiting the places that give you an entirely different version of Arabic culture compared to Dubai city life.
Venture out to the following places with our Dubai getaway packages and see Dubai in a different light.
Hatta
Hatta is the perfect weekend getaway from Dubai if you want to destress amidst nature. You can head for the picturesque mountains and enjoy the varied landscapes on your way into Hatta through the changing terrains from desert to peaks. The Hatta Dam towards the south offers calming sights of turquoise waters amidst the rough mountains. As a weekend getaway, you could explore various gorgeous natural pools and majestic mountains in a pleasant climate since Hatta is at a high altitude in the rugged Hajjar Mountains. You should plan a visit to the heritage village in the central town to witness true Emirati life in historic times. Take a tour around the village to check out old relics and documents of the past. Enjoy the food and folklore of the region and fun activities like picnics, kayaking, mountain biking, hiking etc., with your friends and families.
Abu Dhabi
If you plan an extended stay in the city through our Dubai tour packages, adding a trip to the largest capital city of UAE can add to the excitement. Visit Abu Dhabi and experience a stylish blend of various cultural monuments from stunning mosques, expansive museums, fantastic theme parks and massive deserts. Abu Dhabi can take you back in time with its charming Arabic culture within the various rustic and beautiful old towns that depict the city's finest desert culture.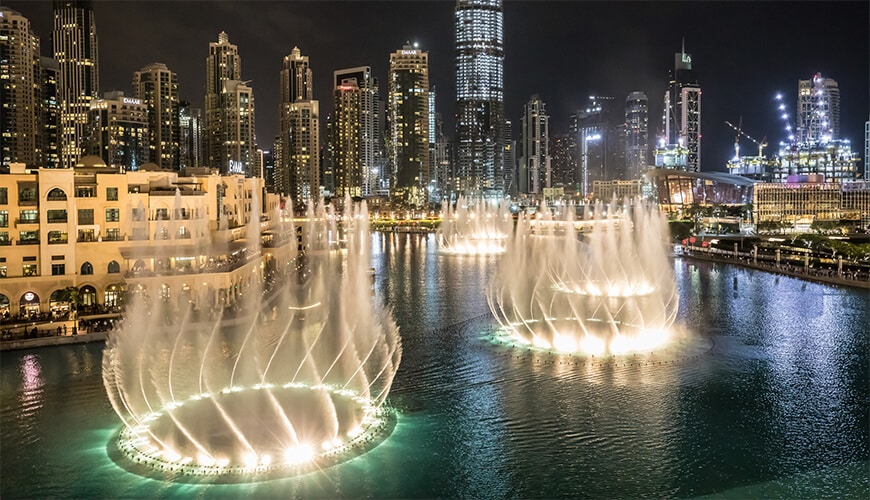 Liwa
Vacationing in Dubai can hardly keep you away from experiencing desert life. Liwa, also known as the 'Empty Quarter,' is a desert area that's a few hours journey from Dubai. You will find the drive to Liwa awe-inspiring, with scenic views of the majestic golden dunes. Liwa is considered one of the best getaways from Dubai to enjoy the mighty mountain safari. You can experience how the rough topography changes from rocky to plain slopes, along with some charming views of the mountains. You can also enjoy other adventurous activities like dune bashing, desert walks, mountain biking, and fun ones like camel trek, horse riding and archery. If time permits, enjoy the luxurious accommodations at the beautiful resort through our Dubai getaway packages, experience the desert life, and taste the delicious Arabic cuisine.
Yas Island
Yas Island is the ideal getaway destination to have fun with family and friends. Head to an artificial island in Abu Dhabi with numerous attractions that offer you leisure and entertainment. Do everything to your heart's content, from feasting on shopping and food to enjoying water parks and beautiful hotels. Yas Island caters to tourists of every age, and that's why you will find it high on the to-visit list of tourists booking our Dubai travel packages. Play on an expansive golf course along Yas Beach or enjoy the live entertainment of open-air concerts. If you are into luxury cars, visit the Ferrari World theme park or the Yas Marina Circuit, where you can indulge in driving Ferrari and Ashton Martin to experience it in person.
Jebel Hafeet
Take a romantic trip to Jebel Hafeet, one of the most famous mountain destinations. With spectacular high hills, the hot springs and the vibrant greenery on your drive up to the mountains can cast a spell on you. As one of the favourite romantic getaways in Dubai, the Jebel Hafeet mountain top offers incredible settings during sunrise or sunset. Click some fantastic photos with your loved one and make some great memories.
Al Ain Oasis
You cannot miss a visit to the Al Ain Oasis, considered a UNESCO world heritage site that covers around 3000 acres of land. Explore the soft and delicate oasis ecosystem, which holds many date palms. The shades from the trees and the variety of floral species set a calming and serene ambiance, making your stroll much more pleasant. The garden city also offers a heritage site where you can enjoy museums, forts and a zoo. Book one of our Dubai honeymoon packages and revel in the various spots at the oasis that will transport you to an entirely different world.
Al Ain Zoo
Take your family to the massive 400-hectare park near Dubai, where you can view different types of animals in enclosures resembling their natural habitats. The zoo holds around 4,000 animals, of which 130 species are endangered. Head over for a fun day of picnics, where kids can enjoy playgrounds and a train safari while you relax in a cafeteria.
Plan your next trip with our Dubai getaway packages and experience the city's best. Call GT Holidays for details. Follow our Instagram profile to know about the latest offers and discounts.